You are here: Style Articles > What to Wear >
Trend Watch
> Spring Summer Fashion Trends 2018
Spring Summer Fashion Trends
Images: Vogue Top Spring Runway Trends
Sometimes fashion on the runways can seem simply ridiculous and costumey! At first glance this spring and summer fashion season is one of those times. However, using my 'style eyes' with you, a grown-up woman, in mind, I do also see fashion trends you can confidently, and stylishly, wear!
Adding just a few new things to your wardrobe can really make you feel refreshed and rejuvenated. Something as simple as using a different color combination with the clothes you already have can also make your clothes feel new again.
I've created this, my spring and summer fashion trends intrepretation, to help you pick and choose those items that will work for you.
I'll start by summarizing the runway trends, then look at what's currently available in stores online.
Vogue's runway summary (pictured above) shows their top 10 spring trends:
Bustiers -- worn by themselves, or over a top. This trend is best left to young women. However, if you have a defined waist you could interpret the trend as a slim belt, or even multiple slim belts entwined
Over-sized blazers -- 80s style, including the shoulder pads. Look for single or double breasted. You'll also find more tailored styles. Use over anything - work and leisure. In the right fit, color and pattern this trend will work for most women
Scuba fabric -- part of the continuing athleisure trend. Probably best left alone, except for swim wear
Andy Warhol inspired face and people prints on denim, tops, dresses, bags. Perhaps try on a tote, if you like this look?
Mashed-up clothes -- a trench coat, cape combination; a half-cami-plus-sweater combo; half rhinestone trousers half jeans. Okay, this one's too wierd for most of us! However, if you're creative and can sew you could use the mash-up idea to create new garments from old ones. For instance: replace a worn out sleeve or cuff with one from another garment that has other worn out areas; add a patch or pretty applique over a moth whole and make a feature of it!
Florals -- especially more than one floral print in a single garment. If you prefer, stick with one floral print at a time. Small and large florals are still very much on-trend
Disco-inspired -- shine and sheen for day and for night. Look for sequins and satin. Jumpsuits -- if you haven't tried one yet, but like the look, give it a go. They can be great in place of a dress for smart casual and evening wear
Light-weight knit dresses. Look for pastel colors. Opt for fitted, rather than body hugging. And make sure you wear a suitable smoothing, shapewear slip underneath
Rainbow-colored garments -- especially patchwork and stripes. Look for bold, bright colors, or pastel rainbows
Over-sized sculpural shapes -- the illustration (above) also shows tulle, another trend. This over-sized trend includes puff sleeves and statement sleeves in general. A version of a statement sleeve will work for a lot of women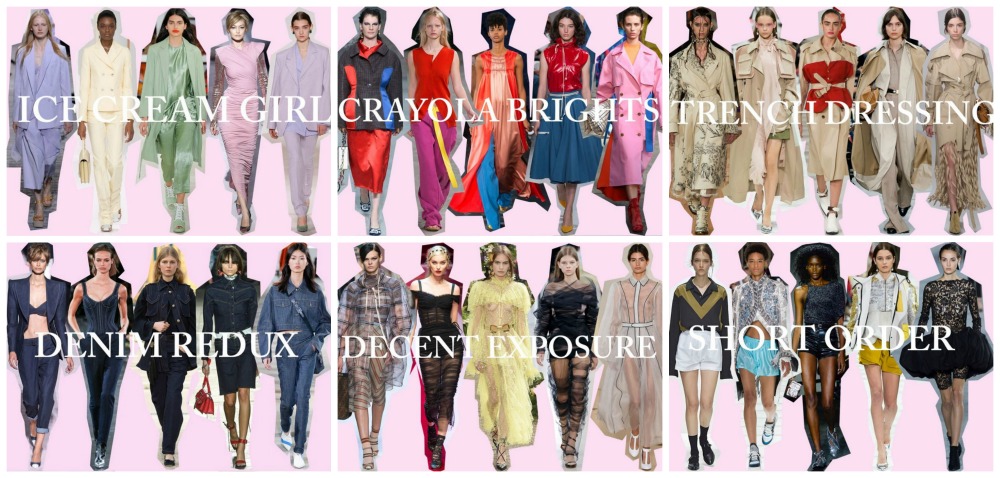 These are some of the more wearable spring and summer fashion trends from the Vogue UK runway summary:
Ice Cream Girl -- sorbet pastel shades, including pink-lilac and powder blue
Crayola Brights -- bright strong colors. As well as rainbow prints, look for bright colors and use as a block of color in an outfit combined with a darkish neutral, or try a monotone of bright color
Trench Dressing -- look for all kinds of new takes on trench coats, jackets and dresses, as well as classic styles in new season colors and prints
Denim Redux -- dark denim is new again. Look for jeans, but also structured jackets and trousers
Decent Exposure -- you may think this trend is more about indecent exposure! It's all about transparent garments. At first glance this may not seem appropriate for mature women. However, try experimenting with a transparent layer over or under an opaque garment. I'm loving semi-sheer blouses under sleeveless tops and dresses, for instance
Short Order -- shorts, from very short to knee length, mainly wider styles. Look for mid-thigh to knee length styles for summer
Overall, the trend for increased volume continues. The volume comes from wide garments (oversized shapes 80s style shapes and wide pants), longer lengths (midis, maxis and full length pants), statement sleeves (especially puffed sleeves), texture, ruffles and layer-upon-layer of clothing.
The Main Spring and Summer Fashion Trends
In online stores these are some of the main trends I'm seeing:
Florals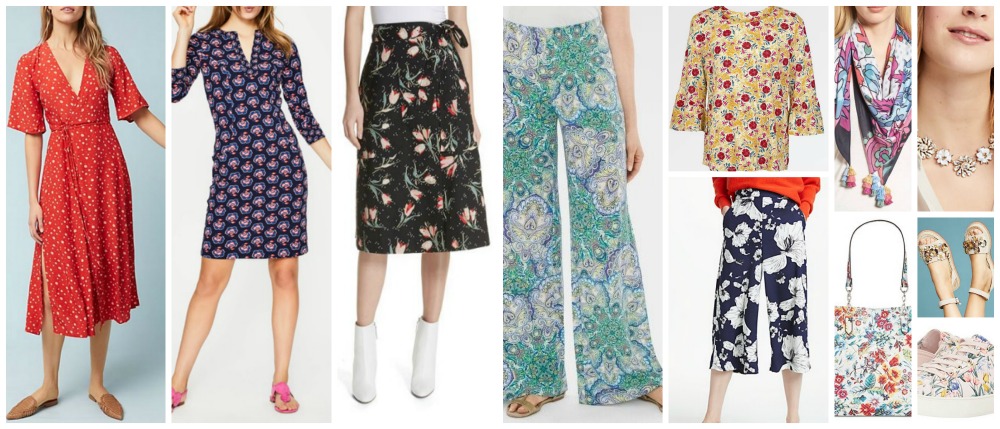 Images (clockwise from left to right): Anthropologie; Boden; Nordstrom; Chicos; Fat Face; Nordstrom; Ann Taylor; Anthropologie; Zappos; Macys; John Lewis
You'll find all kinds of florals: on dark and on light backgrounds. However, bold florals are particularly prevalent.
Do take care to style your florals in a contemporary way. They can be aging otherwise.
Blazers and Jackets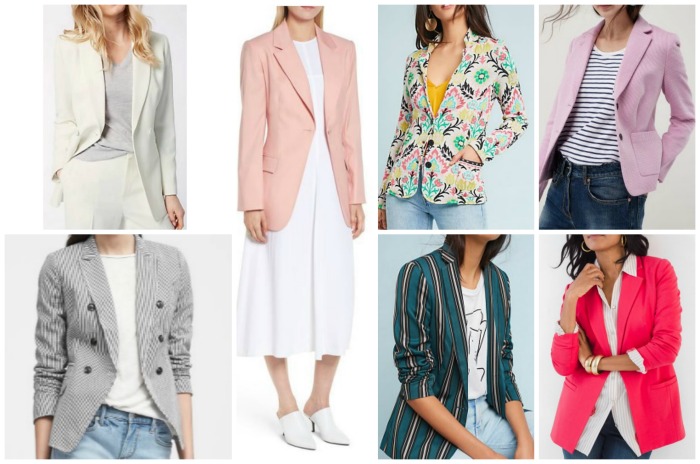 Images (clockwise from left to right: Vogue UK Top Spring and Summer Runway Trends
When blazers are being identified as a separate category on online stores you know they're having a moment! As well as a wide variety of blazers, you'll find many other jacket styles available.
Try styling your blazer or jacket by rolling the sleeves, and/or pushing the sleeves up your arm. This particularly good for a more casual outfit. A 3/4-length sleeve is also a lot more flattering for many women.
Sleeves
Images (clockwise from left to right): Banana Republic; Nordstrom; Banana Republic; Chicos; Nordstrom; John Lewis
I'm seeing more sleeves than usual on tops and dresses. So, if you prefer to wear sleeves, now is a good time to shop for sleeved tops and dresses.
You'll find not only puff and other styles of statement sleeves, but also regular, straight, short, half, 3/4 and full length sleeves.
Dresses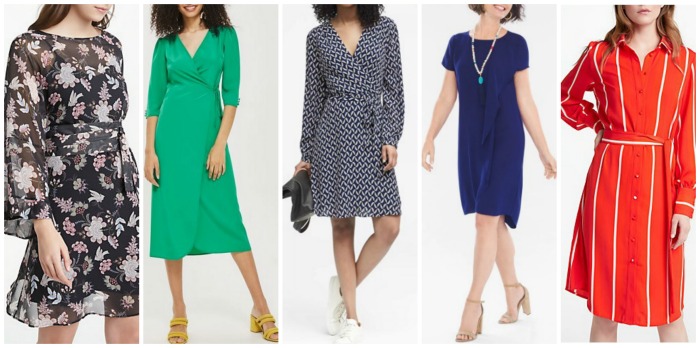 Images (from left to right): John Lewis; Top Shop; Banana Republic; Chicos; John Lewis
There is still a good range of dress styles and lengths available. I'm seeing the fit and flare, floaty, feminine dresses that featured prominently on the runways. I'm also seeing a lot of wrap, and pseudo-wrap dresses. If you prefer a straighter shape, there are still shift and straight shirtdress styles available too.
Pants and Jumpsuits
Images (clockwise from left to right): Banana Republic; Banana Republic; Ann Taylor; Chicos; Anthropologie; Chicos; Anthropologie; Ann Taylor; Chicos
There's still a wide range of pant styles available. You'll find skinny to palazzo styles in both cropped and full lengths. I'm loving the wider styles combined with a more fitted top, or add structure to a larger top by tucking, or semi-tucking. There are also bootcut and flared styles available.
When jumpsuit first re-emerged I thought it would be a passing trend. However, you'll still find a good selection of jumpsuit styles this spring and summer fashion season.
The matching pant suit is also an emerging trend. Look for unusual colors, such as lilac, or emerald green in modern shapes. For example a cropped wide leg pant with a fitted jacket. Avoid the highly patterned fabrics, unless your personality is very 'out there'.
Colors and Patterns
You may have noticed in the pictures above that there are indeed many items available in pastels and also brighter colors.
As well as florals you'll find stripes and there are still some checks available, especially gingham checks.
What Will You Try?
To try a new color, style, pattern, or outfit styling, the key to success is to have a good understanding of what works for your shape, your coloring, your personality, and your lifestyle. That together with a knowledge of what's current will help you create a wardrobe you love. Otherwise, it can feel as if you're always 'failing' at shopping.
Like This Page?