You are here: Style Articles > What to Wear >
Trend Watch
> Spring Summer Fashion Trends 2019
Spring Summer Fashion Trends
Spring and Summer Fashion Trends From the Runways
This season I like Vogue UK's summary of the runway fashion trends best.
Here's my version of their summary of the 12 defining trends for this spring and summer:
The 80s influence is still going strong. It shows up in increased volume all over, acid-washed denim, and boiler suits.
Beige -- this is the neutral color trend of the season. Shades include oatmeal, blush, pale greyed mauves, and light camels. On the catwalks it was shown worn head-to-toe
California Dreaming -- tie die, wetsuit fabrics (not necessarily together), and surfing-inspired clothes
Modern lace -- lace used as panels in clothing; lace used in man-style clothes; lace used in sportswear-inspired clothes
Crochet -- refined versions of folk-inspired crochet: patchwork; fishing net weaves; macrame. Used in dresses, tops, skirts, pants and bags
Fringing and feathers -- use as bold embelishments in bright colours (including neons), silver, crystal, black
Bold hats and strong shoulders
Florals and clashing prints -- the trend of florals and clashing prints continues. This season there's a wide range of colours and scale in florals. Animal prints also continue as a major trend. On the catwalks prints were worn all-over and combined to clash
Strong colored suiting -- matchy matchy suiting in jewel tones
Oversized bows -- especially at the shoulder
Bike shorts -- paired with oversized blazers, or shirts. This is a trend from the 90s. I remember wearing bike shorts with boxy, oversized tees back then. This time around I'll wear them at a pedal-pusher, below-knee, length and knee-length (or just above) dress or skirt
Acid-washed denim -- in jeans, denim jackets, jean skirts,and denim dresses
Boiler suits -- the latest, utility-style version of the jumpsuit. I could be tempted to try this!
Spring and Summer Fashion Trends in Stores
In online stores I am indeed seeing many 'high street' versions of the runway spring and summer fashions, listed above.
Below I've focussed on the beige, patterns and prints fashion trends:
Shades of beige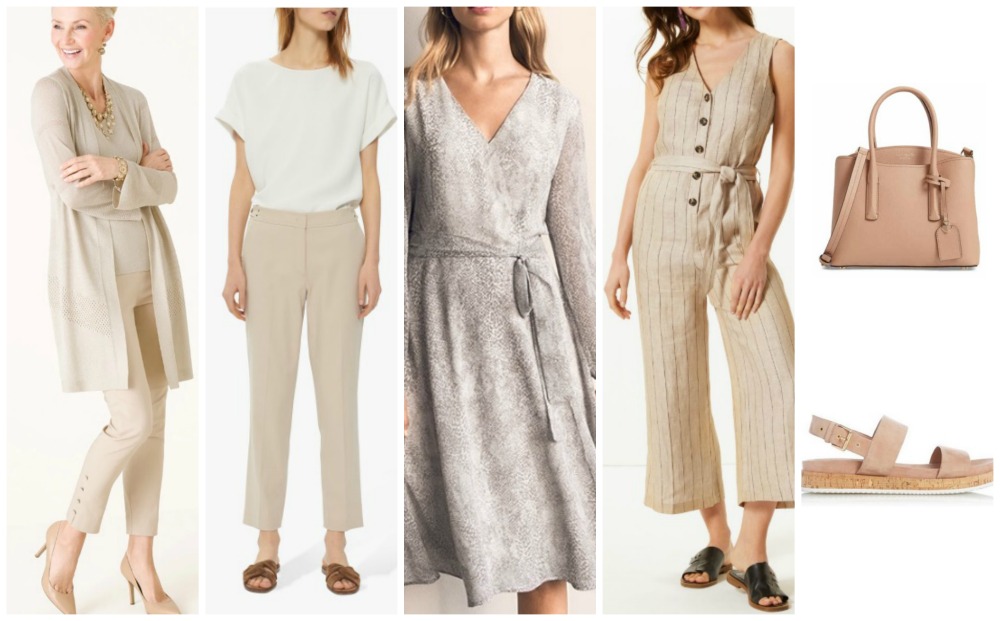 Images (clockwise from left): Chicos; John Lewis; Ann Taylor; Marks and Spencer; Nordstrom; Dune
This trend can be tricky to wear head-to-toe and not look washed out. The woman on the left hand side, above, has the light coloring and low contrast (between skin and hair) that make it look great on her. It also helps that she's wearing a textured necklace, with a bit of sheen, in her neckline area. (For more on contrast see here).
In the jumpsuit outfit above the darker button and slides help create contrast and balance to the woman's medium-dark brown hair.
When this look is done well it can look refined and elegant, or relaxed and natural.
Florals and other patterns
Patterns and prints in general are really a major trend at the moment. If florals aren't your thing you have a choice of many other options.
If you're a bit afraid of wearing patterns, but would like to give them a try, look for more subtle versions. More subtle patterns can be created in prints with low or medium contrasts in their colour scheme . Also look for medium or small scale prints, and more rounded patterns -- these are usually less dramatic.
I've illustrated the main trends in patterns and prints below:
Florals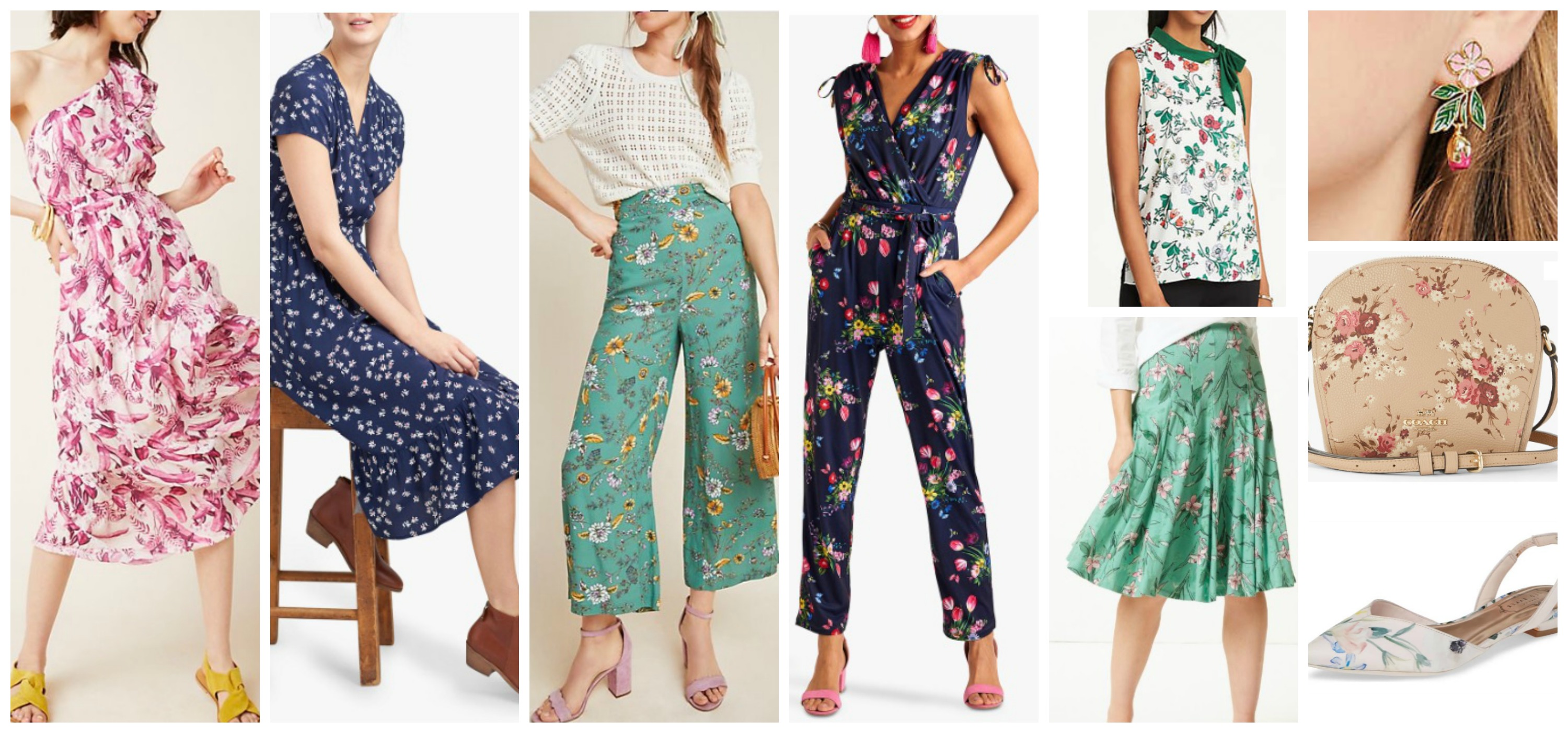 Images (clockwise from left): Anthropology; Marks and Spencer; Anthropology; John Lewis; Ann Taylor; Ann Taylor; John Lewis; Nordstrom; Marks and Spencer
Animal prints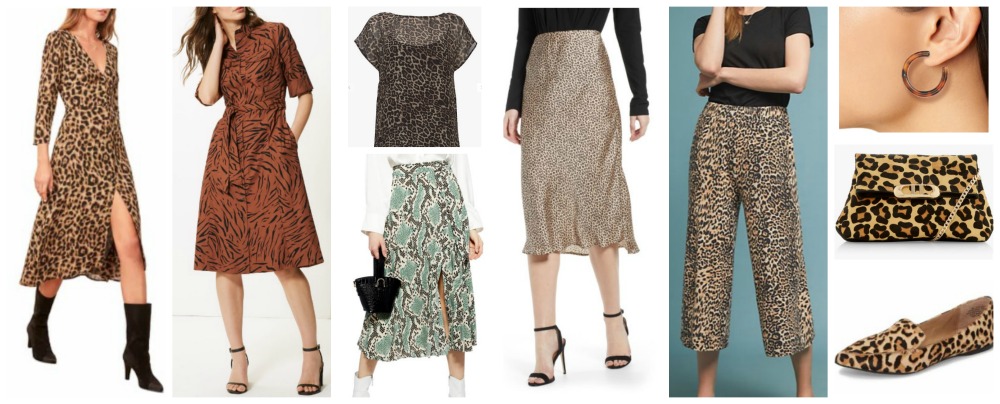 Images (clockwise from left): Nordstrom; Marks and Spencer; John Lewis; Nordstrom; Anthropology; Nordstrom; John Lewis; Nordstrom; Nordstrom
There's still a wide variety of animal prints available in all clothing and accessory items, especially leopard and snake print. Look for more abstract versions -- animal-inspired, rather than true to life -- if you're not sure about wearing this print.
Mixed prints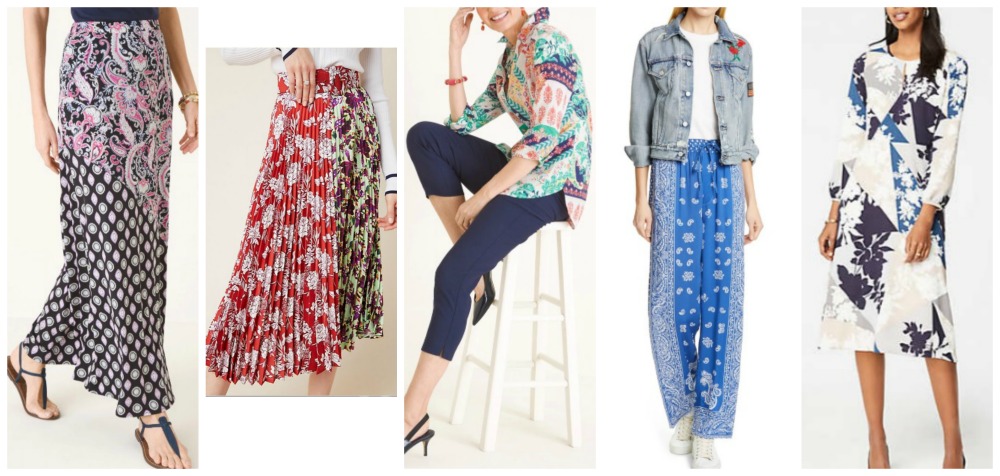 Images (clockwise from left): Chicos; Anthropology; Chicos; Nordstrom; Ann Taylor
If you like the look of clashing patterns, but are afraid to try this yourself, you'll love the done-for-you mixed prints. As you can see above, some are more subtle than others. To get it this look to work for you:
Notice where the pattern change falls on your body -- make sure you're not drawing attention to an area you'd rather detract from
Choose the right scale of pattern -- for example: a large scale pattern will overwhelm you if you're short; a small pattern may emphasize your size (for more on scale see here)
Polka dots and other patterns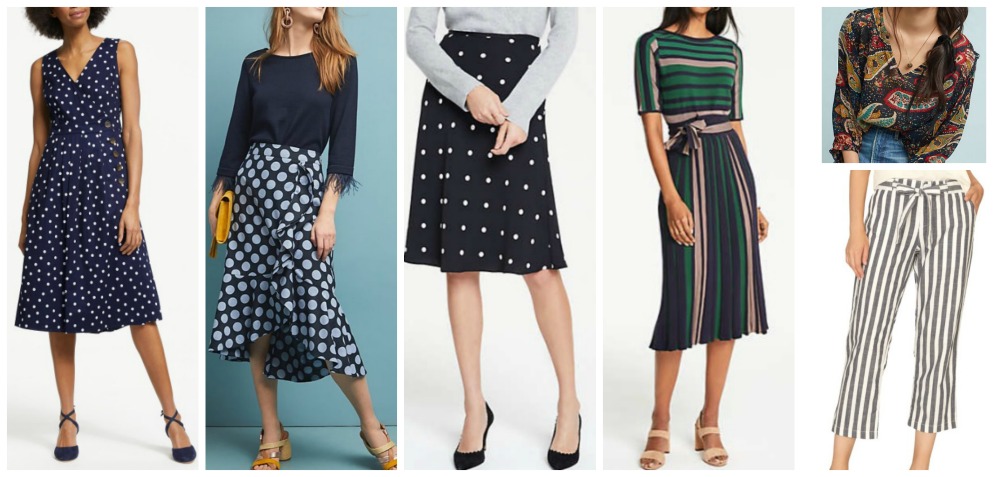 Images (clockwise from left): John Lewis; Anthropology; Ann Taylor; Ann Taylor; Anthropology; Nordstrom
Polka dots are an emerging trend, especially medium large dots
Stripes -- you'll still find horizontal stripe tees and vertical stripes, especially in shirts and pants. However, this trend seems to be less strong than in recent seasons
Paisley -- I'm seeing a few paisley patterns around, especially in mixed prints
Checks -- there are still some gingham and tartan checks available
Fashion choices
The bottom line is that there remains a wide variety of styles and colors available. Even if you're not seeing things you love in local stores, online stores open up a lot more options.
Having a good range of options to choose from is a double edged sword! On the one hand it can be confusing. However, on the other hand if you know what you like its great! The trick is to know what you like and what suits you. If you're not sure what suits you anymore, or what you really like, you should find this article useful.
Like This Page?