You are here: Style Articles > What to Wear >
Trend Watch
> Autumn Winter Fashion Trends 2017 Australia
Autumn Winter Fashion Trends 2017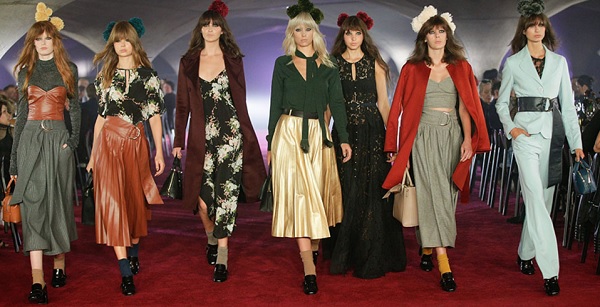 Image courtesy: Myer Emporium (Kate Sylvester collection)
The image above provides a great summary of the Autumn Winter fashion trends. These include:
Volume -- think 80s exaggerated shapes such as: large shoulders; full skirts and pants; full sleeves; midi and maxi lengths; ruffles
Floral prints -- especially florals on dark backgrounds
Corsets, belts, crop tops and bralets worn to be seen. Use to control volume and create structure
Luxe fabrics -- including lace, satin and velvet
Pops of red and berry shades
In addition, look for these 2 design elements:
Statement sleeves -- on tops, shirts and dresses including flared cuffs; volume between the elbow and wrist; and leg-of-mutton styles
Embellishments -- such as embroidery and applique
There are also styling trends to notice that may make it easier for you to try a new fashion trend this season. Do get creative with these:
Shirts layered under items such as: shirts, strappy dresses, knits and corsets
Tops layered under dresses and skimpier tops. For example, turtle necks under slip dresses and bare-shoulder tops
Half-tucked shirts. The full-tuck is also back, but if your waistline isn't as defined as you'd like it to be, this styling can make you look and feel heavier than you are. The half tuck won't work for every personality, you may find it feels too messy for you
Shorter skirts over longer sheer skirts
Main Style Themes in Autumn Winter Fashion Trends
By understanding your likes and dislikes and the looks you want to create you can create any look you want. However, these are some of the dominant fashion 'stories' that I'm seeing:
80s-inspired maximalism
There are still styles inspired by many eras, including the 70s. However, 80s volume is particularly evident this season. Rather than chanelling the 80s with all over volume add volume in one area (a skirt or a blouse) and pair with a slimmer or more tailored item.
Exaggerated, padded shoulders
Full skirts
Midi and maxi lengths
Tucked-in tops
Culottes and cropped pants
High necklines -- including: crew necklines; turtle and roll-necks; and pussy-bow blouses (from the 70s)
Over sized jumpers
Boxy shapes
Romantic feminine
Think styling details that are soft, approachable, or sensual. Of course you can always add an edge to a feminine style detailing by pairing with leather or adding structure with a corset!
A romantic feminine feel can be created using:
Ruffles -- tops; skirts; dresses
Sheer fabrics and soft, floating fabrics
Soft pinks and light colours
Accordian pleat skirts
Floral prints and dots
Midi and maxi lengths
Exposed shoulder styles -- off-the-shoulder, 1-shoulder, and cold shoulder tops, knits, shirts and dresses
Faux fur stoles and jackets
Military and man-style
Olive and khaki colours
Trench coats and car coats
Biker and bomber jackets
Epaulettes and brass-coloured buttons
Pant suits -- albeit in feminine colours or 60s and 70s-inspired colours and patterns
Pinstripes and checks associated with mens suiting such as Houndstooth
Crisp shirts
Athleisure
Clothes in this category are smarter versions of sportswear and the use of high-tech fabrics associated with activewear used in everyday outfits.
Track pants
Scuba suit fabric used in clothing such as dresses and pants
Hoodies
Clean design lines and architectural shapes
Luxe sneakers and trainers
Autumn Winter Fashion Trends: Main Style Elements
Dresses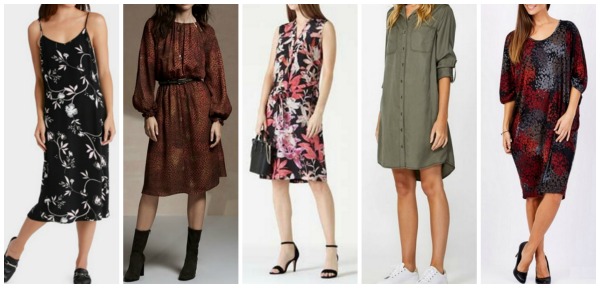 Images courtesy (left to right):
Myer, Saba, David Lawrence, Decjuba, Birdsnest
There are still a wide range of dresses available. Silhouettes include:
More fitted styles, such as fit-and-flare hourglass shapes and slip dresses
Straight styles such as shifts and shirt dresses
Loose styles such as bell-shaped dresses
All lengths are available from mini through maxi. However, around knee length and below feels as if it will have a longer shelf life.
Pants, Trousers and Culottes
Images courtesy (left to right):
Blue Illusion, Decjuba, David Lawrence, Sportscraft, Trenery
All widths are available from leggings through to palazzo styles. There are more straight styles than flared.
Cropped pants and fuller-legged culotte styles are also available.
Skirts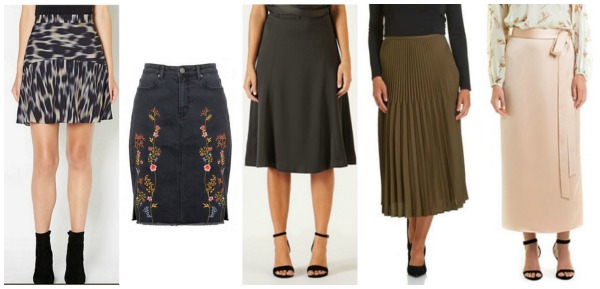 Images courtesy (left to right):
Witchery, Decjuba, David Lawrence, Sportscraft, Country Road
There is now a much wider range of skirt styles available. There are still pencil and straight skirts available, but you'll now also find subtle-aline styles, and aline styles.
Skirt lengths range from mini to maxi. Pick lengths that work best for your proportions. If you're on the shorter side your best lengths will between your knee and your full calf, and above.
Look for: embroidered jean skirts; pleats (especially accordian pleats); and sheen and shine in fabrics such as satin and metallic-looks.
Some of the longer skirts also have thigh-high splits.
Tops

Images courtesy (left to right):
Trenery, Cue, Myer, Decjuba, Veronika Maine
Shirts and blouses are the dominant style trend in tops this season. You'll find a wide selection from crisp, man-style shirts to floaty feminine styles.
To update your shirt collection look for: the new statement sleeve style; lace detail; pussy-bow ties (tie in a bow or knot and leave the ends loose); soft wrap styles; mixed fabric construction.
Knits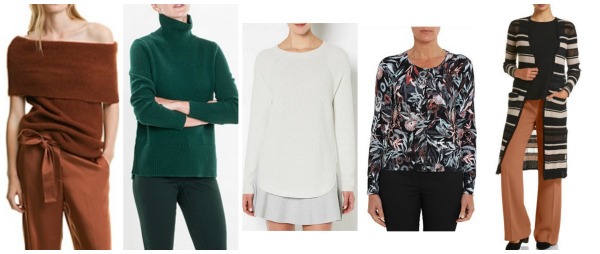 Images courtesy (left to right):
Country Road, Trenery, Witchery Blue Illusion, Decjuba
As you'd expect at this time of year there's a large range of knits. Styles to look for include: off-the-shoulder; roll-necks; curved hems; and over-sized sweaters;
Cardigan styles range from classic, fitted styles to long-line coatigans.
Coats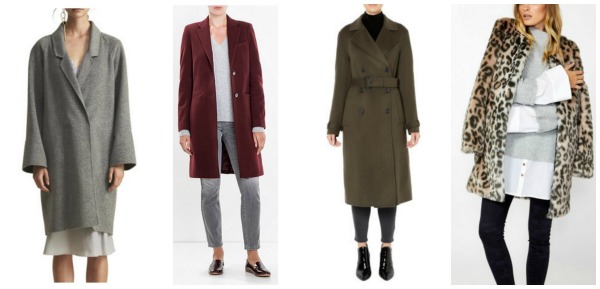 Images courtesy (left to right):
Lee Mathews, Trenery, Witchery, Decjuba
Coat silhouettes include: fuller volumed wrap and cocoon styles; straighter car-style coats; and military-style coats and trench coats. There are also utility style duffel coats, anoracks and puffer coats available.
There are also some fun faux fur coats around, especially in animal prints.
Jackets

Images courtesy (left to right):
Decjuba, Witchery, David Jones, Trenery, Sportscraft
Mostly, jacket styles are still shorter lengths. Styles include: jean jackets; bomber (quilted and satin-style); leather biker; tweedy jackets; and military-inspired blazers
Accessories
Shoes
The main trends in shoes include:
Ankle boots in all heel heights and personal styles
A good selection of flat and low heels
Block heels
Pointed or almond shaped toes
Jewellery
For higher, more elaborate necklines,look for statement earrings.
Autumn Winter Fashion Trends: Main Fabric Trends
Fabric Types
Look for velvet, satin, suede, sheer, floaty fabrics, lace and textured knits
Fabric Prints and Patterns
Dominant trends include:
Florals, especially florals on dark backgrounds
Dots
Checks
Stripes, including pinstripes
Animal prints such as leopard
Prints of animals, including cats
Fabric Color Trends
The main neutrals this autumn winter season are: navy, grey, black and olive. You'll also find soft whites.
Inject pops of colour with: red; medium and pale pinks; forest green; royal blue; medium-dark muted berry tones; and rust.
Like This Page?