You are here: Style Articles > What to Wear >
Trend Watch
> Autumn Winter Fashion Trends 2018 Australia & NZ
Autumn Winter Fashion Trends 2018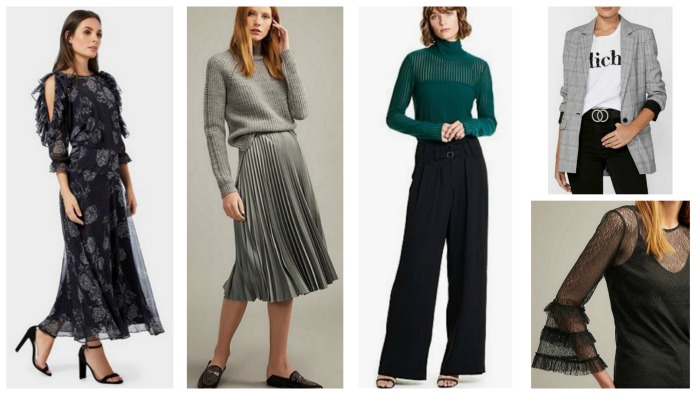 Images (clockwise from left): Seed Heritage; Witchery; Country Road; Decjuba; Witchery
The main trend in silhouettes for this Autumn and Winter continues to be volume. This includes:
Midi and maxi lengths in dresses and skirt. Dress and skirt silhouettes are mainly soft and flowing A-line styles
Wide-leg and even flared pants. Lengths include cropped and full length styles
Over-sized blazers and coats, reminiscent of 80s styles (although with smaller shoulder pads) in both double-breasted and single-breasted styles. Wear with jeans and casual outfits as well as for work
Statement sleeves. Flared sleeves, ruffled sleeves (and shoulders), wide sleeves
The safest tip for outfit creation is to limit volume to either your top half or your bottom half, not both. You may even have a floral A-line midi-skirt from a previous era. Great. However, do make sure you style it in a contemporary way.
An emerging styling trend is to fully tuck-in tops. This can help to control volume and create shape within an outfit. However, this technique looks best if you have a defined waist and your tummy isn't too large. Using a half or partial tuck still looks contemporary and may work better for you than a fully tucked-in top.
Floral prints remain as a major trend this Autumn and Winter season. In particular, statement florals on dark backgrounds.
Fashion Trends: Main Style Elements
Dresses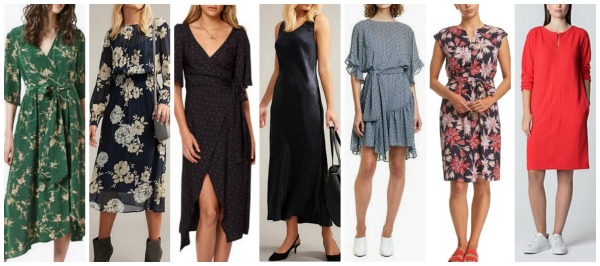 Images (from left): David Jones; Witchery; David Jones; Witchery; Country Road; Sportscraft; Trenery
The dominant trend in dresses is for flowy, feminine styles in midi and maxi lengths. Styles include fit-and-flare dresses (great if you have a defined waist); wrap styles; and there are some slip dresses available (add suitable shaping underwear and perhaps a top with semi-opaque sleeves, or a tee shirt). There are fewer options for straighter shapes and all-over volume -- make sure the colour or pattern of these looks contemporary, to keep your look current.
Skirts

Images (from left): Country Road; Witchery; Witchery; Trenery; David Lawrence; David Lawrence; Decjuba
It's good to see an increasing variety of styles, lengths, colours and patterns available for skirts.
There are still pencil skirts available, if that's your preference for work. However, there are also a range of styles that allow for more movement, and work for larger hips, and in more casual environments, such as floaty, subtle-A-line styles.
If you haven't added a new skirt to your wardrobe for a while, this is a good time to do so.
Pants and Trousers
Images (from left): Witchery; Country Road; Trenery; Seed; Decjuba
Pants continue to be easy to find in a wide variety of widths. It will be easier to find full length styles as well as cropped styles, this season. Wider legs styles are the main emerging trend. This includes a few culotte options.
However, there's no need to throw out your slim and skinny pants! And these styles are still available to buy.
Look for pants in dark floral prints, if you like florals.
Tops
Images clockwise(from top left): Witchery; David Lawrence; Seed; Sportscraft; Saba; Uniqlo; David Jones; Trenery
The biggest trends in tops, this season, are:
Statement sleeves. Look for: flared sleeves; ruffles on sleeves; and wide sleeves.
Boxy tops. For most women these will need some styling to make them work. For example: a partial tuck at the hem; use a scarf or long-line necklace to create strong horizontal or diagonal lines. Experiment to see what works for you.
Fine knits -- both short sleeved and long sleeved
Chunky knits -- including polar necks and cable knits
High, round necklines are dominant this season. If you prefer scooped or v-neckline styles use a scarf or necklace to give the illusion of the shape you prefer!
Outer Wear
Jackets
Images (from left): Veronika Maine; Decjuba; Country Road; Picnic
Jackets remain the dominant trend in outer wear. These 4 styles are the main styles this season: blazers (single-breasted and double-breasted styles); denim jackets; leather biker jackets; bomber jackets. For the last few seasons denim jackets have been widely available in a variety of denim blue shades and white (I'm still waiting for an olive green, or brown version!). The main length has been shorter (waist to high-hip length), this season there are also a few longer, crotch length styles available as well.
Coats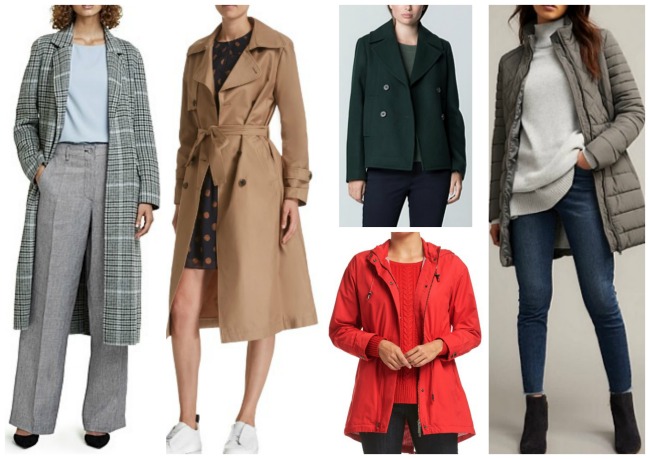 Images (clockwise from left): Country Road; Saba; Trenery; Witchery; Sportscraft
Coatigans and Cardigans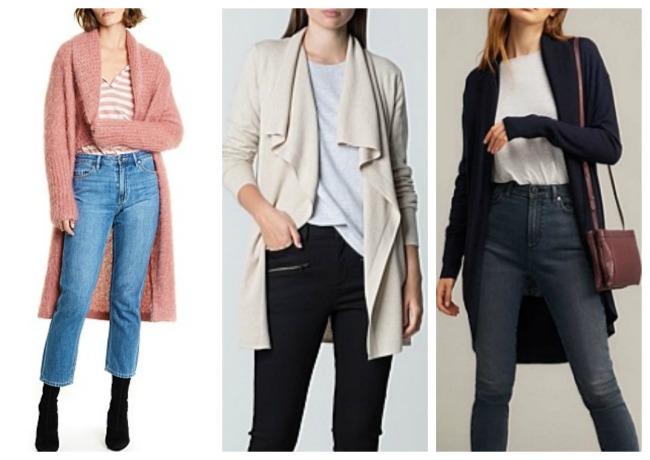 Images (clockwise from left): Country Road; Witchery; Trenery
Longer line cardigans and coatigans are the main trend in cardigans this season. Look for lengths from knuckle-length to mid calf
Accessories
Shoes and Boots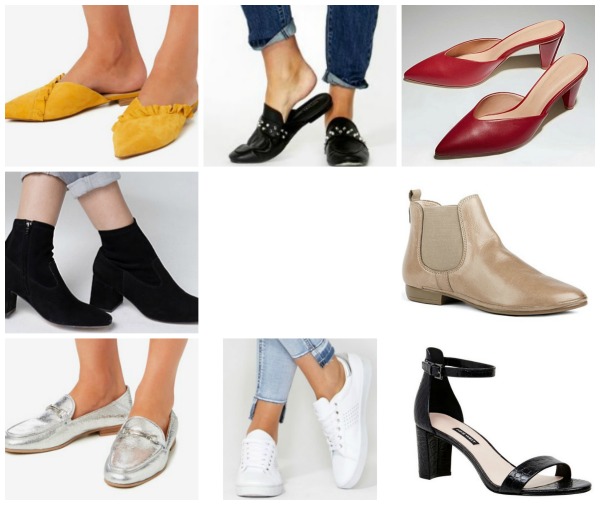 Images (clockwise from top left): Seed; Decjuba; Witchery; Diana Ferrari; Nine West; Decjuba; Seed; Trenery
It's so good to see so many stylish low and mid-heel shoe and boot options again this season!
The main shoe and boot styles include:
Mules. You'll find flat and heeled styles. Look for embelishments, florals, and checks
Ankle boots are still widely available in a range of heel heights and styles. The Chelsea boot (pictured above) remains widely available
Ankle strap sandals in block or stiletto heels
Sneakers. White sneakers are still a main trend -- look for small embelishments added, such as studs and florals -- as are fashion sneakers in general. To add height look for platform options.
Loafer and slipper styles are still available in a variety of colours and in shiny or matt finishes
Stretch ankle boots -- with long rises (useful for wearing with cropped pants and midi skirts). I'm seeing block and stiletto heel options (and hoping they become available in a low heel soon!).
Other Accessories
I've collected a few examples of the other main accessory trends (earrings, necklaces, scarves etc) in my Pinterest board of Autumn Winter Fashion Trends. See them here.
Main Fabric Autumn Winter Fashion Trends
Trends in Patterns and Prints
The 2 dominant pattern trends this season are:
Dark florals -- look for florals with dark and medium dark backgrounds. If bold florals, reminiscent of sofas, aren't your thing look for smaller, more delicate florals, or more abstract designs, or plant prints rather than flowers
Checks -- especially subtle checks associated with men's suiting, although there are still some gingham and stronger tartan checks around too
If you're feeling bold try combining a subtle check with a bold floral in one outfit! Link the 2 by choosing patterns with similar colours.
Or, if you're slightly intimidated by patterns, try adding a floral or checked scarf to your outfit.
Fabric Colour Trends
Neutrals this season include black and navy. There are also some greysavailable. I'm so pleased to see navy continuing as a more universally flattering neutral!
New season colours include:

Green -- you'll find dark greens (both cool and warm hues) as well as some brighter greens, such as emerald green
Yellow -- mainly, more muted, warm mustard hues, but there are some brighter yellows around too
Red -- bright reds, orangey reds and also some deeper hues including burgundy
There are also some purple berry and plum tones available.
Like This Page?