You are here: Style Articles > What to Wear >
Trend Watch
> Fall Winter Fashion Trends 2018-19
Fall & Winter Fashion Trends 2018-19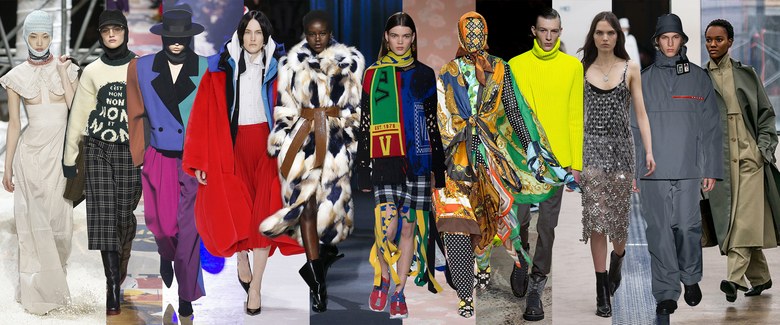 Image: Vogue Fall Winter Fashion Trends Summary
My sources for runway summaries of fashion trends this season are:
These are some of the more wearable trends. Overall the trend for volume continues.
Animal instinct. Animal-inspired prints never entirely go out of fashion, but this year they are more on-trend than ever. Look for leopard, zebra, tiger and snake-inspired prints. You'll find these and other animal-inspired prints in both natural colours and neon versions. Fur, both real and faux, and shearling are also major trends, especially for outer wear.
Checks and florals. Tartan-style checks, mens suiting-style checks and dark background florals are other major pattern trends.
80s-inspired volume. Oversized jackets, coats and sweaters. Strong shoulders. Wide-legged pants. Full midi skirts and dresses.
Western influence. Think cowgirls, 'Little House on the Prairie'-women and native Indians. Look for Victorian-prairie dresses; fringing; ponchos and blanket coats; cowgirl boots; gingham check; ethnic prints; saddlebags; billowy long skirts; jeans; denim jackets
3D sparkle. Especially shiny silver with noisy embellishments. Look for metallic detailing; chain-mail inspired detailing; and sequins. To inject a touch of sparkle into an outfit add a pair of oversized earrings (embellished hoops are particularly on-trend), an embellished silver handbag, or perhaps footwear with a metallic finish.
Retro silk-scarf-inspired styles. Retro silk scarf prints used in: floaty tops and billowy dresses; mixed with other fabric in skirts and jackets; silk square scarves, and long rectangle scarves
Leather dresses and skirts. You'll find both real and faux leather. This year leather dresses and skirts are in thinner, softer versions than earlier years, making it easier to wear. If you do want to try this style look for skirts in knee or midi lengths and fuller skirts, to allow ease of movement
Multi-layered volume. Such as 2 or more outer layers worn together. Or full pants, under an A-line midi skirt. I don't suggest trying to emulate the really bulky runway looks. However, a denim jacket under a faux fur coat might be practical for unpredictable weather conditions or an unpredictable internal thermostat! Or try an oversized longline boyfriend cardigan under a leather jacket.
Is brown back? -- certainly on the runways there were many examples of brown: chocolate brown; warm mid-brown shades; and lighter, beige-browns. It's been over a decade since I've seen more than an incidental item in chocolate brown. Could it really be on it's way back?
The Main Fall & Winter Fashion Trends
These are some of the major trends I'm seeing in online stores:
Animal-inspired prints
Images (clockwise from left): Anthropologie; Chicos; Chicos; Nordstrom; Chicos; John Lewis; John Lewis; Accessorize; Ann Taylor; Chicos; Chicos; Nordstrom
I really am seeing animal-inspired prints everywhere! Leopard prints are a particularly dominant trend. On the runways head-to-toe leopard was shown. I call this leopard-loading and do confess I have a liking for wearing at least a couple of leopard print items in one outfit! However, if this isn't something you can get your head around, you might still want to try just a touch of leopard. Try it in a scarf, a pair of earrings, on your feet (loafers or ankle boots), or perhaps just a purse.
Other pattern fall & winter fashion trends
Florals
Images (clockwise from left): Anthropologie; John Lewis; Ann Taylor; Nordstrom; Ann Taylor; Marks and Spencer; Zappos; Chicos; Nordstrom
Floral prints are a strong trend this season, especially dark background, large bloom florals.
Checks
Images (clockwise from left): Nordstrom; Ann Taylor; Ann Taylor; Nordstrom; Next; Ann Taylor; Fat Face; Marks and Spencer; Marks and Spencer; Anthropologie
Checks are also a strong trend this season. As I've illustrated above, this pattern is available in many garment types and accessories.
Stripes
There are still quite a few garments available in stripes as well. Especially uneven, multi-colored versions and pin-stripes.
You could try the continuing pattern-clash trend, if you're game! If you haven't tried this before, start with stripes and florals with a similar color theme.
Western influence
Images (clockwise from left): Nordstrom; Chicos; Fat Face; Chicos; Anthropologie; Dune London; Anthropologie
I'm not seeing so much that is obviously about the Western trend. There are quite a few blanket coats and ponchos available. Quite a few mens-style checked shirts. And a variety of Western-inspired ankle boots. And there's certainly fringing to be found on many clothes and accessories. Many of the statement bib-style necklaces could be said to be inspired by ethnic, native Indian styles. As could the more ethnic statement earrings. And there are some more peasant, or Victorian (high neck and full sleeves) dresses and blouses around too -- perhaps these could be interpreted as Western-style?
3D sparkle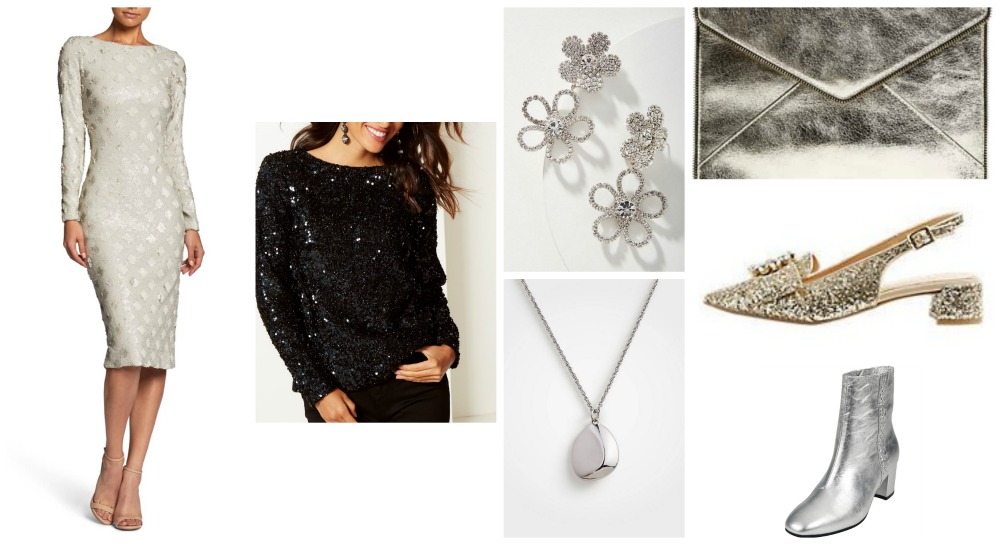 Images (clockwise from left): Nordstrom; Marks and Spencer; Anthropologie; Nordstrom; Marks and Spencer; Nordstrom; Ann Taylor
Shiny silver and embellished shiny silver clothes and accessories are a minor, emerging trend. You'll also find some shiny gold and pewter clothes. And there are a few sequin and embellished clothes and accessories around. We may see more of these items available in the lead up to Christmas and the holiday season.
Brown
I am seeing some clothes in brown, but not enough to say that it's a major trend this season. Perhaps an emerging trend? Most of the deeper browns are in a leopard print or check pattern. And a lot of lighter brown mens-suiting-style checks. There are also quite a few warm brown tones, in the rusts, which is nice to see.
More Fall & Winter Fashion Trends
For more inspiration see my Pinterest Fall & Winter Fashion Trends boad.
Like This Page?