You are here: Style Articles > What to Wear >
Trend Watch
> AW Fashion Trends 2019 Australia
Autumn Winter Fashion Trends 2019
Images (from left): Jacqui E; Witchery; Country Road; Trenery; Decjuba
The picture above illustrates some of the main autumn and winter fashion trends:
Volume -- the trend for fuller silhouettes continues. The main trend for skirt and dress lengths is the midi length. The main trend for pants is away from skinnys. Wide leg pant lengths are available in both cropped and full lengths. When you're over 40 it can be easy to look frumpy in midi skirts and wide-leg pants. The trick is to ensure they're styled in a contemporary way and to make sure the length of the skirt, dress or pants is flattering for you.
Matching suiting -- the main trend for suits is back to matching jacket and pants or skirt. Look for suit silhouettes with volume in the jacket (especially architectual jackets with strong shoulders and defined waists), or wider leg pants, or longer line skirts. Also look for suits in bold prints and unusual colours!
Beige -- especially monotone shades of beige in one outfit. This look can be challenging to wear without looking washed out. Mix textures in one outfit, or add darker shades to balance to your look. When done well the look is refined and elegant.
Animal prints -- especially all versions of leopard and snake prints. Animal prints never go entirely out of fashion, but this season they're bolder and more widely available than ever! You'll find it in natural colours, camoflage-inspired colours, and more abstract versions. If you like the look on others, but aren't sure about it for yourself, try a pair of leopard or snake print shoes or ankle boots. Or go for a more abstract print
Floaty dresses and skirts -- look for fit-and-flare long-sleeved dresses in flowing fabrics. Add a belt to further emphasise your waist (only do this if you have a defined waist). There's also a wide range of silky, bias-cut midi skirts available. Pair your silky skirt back with an over-sized jumper tucked-in, or partially-tucked and add ankle boots for a modern look.
Autumn Winter Fashion Trends: Main Style Elements
Outer layers
Coats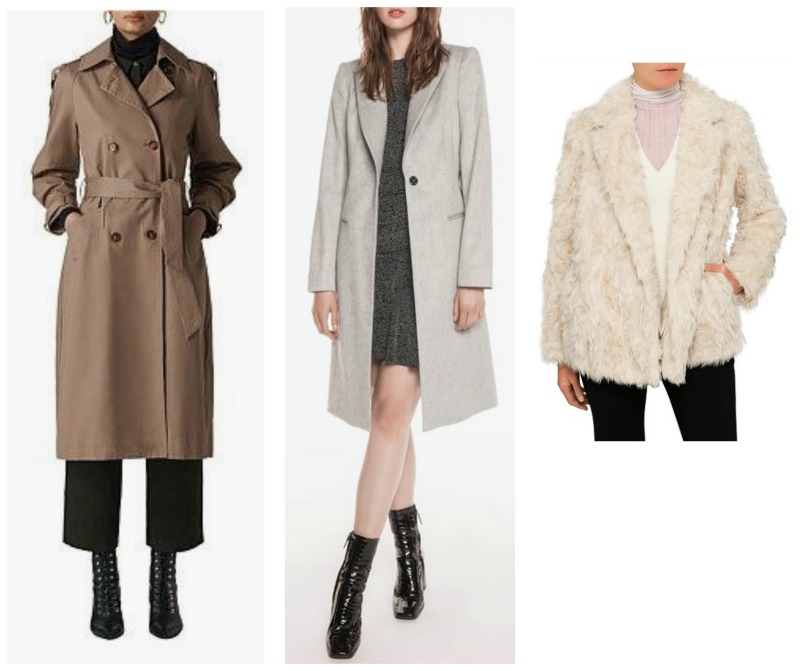 Images (from left): David Jones; Cue; David Jones
Autumn and winter coat trends include:
Trench coats -- this classic style is still widely available. You'll also find over-sized versions and jacket length trench coats
Long-line coats -- another classic style. It's available in neutral colours and prints such as tartan checks
Fluffy coats -- in fur, faux-fur, and teddy-bear fabrics
Jackets
There is still a wide choice of jackets available. Styles include:
Blazers -- especially, longer-line, military styles
Denim trucker jackets -- this classic is available in traditional denim shades, black and fashion colours such as mustard yellow
Leather jackets -- look for biker styles and blazer styles. They're easiest to find in black, but you will find some fashion colours as well, such as the mushroom-blush suede one above
Cardigans
There's a smaller selection of cardigans available. Styles include:
Waist and hip length cardigans -- you'll find both fine and chunkier knits. Look for interesting textures
Long-line cardigans -- lengths vary from mid-thigh to mid-calf. You'll find, waterfall, straight-opening and cocoon (curved hem) styles, in various knit weights
Coatigans -- the heaviest knit-weight cardigans can be worn as a coat
Dresses
Dresses continue to be widely available. The main styles this season are:
Midi-length, gathered at the waist, long sleeves dresses -- especially in floaty fabrics, like the one above from Decjuba. You'll find versions in floral prints (especially dark-background florals), animal prints and textured plain colours. This style works best if you have a well-defined waist and a smaller tummy
Wrap and psuedo-wraps -- these can be particularly good if you have a larger bust. They're also good for creating the illusion of a defined waist and hiding a tummy
Straighter shirt dresses -- and tunic-style dresses. These work best for those with straighter body shapes, and can be good for disguising a fuller tummy
Skirts
There's a wide range of skirt styles available this season. The main silhouettes are:
Bias-cut, satiny midi-skirts -- pair with a jumper or tee shirt and jacket for day wear, or with a dressier top for evening wear
Floaty-midi skirts -- you'll find wrap styles and asymmetrical hems. These skirts are A-line shapes in floaty fabrics. They work for many body shapes
Pencil and straight skirts -- lengths range from around knee length to mid-calf
Fit and styling notes
Please pay close attention to the length of your midi skirts and how you style them. It can be easy to look old-fashioned and frumpy in this style, but, worn well, it can look modern and stylish. For example, if you're short and prefer not to wear heels your best midi-length may be mid-way between your knee and your full-calf.
Also notice how the longer skirts are styled in the above examples. See how the tops are all tucked into the skirts? This creates a more flattering outfit proportion.
However, tucking can be an issue as we get older. It emphasises the tummy and can make you feel heavier than you need to look. Here are 3 alternative ways to style a midi-skirt that you may find more flattering:
Use a partial tuck -- by showing just a little of your waist you may be able to create a flattering oufit proportion without a full-tuck. I show you how in this article
Pair a full skirt with a slimmer fitting top
Add a shorter top that you can leave un-tucked. A top that ends at your high-hip, hip, or low-hip may be more flattering on you than ending a top at your waist
Pants and Trousers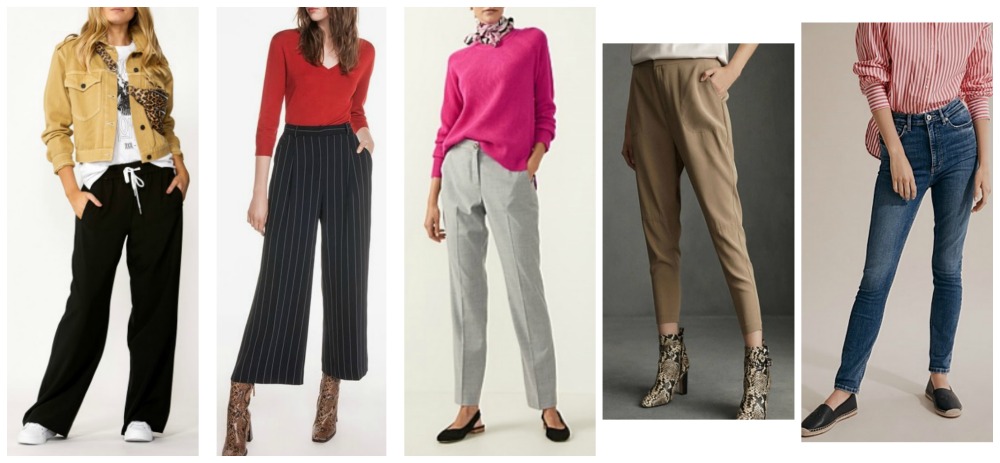 Images (from left): Decjuba; Cue; Trenery; Witchery; Country Road
There's still a wide range of pants styles available. The main silhouettes are:
Wide leg full-length pants -- available in plain colours and prints
Wide-leg cropped -- also called culottes. you'll find straight-leg crops and kick-flare crops
Straight-leg
Tapered-leg -- both cropped and flared
Some skinny-leg -- there are still some skinny-leg styles around, especially in jeans and leather, or faux-leather, styles. For a contemporary look style with fuller-volume tops and over-sized knits
Tops
Images (from left): Trenery; Decjuba; David Lawrence
There's a wide range of tops and knits available, as well as short and long-sleeved tee shirts.
A dominant trend is for high necklines, including turtle and roll-necks.
Shirts and blouses continue to be widely available, in a good range of fabrics, patterns, plain colours and interesting textures.
A wide range of knit styles are also available, from fine knits to textured and over-sized.
Shoes and Boots
Images (clockwise from left): Trenery; Style Tread; Hush Puppies; Trenery; Witchery; Witchery
Autumn & Winter Fashion Trends: Fabrics
Fabric pattern trends
Animal prints -- especially leopard and snake. You'll find life-like versions, colourful versions and more abstract, animal-inspired prints. Animal prints never entirely go out of fashion, but this season they're back in a big way! You'll find all kinds of wardrobe items in leopard or snake inspired prints. If you're a bit nervous of wearing animal prints, but want to give it a try opt for one of the more abstract versions, or a touch of animal print in an accessory such as a clutch bag or statement earrings
Florals -- especially dark florals. You'll find bold, large scale prints and smaller scale florals too. Pick a scale that suits your frame, features and personality
Checks -- in jackets, pants and even shirts, especially small checks
Scarf prints -- brightly coloured Chanel-inspired scarf prints is an emerging trend. You'll find it in tops, skirts and dresses
Polka dots -- this is another (re-)emerging trend
Paisley -- another re-emerging trend
Fabric colour trends
The images above include items in many of the dominant colour trends. As you can see there's quite a range, from light neutrals to bold brights and everything inbetween. Pick the colours that suit your appearance and your personality.
Beige -- especially monotone shades of beige in one outfit. Shades range from blush through light greys, to light oatmeals and camels. If light colours aren't so good for you, but you like this trend, mix beige with darker neutrals, or choose a pattern that includes beige
Darker neutrals: black, navy, olive, khaki, grey. A hint of chocolate brown in some animal prints
Yellow -- especially mustard and lemon yellows
Mid browns -- especially warm, coppery tans and camel
Pinks -- especially bright fuschia shades, but some lighter shades too
Greens -- rich forest greens, jade and bright teal, as well as the khaki and olive tones
Berry tones -- such as burgundy and deep purples
Like This Page?