You are here: Style Articles > What to Wear >
Trend Watch
> AW Fashion Trends 2020 Australia
Autumn Winter Fashion Trends 2020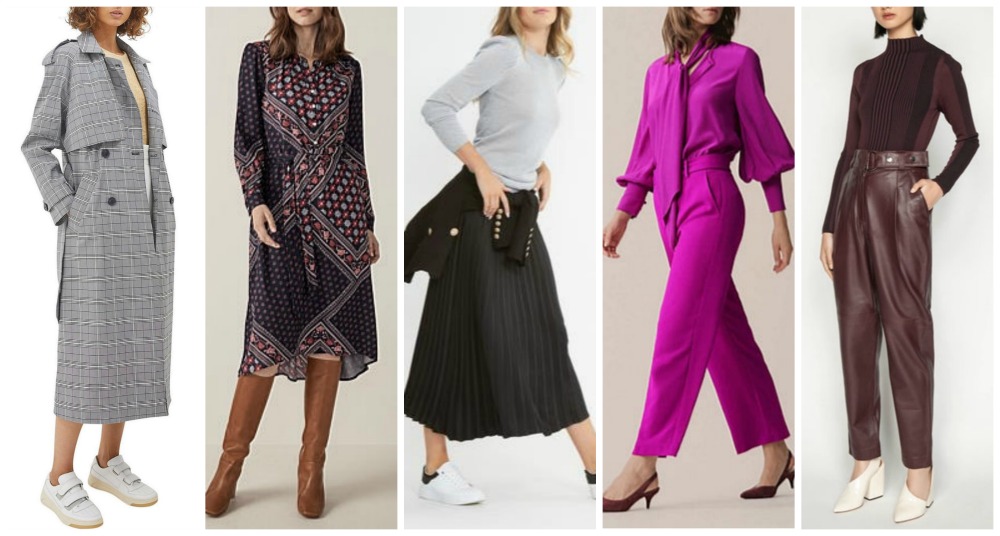 Images (from left): David Jones (Saba); Trenery; Decjuba; Witchery; Cue
Key style trends this season include:
Trench coats -- this classic is almost constantly available. One difference this year is that as well as classic neutral colours such as camel and navy more unexpected colours and prints are available, such as pastel shades, fluoro colours and menswear-suiting-inspired checks
Floaty, feminine dresses and skirts -- especially midi lengths (although you'll find mini and maxi versions too). Most of these dresses have defined-waists, which controls the overall volume of the look. Ruffles and frills are also widely available
Pleats -- especially pleated midi skirts and also dresses
Puffed and gathered, full sleeves -- on blouses, dresses, and knit tops
Mono-tone, column of colour outfits -- the colour can be a beige or pastel neutral, or fluoro for a dramatic look. This includes matching suiting in non-classic colours and patterns
Leather and faux leather -- you'll find leather pants, shirts, and skirts as well as jackets, and coats. I might stick to a leather jacket and perhaps some faux leather patches on a more comfortable stretch fabric
Overall the trend is for volume and length in clothing styles. Although you'll find plenty of slimmer-silhouette options too. However, to keep your look contemporary don't go too slim-line all over. Perhaps choose straight, slim pants rather than skinnies. Or pair a blouse or knit with full sleeves with skinny pants.
Fashion Trends: Main Style Elements
Dresses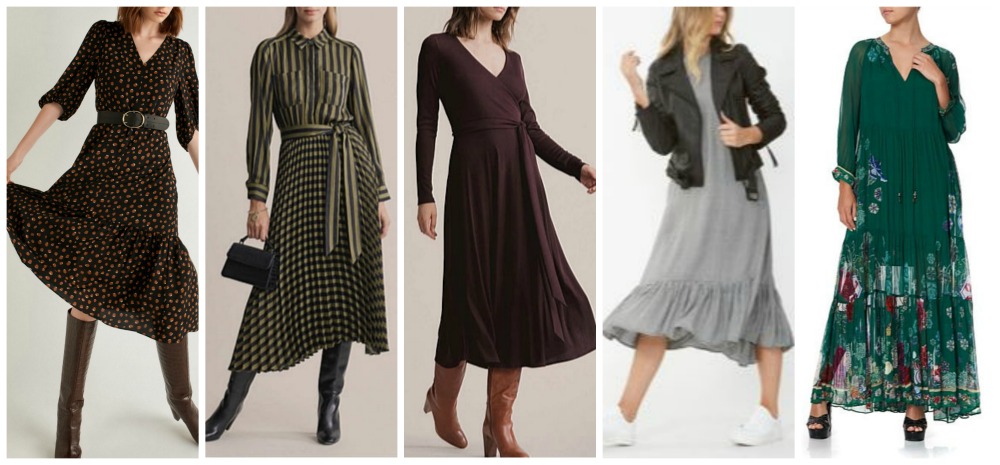 Images (from left): Veronika Maine; Witchery; Witchery; Decjuba; David Jones (Camilla)
This Autumn Winter season you'll find many floaty, midi dress options. Look for ruffles and frills.
There are many waisted style, but you will also find a few styles that flow through the waist if you don't want to draw attention to your middle.
If ruffles aren't your thing look for a shirt dress, the Witchery shirt dress (shown above) has a pleated skirt, which makes it look smarter than the usual shirt dress. There are also some wrap styles available.
There are also many styles with the season's fuller sleeve.
Skirts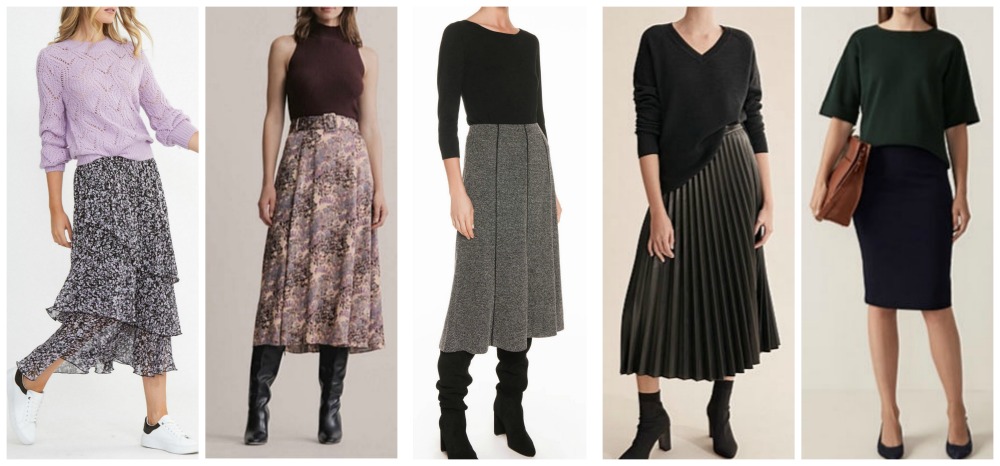 Images (from left): Decjuba; Witchery; Veronika Maine; Country Road; Trenery
Skirt lengths are also mainly midi lengths. You'll find ruffles and A-line styles (including subtle A-line styles, which suit most women). Variations include pencil pleats, box pleats and panels.
If you prefer a straighter style look for skirts that are knee length or longer.
Pants, and Trousers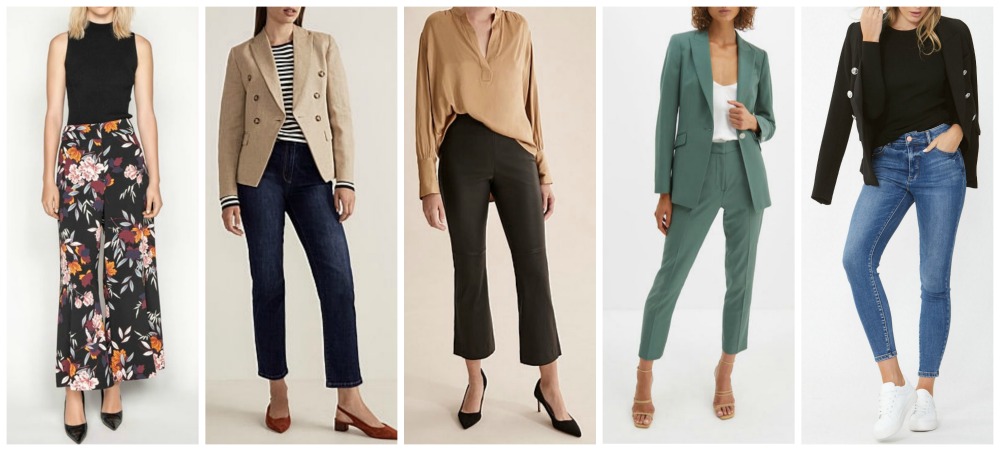 Images (from left): Cue; Trenery; Country Road; Saba; Decjuba
The main trend is for wider leg pants. Widths range from full palazzo styles, which can be challenging to wear well, to slim straight styles. There are still many crop length styles available. And kick flare options, especially in cropped styles.
If you prefer a slimmer look you will still find skinny styles, or try a slim straight style instead.
Coats, Jackets & Vests
Coats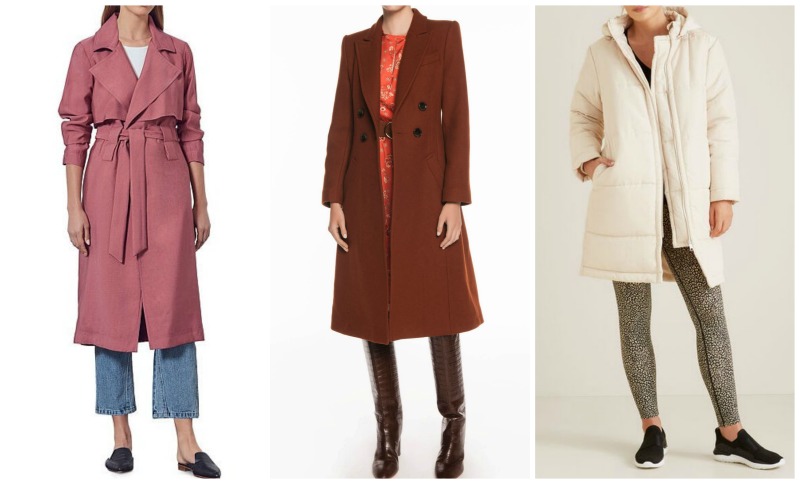 Images (from left): David Jones (Viktoria & Woods); Veronika Maine; Seed
The widely available coat styles include:
Trench coats
Classic, knee length, slim-line styles -- and more relaxed versions too
Long-line puffer coats
Jackets & vests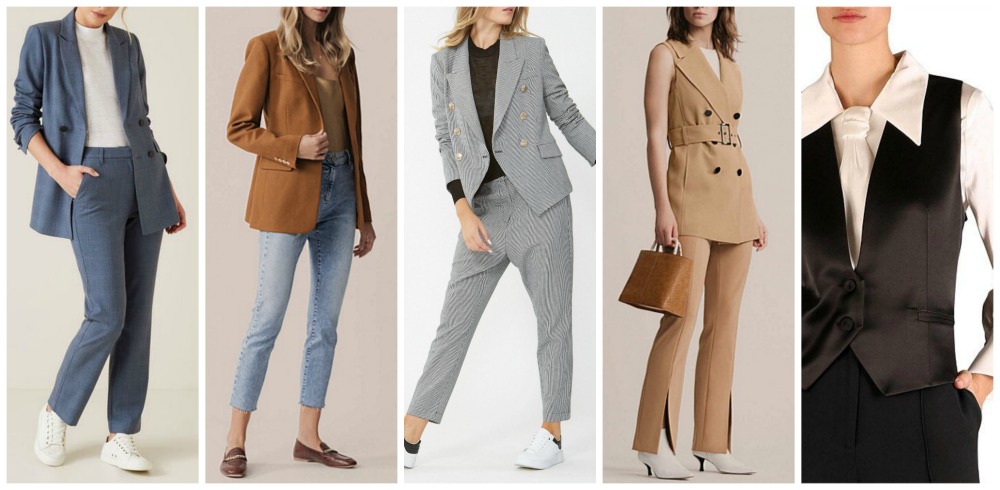 Images (from left): Seed; Witchery; Decjuba; Witchery; David Jones (Carla Zampatti)
Blazers remain the dominant jacket style this Autumn Winter season. Especially longer-line, relaxed styles in both single and double-breasted versions. You'll also still find leather biker styles and trucker style denim jackets.
Vest styles include sleeveless blazer styles (I had one of these back in the 90s that I absolutely loved!). On the runways there were also tailored mens-style waistcoat vests, although these aren't widely available at the moment.
Tops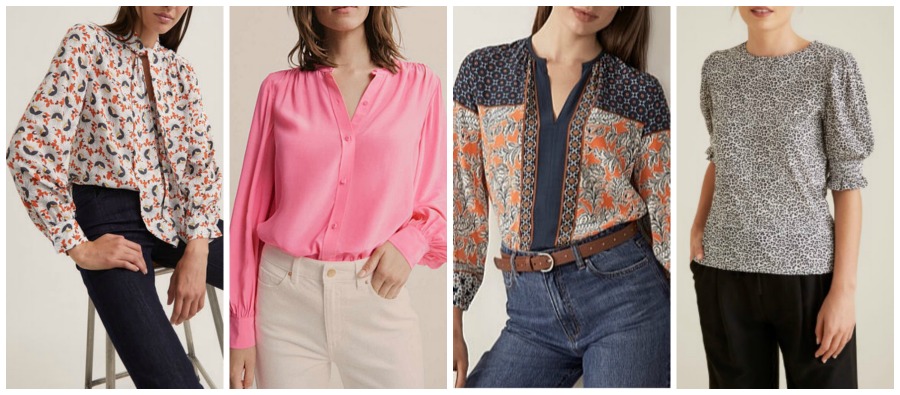 Images (from left): Sportscraft; Witchery; Trenery; Seed
There remains a wide selection of tops. Strong trends include:
High necklines -- including tie necks (which can be tied to create a V-neckline), crew and turtle necklines
Full sleeves such as puff sleeves and blouson sleeves
Peasant styles
Short, three-quarter and full sleeve lengths

Images (from left): Decjuba; Sportscraft; Witchery; Witchery
You'll also find many knit styles with fuller-sleeves, including the batwing style. There are also textured knits and more fitted short sleeve styles.
Shoes & boots
Check out the images above for ideas on what style of shoes and boots to pair with your outfits.
The main trends are for:
Long boots -- worn with dresses and skirts
Ankle boots -- worn with pants and maybe with dresses and skirts, though you need to take care with where the boot and hem ends to make sure you're not making yourself look shorter than you'd like to, or emphasising thick calves (mostly best when the boots are a similar colour value to your hem and with matching opaque or sheer tights)
Loafers -- for a smart casual look
Sneakers -- for a casual, sporty look
Sling-back -- for a dressier look
Autumn Winter Fashion Trends: Fabrics
Fabric pattern trends
The main pattern trends include:
Fine cheques
Dark florals, especially small floral prints
Animal prints, especially zebra-inspired prints
Fabric colour trends
I'm excited to see a wide variety of warm tones, including burnt orange and the return of warm brown colours, such as russet and warm tans. As well as the dark berry tones of last Autumn Winter, some so dark they could be mistaken for chocolate. It's been many years (10 or more) since I've seen as many browns available.
There's also a range of pinks, from dusty pink to bright lolly pinks and a warm dusty pink/warm cedar hue.
Many stores also have a version of forest green and other green hues, as well as khaki and olive.
Apart from denim, I'm not seeing as much blue available this season.
Black, greys and shades of white are still widely available.
Like This Page?