You are here: Style Articles > What to Wear >
Trend Watch
> Winter Fashion Trends 2021 Australia
Autumn Winter Fashion Trends 2021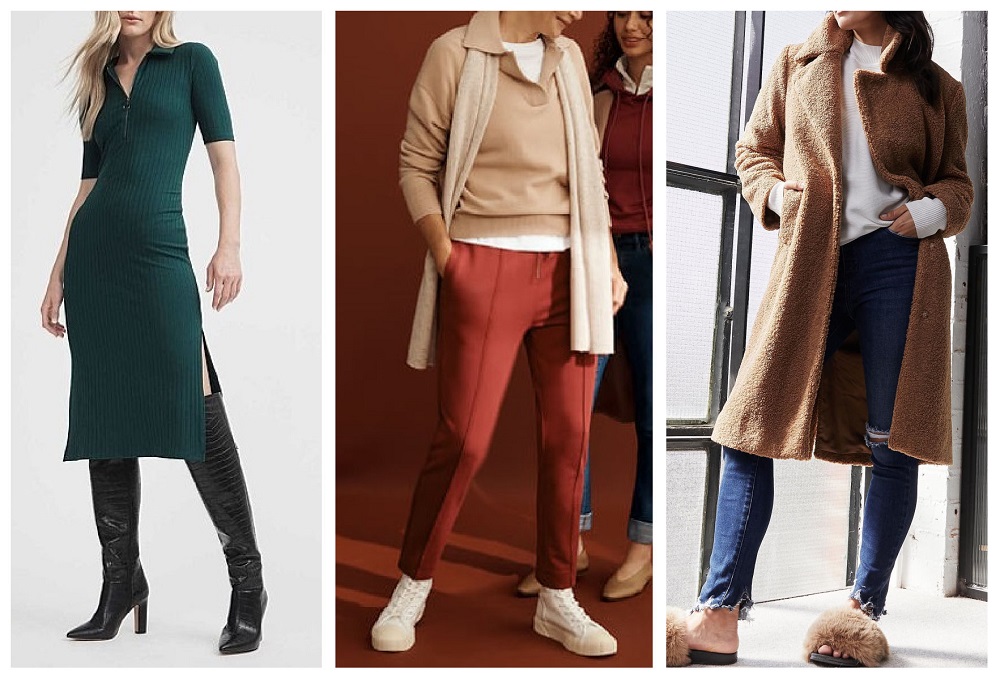 Images (from left): Witchery; Sportscraft; Decjuba
As you can probably tell from the images above, comfort remains a major trend this autumn winter fashion season.
Other main style trends include:
Full sleeves -- especially puff, or bell shape sleeves. On blouses, dresses and knits. Sometimes combined with Edwardian-style ruffles
Strong shoulders -- subtle, or not-so-subtle shoulder pads. On t-shirts, sweat tops, knits and shirts
Denim -- items include jeans, shirts, jackets, shackets, dresses and puffers. The dominant washes are medium and medium-light vintage washes. The new shapes are full, straight, or flared. Mid and high-waisted styles remain the main trend. Denim-on-denim (aka the Canadian Tuxedo) is on-trend for styling
Styling -- the full tuck is still the main way to style tops and bottoms. And a wider range of belt styles and widths are now available
Patterns -- checks (bold or classic, mens-suiting-inspired); dark background florals; paisley; animal prints are still around, but not as many
Autumn Winter Fashion Trends 2021: by Garment Type
Pants and Trousers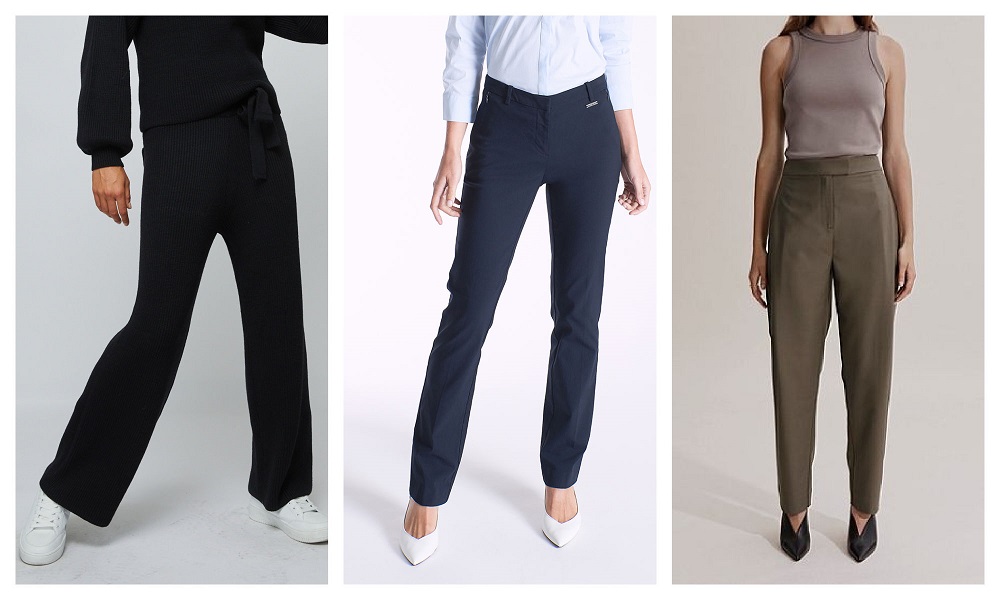 Images (from left): Decjuba; David Lawrence; Country Road
The trending pant widths are relaxed. You'll find wide, straight and tapered styles available.
There are still many ankle-length styles around, but it's getting easier to find full-length pants as well.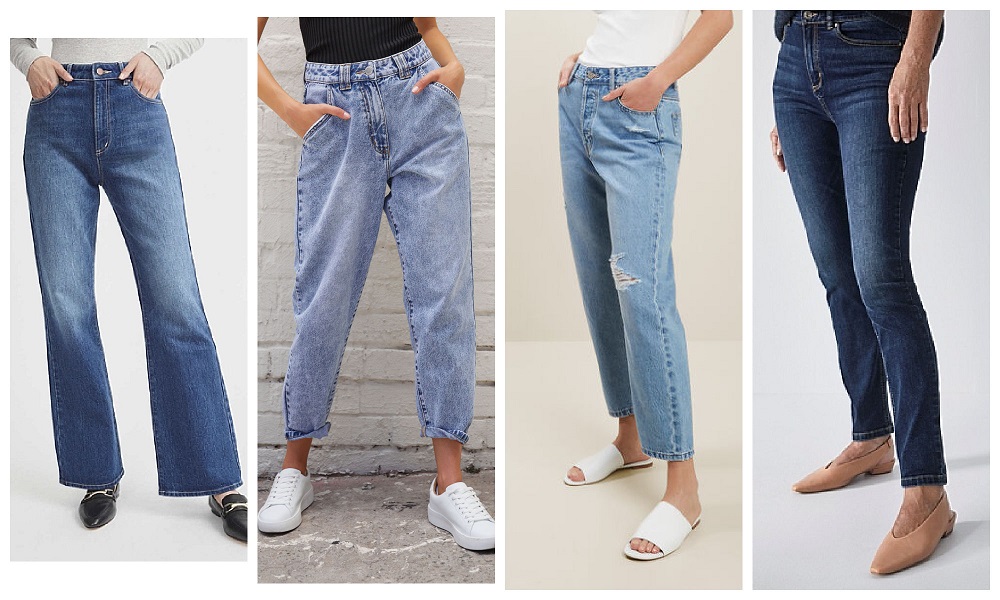 Images (from left): Witchery; Decjuba; Seed Heritage; David Lawrence
There are many more jeans styles available this Autumn Winter. They come in many widths and lengths.
Images (from left): David Jones; Decjuba; Witchery
Track and lounge pants remain widely available and are often styled with blazers and knits for everyday wear, rather than being limited to sporting activities and lounging. If you're going to try this look choose good quality pants -- look for thicker or firmer fabrics that don't bag at the knees too quickly.
Dresses
There's still a good selection of dress styles around. Midi lengths are the main trend. However, there are some knee and above knee length options as well.
The easiest to find styles are:
Knit dresses. Silhouettes include: very fitted; fit-and-flare; and straighter, relaxed styles
Shirt dresses -- mostly midi-length fit-and-flare styles, but also straight, above-knee mini styles
Tiered dresses -- mostly midi-length single or multiple tiers
Skirts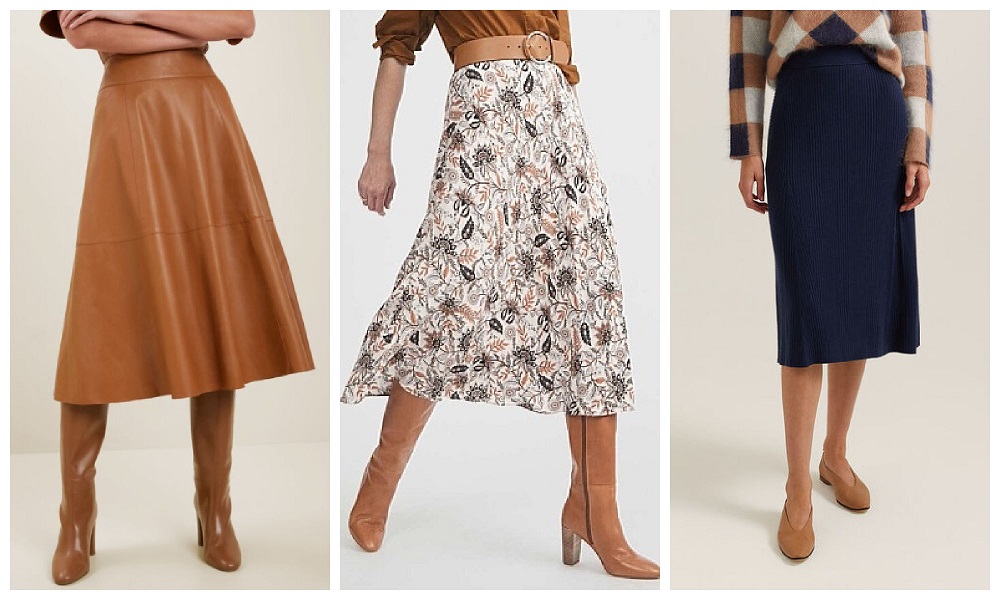 Images (from left): Seed Heritage; Witchery; Sportscraft
There aren't as many skirt styles around this Autumn Winter Season.
The main lengths available are midi skirts and minis.
Fabrics include leather and faux-leather, denim, and knits. Styles include A-line and subtle A-line midi styles (with or without tiers).
Tops
Images (clockwise from top left): Witchery; Country Road; Decjuba; Seed Heritage; Sportscraft
It's knitwear season, so as you'd expect, there's a wide variety of jumpers and knit tops available.
Texture remains a strong theme. Especially ribbed knits and tops and chunky jumpers.
Other tops include:
Long-sleeve tees -- including ribbed Henley styles (illustrated in the image in the middle of the bottom row above)
Blouses -- especially full sleeve styles
Shirts -- especially over-sized shirts
Sweat tops -- either worn with matching sweat pants, or with jeans or other pant styles
Necklines are mainly high neck, either high round-necks or polar-neck. However, you'll also find some v-necks, occasional scoop neck styles, and some boat-neck styles
Cardigans
There's a greater variety of cardigans available this season.
They range from high-hip length and chunky to mid-calf and fine and everything inbetween. Waterfall styles are not currently on-trend.
Jackets & Coats
Images (from left): Decjuba; Sportscraft; Sussan
There remains a wide-range of jacket styles available. Including: trucker-style denim jackets; fluffy teddy jackets; puffer jackets; and leather biker jackets.
Over-sized, 80s and 90s style blazers remain very much on-trend.
Shackets are an emerging style. These are a cross between a shirt and a jacket.
Images (from left): Uniqlo; Decjuba; Sportscraft
Coat styles include: classic wool coats; puffer coats; teddy coats; coatigans; leather trenches; and classic trenches
Footwear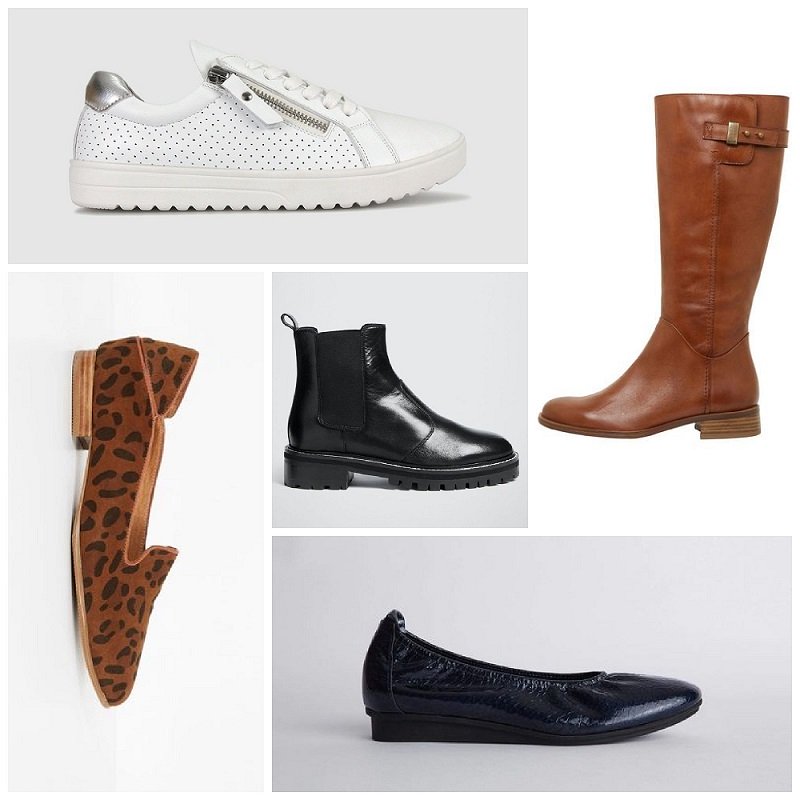 Images (clockwise from top left): The Iconic; Myer; Leisures; Leisures; Witchery