Liz's Style Makeover
Liz's New-found
Style Confidence
"I now feel more confident about wearing nice clothes" - Liz
Liz first contacted me shortly after she'd turned 70.
Although she no longer works she leads a very active life. She regularly plays golf, socializes with friends, spends time with her grown children and grandkids, enjoys going to the ballet and the theatre and travels a few times a year.
Before I saw her the first time Liz had done a massive cull of her wardrobe and was struggling to put outfits together, especially for every day wear and casual socialising.
Please note the photos on this page were taken by me (not a professional photographer) for the purpose of reminding Liz how to wear her clothes and accessories. They are published here with kind permission from Liz.
The style makeover brief
Liz wanted to create a style to take her into her 70s and beyond.
She was specifically looking for help co-ordinating clothing. And to understand the shapes and lengths that best suited her proportions.
She had stopped colouring her hair a while ago (and why would she colour her beautiful silvery hair?!), and was no longer sure what colours worked best for her.
Liz also wanted help with where to shop for items. She likes clothing shopping, but had become frustrated with not finding clothes that worked for her age and shape.
The style makeover journey
We started with a Style Discovery session, to work out Liz's style criteria and so I could see what was in her wardrobe and where she was struggling to create a style she liked.
Your style criteria:
The colours that suit you best
The shapes that flatter your body proportions
The styles that work with your personality
It's so much easier to shop for clothes and accessories when we understand our style criteria. It also makes it easier to assess items in our wardrobe with this knowledge about yourself. And it's easier to create flattering outfits.
See 6 Steps to Savvy Style to learn more.
This was followed by a comprehensive wardrobe session to assess exactly what Liz did have that worked with her style criteria, and for her lifestyle, for the upcoming season (Spring and Summer 2015). I was able to show Liz new outfits using clothes and accessories she already had. We also created a shopping list of missing items.
The next steps were to go shopping and then a follow up session in the wardrobe to show Liz how to use the new items and her existing items in outfits.
I found that Liz did already have some lovely clothes and accessories. However, as she had correctly assessed, she was missing a few key items needed to complete outfits. She also needed some updated styling knowledge to create outfits that worked for her personality and lifestyle.
Liz's new style
Liz's style criteria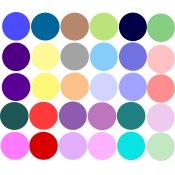 Cool, Muted and Light (aka Light Summer) colours work beautifully with Liz's colouring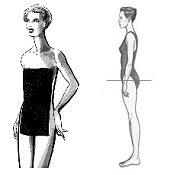 Liz's horizontal body shape is Rectangle, her vertical shape is Balanced Body. Her main challenge for off-the-rack clothes is her petite height, although this is often simply fixed with altering the length of garments, or knowing how to style an outfit.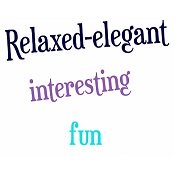 Liz's style words that represent her personality and how she wants to look. There's a whole glossary of meaning that supports these words, but these 4 words serve as a reminder when buying clothes and accessories and putting outfits together.
Spring & summer outfits 2015/2016
The focus for our first style upgrade sessions was to create a stylish spring and summer wardrobe with a focus on everyday wear and casual socialising both during the day and the evening. Here are some of the examples of the outfits we created before going shopping:
These are a few outfits we created after shopping, some combining new with existing items:
Autumn & winter outfits 2016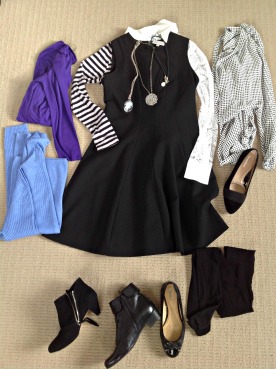 So many ways to style this
sleeveless dress
Spring & summer outfits 2016/2017
These are a selection of outfits we created for spring and summer:
Autumn & winter outfits 2017
The main focuses this season were on:
Replacing worn out coats and jackets

Stylish, more formal coat from Gerry Weber. Great to go to the ballet.

This boiled wool Marcs biker jacket is a warmer equivalent of the spring denim jacket.

Pretty Sportscraft shower-proof anorak.

Stylishly ready for cold weather in this Gerry Weber puffer jacket.
More formal evening wear, especially styling existing dresses and making more use of Liz's lovely red suede pumps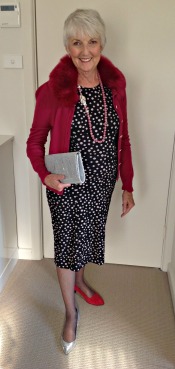 See how the different shoes change the mood of this Gerry Weber dress? The silver is more formal, the red more playful.
The red Alannah Hill cardigan with detachable faux fur colar adds balance to the red pumps.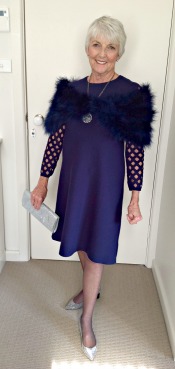 This blue Alannah Hill feather stole adds a touch of fun to this modern Karen Millen dress.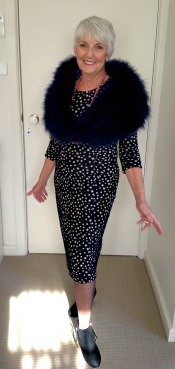 See how the feather stole and ankle boots change the mood of the Gerry Weber dress?
All of the items below were already in Liz's wardobe. Here I helped her style them in different ways to complete going-out outfits.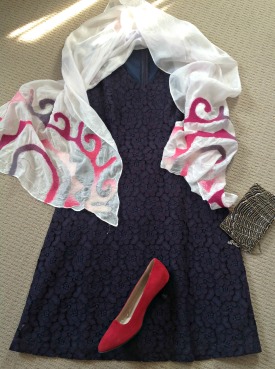 The dress can be made warmer with a fine 3/4 or long sleeve v-neck navy tee underneath.
The red cardigan and feather stole would also work with this outfit.
The beautiful flock wrap works well with the darker tones in the dress to create a more formal look.
Helping you gain style confidence
I love working with clients on an ongoing basis and becoming part of their style journey. It's so rewarding to see your style evolve as you become more confident with what you wear.
We might meet for 2 seasonal updates every year. Or for smaller wardrobe and/or shopping trips more frequently throughout the year. Or, every couple of years if you want a minimal wardrobe that you wear to death! Togeher, we work out what you need and want.
If you're ready to upgrade your style contact me I'd love to help you.
Like This Page?