Are shorts appropriate over 60?
by Linda
(Vic, Australia)
Are shorts appropriate over 60?
Would love advice on whether shorts are appropriate for a women over 60? If so, what styles can you suggest?

Jane's answer...Linda the short answer (pun intended) is yes!

If you like your lower legs and knees then shorts can be comfortable, practical casual wear for hot summer days and stylish too!

And, if you have full thighs, shorts will prevent chaffing.


Length of shorts
The main things to get right when you're over 60 are: the length of your shorts; and ensuring your top doesn't reveal too much flesh. When you're older shorter shorts (mid thigh and above), especially when combined with a skimpy top, tell the world you're struggling to accept your years.
Your best lengths will be:
On the knee


Just above the knee, or


Perhaps just under the knee (though not if you have short legs relative to your torso, or if you're shorter than 5'4"/162cm)
Short styles
The styles of shorts that will work for you will depend on your body proportions. As with any clothing and outfit styling your best looks will come from
balancing your proportions
.
If your
hips are wider than your shoulders
(the triangle horizontal shape) look for shorts that minimize the visual weight of your bottom half. Your best styles: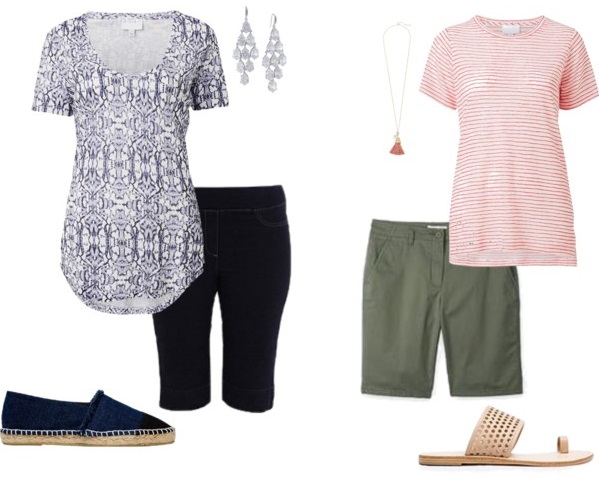 Are medium dark to dark


Have minimal pocket detailing. So avoid cargo style shorts. Ensure any pocket opening doesn't pull across your hips and thighs


Don't have cuffs (especially if the cuff is in a contrasting color)


Are plain colors rather than patterns
And pair with a top in a similar color value, or lighter
If your
horizontal proportion is rectangle, or apple
your aim is to de-emphasize your waist (for instance, by minimizing bulk) and perhaps to emphasize your shoulders. If your shape is apple a longer tunic style top, or asymmetric hem on a top, will work best.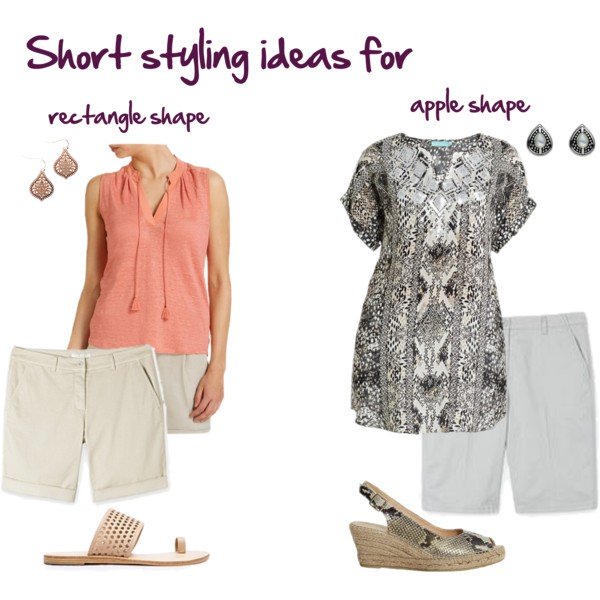 If your
horizontal proportion is inverted triangle
you're looking to add visual weight to your bottom half so look for short styles: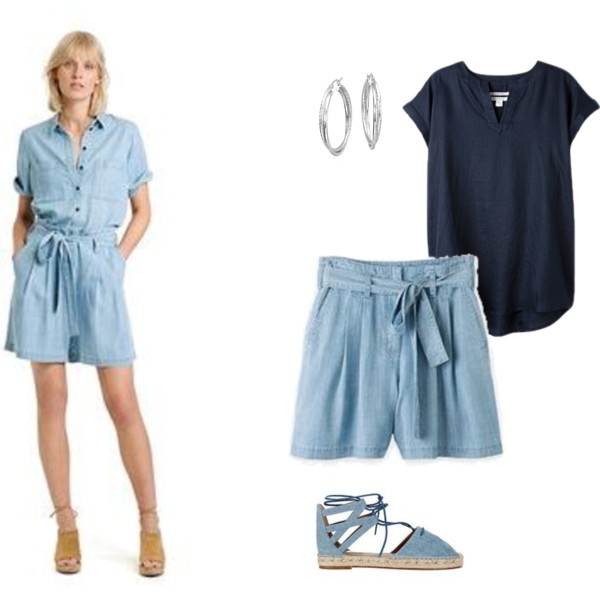 With pleats


With more volume in the leg. Skorts can also work well


Patterns, especially horizontal stripes


Cuffs
If you're taller than 5'4"/162cm pair your shorts with tops that are darker or the same color value as your top. If you're shorter, choose tops in a similar color value to your shorts, or lighter.
If your
horizontal shape is hourglass
you're looking to keep your balanced shoulder and thigh proportion and show off your waist. Most of the above examples will work for you. If your top is a bit loose try tucking it in either fully, or
partially
, to give it more shape.
Style hack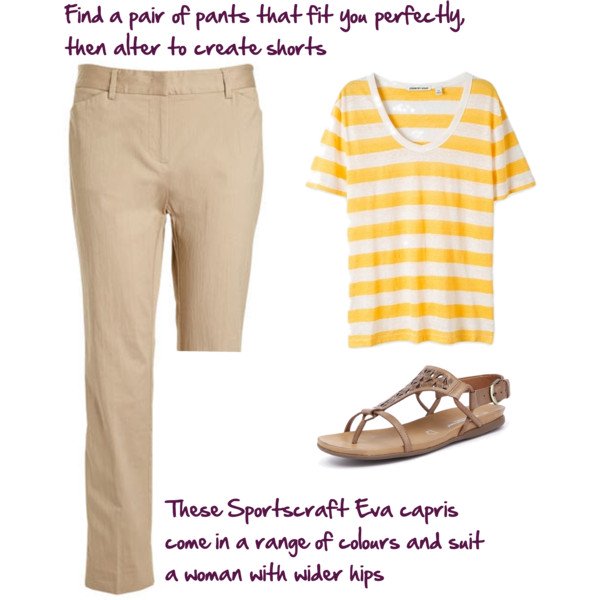 If you're struggling to find a short style you like and is long enough consider buying a pant style you like and then alter them (or have them altered) to your most flattering short length. Cropped styles can be particularly good for this. This is a trick I often use with clients!