You are here: Style Articles > What to Wear >
Trend Watch
> Autumn Fashion Trends Australia NZ 2015
Autumn Winter Fashion Trends Australia NZ 2015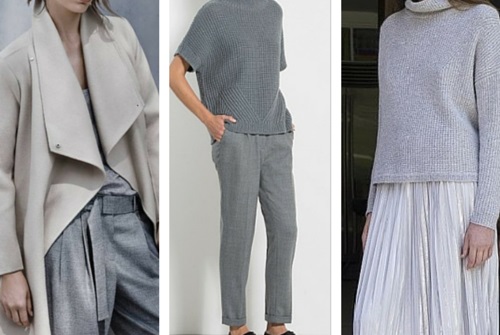 Images courtesy:
Witchery, Trenery, David Jones
The biggest colour trend this Autumn and Winter is grey. Perhaps inspired by the "50 Shades of Grey" book and movie? There are indeed many shades of grey to choose from. From light to dark, and cool to warm. If you're ready to try a neutral other than black this season there will be one or more grey that will work for you -- often a more flattering option than black.
A dominant trend theme is 1970s inspired Bohemian styles.
If floaty Bohemian looks aren't your thing, perhaps the minimalist trend works for you better?
The fashion trend in outfit silhouettes this Autumn and Winter is still towards larger shapes. This includes both more volume and longer lengths (in skirts and dresses, though some tops and pants are wide and cropped). Outfit shapes include big and boxy as well as big and softly flowing.
Key Autumn Fashion Trends in Style Themes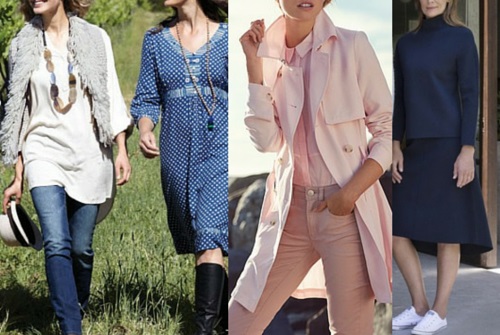 Images courtesy:
Birdsnest, Sportscraft, David Jones
These themes represent the most dominant trends. However, the trend of a broad range of styles and themes continues. The key is to mix-and-match styles to create outfits that suit your appearance, personality and lifestyle.
As mentioned above the '70s is a major trend this season. These styles are reminiscent of free-spirited hippies, and anti-establishment slogans. Think: long, flowing garments; creative layering, pattern and colour combinations; quirky slogans; and unusual jewellery. For example, flared trousers; softly flowing, longer length dresses and skirts; soft, Bohemian, layering; pops of colour; fun prints; and statement ethnic jewellery.

Minimalism is another trend. There are a few versions of this theme:

Futuristic, strong, sculptural styles and sharp lines
Sportsluxe styles -- this includes minimalist, sportswear-inspired day and evening wear in modern stretch fabrics. These clothes allow the ease of movement you'd expect from sportswear
Monotone -- based on light or dark colours. Within an outfit the items don't need to be exactly the same hue, they can be a low contrast tone-on-tone, or black and white
Main Style Elements in Autumn & Winter Fashions
Outer Wear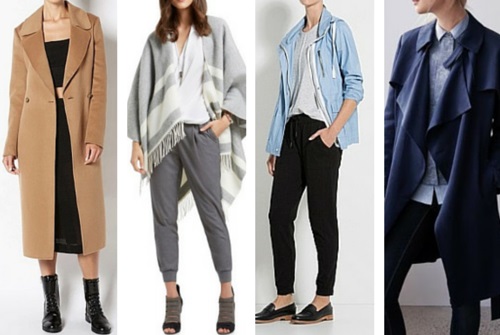 Images courtesy:
Country Road, Sussan, Trenery, Jigsaw
There are many styles of coats available again this year. In particular:
Classic and elegant coats that will remain in style for years. Colours include grey and camel.

Warm blanket-style wraps, capes and ponchos. Many also have fringing. Colours range from shades of grey to colourful Mexican-inspired geometric prints

Practical anoraks

Classic and contemporary trench coats
There are still many styles of jackets as well. Both more formal structured styles and semi-formal softly tailored styles that are a cross between a cardigan and a jacket. Jackets are great for adding structure to an unstructured outfit and for giving authority to the wearer.
Last year longer styles cardigans and waterfall cardigans were hard to find. This season they're back again.
For layering, adding warmth and style, I find vests useful. There are gilets and long-line
styles around this season.
Pants, Trousers and Shorts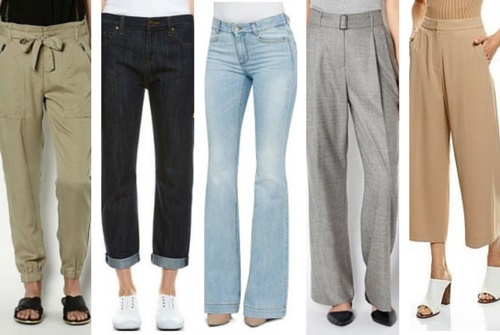 Images courtesy:
Witchery, Sportscraft, David Jones, Witchery, Saba
There far fewer skinny styles around (although there are sill some) the main trend is for roomier leg styles such as tapered, boyfried shapes, wide-straight legs; flares (very 70s); and cropped wide leg culottes.
If your vertical proportion is not long legs, short body and if you are at least average height the wider leg styles can be very tricky to pull off without you looking dumpy (be warned)!
The cropped versions are particularly tricky. A way to make them work is to wear heels and to create the illusion of continued leg flow, inspite of the tricky length. For example, wear boots, with at least a small heel, in a similar colour, or colour value as your pants, that go under your pants with no gap.
Skirts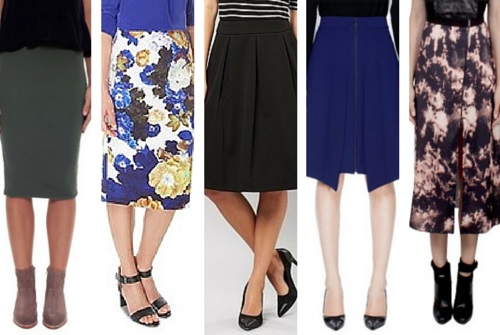 Images courtesy:
Metalicus, David Lawrence, Review, Cue, David Jones
There are still many pencil and straight styles around, many falling to the knee or just below. However, we're continuing to see more varieties in stores. Including:
Knee length A-line styles, in both stiff and soft fabrics. The softer fabrics create a subtle A-line shape
Midi length styles
Sculptural detailing: bold sculptural shapes; pleats; splits
Tops
Autum Winter trends in tops include: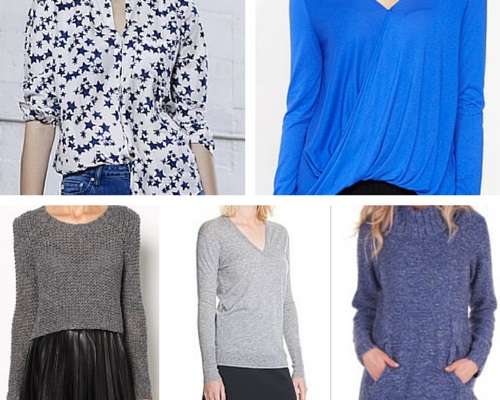 Images courtesy:
Birdsnest, Portmans
Witchery, Country Road, Birdsnest
Shirts -- one shirt trend I'm liking is the forgiving wrap front shirt
A large range of knitwear: over-sized chunky knits, including cosy polar-necks; cropped boxy knits; fine-guage sweaters to name a few
Dresses
Styles include:
Shirt dresses, part of the 1970s style theme
Classic shift -- this, usually formal style, is good for corporate professionals
Fit-and-flare -- great for hourglass and triangle body shapes
Longer-line tunics -- layer over pants or skirts
Main Autumn & Winter Fashion Trends in Fabrics
Fabric Prints and Textures
There are many choices of textual interest again this Autumn and Winter. Great if your best colours are Cool and Muted (aka Summer), or Warm and Muted (aka Autumn).
The blue denim everything trend continues: jeans; skirts; dresses; shirts.
Fringing is a 'look at me' version of texture that will suit you if you like a bit of textual drama or flamboyance in your outfits. And can work for all colourings. Look for a touch of fringing on accessories including shoes and bags, or fringing as a bigger statement embelishment on jackets, dresses and skirts.
There are still many pattern choices around. Dominant trends include:

Images courtesy:
Sportscraft, David Jones, Sussan
Stripes are still a dominant trend. There are now more choices in contrast levels and colours from high contrast classical blue and white Sailor stripes to lower contrast stripes in a variety of hues
Bold florals -- often on dark backgrounds
You'll also find checks (including tartans), geometric, fun graphics and animal-inspired prints
Fabric Colour Trends
Fashionable colours this season include:

All shades of grey
It's good to see navy again this year, another good neutral that suits a wide range of women
Black, of course!
Many light neutrals such as various shades of white
Berry tones -- including Marsala -- the Pantone colour of the year -- and brighter reds
Olive, khaki and mustard yellow -- in keeping with the 1970s theme
Accessories
Shoes and Boots
Footwear trends include:
Loafers
Blocky heels
Pointed toes
Ankle boots
Knee length boots
Jewellery
The statement necklace trend continues: both long-line and above-bust styles
Scarves
Air Hostess style neck ties -- very '70s. Great if you have at least a medium long neck and a good chin line
Chunky, textured rectangle and infinity styles
Need Help Updating Your Wardrobe?
For help updating your style and your wardrobe this season see this article. Scroll to the bottom of that page to request an initial complimentary phone or Skype consultation.
Like This Page?