Bright Skinny Pants!!
by neeraj
(india)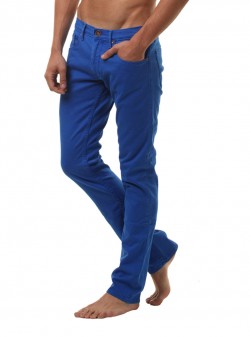 this is the pant i am referring to, how would it look on my complexion?
I have a very simple yet confusing question. Hope you'll be able to answer.

The thing is I recently bought "mid-night blue skinny pants" (I don't know what was I thinking). Anyway, so the point is, I am very unsure whether it would go with me.

I am kinda little bit dark in complexion, so that adds to my despair! Its not ordinary blue, like what you'll find in jeans and all, its mid-night blue, lycra clothing, a bit shiny.

Could you please tell me here, what I should wear it with. The kind of combination and matches I should consider with it, OR should I completely drop-off the whole idea of thinking of wearing it and leave it! Any help on this, would be great. Thank you so much. :)

Jane's answer... Hi Neeraj. Great question! Brightly colored, skinny pants are very fashionable for both men and women at the moment. However, as you're finding, what to wear on top can be challenging until you know what to think about!

The answer to your question will depend on a few factors:

My guidelines here apply to both men and women


Your coloring -- knowing that you're a "little bit dark" isn't enough information for me to tell whether this color will work with your complexion (a color analysis is the best way to find that out).

The pants in the picture above are a cool based color and they are clear and bright. However, it is the color you wear on top that's most important, since that's what will affect the look of your face. I give you some color suggestions below.


Your body type -- These pants will work best if you:



Are medium or tall


Have legs that are long, or balanced in relation to the rest of your height (here's how to work out your vertical body type)?


Have a slim build


Have a trapezoid, inverted triangle or rectangle horizontal shape



Your personality -- the color of these pants is fun and "out there", so you'd best have a personality to match!


What to wear with these pants
Tops
A casual or smart casual collared shirt, a polo shirt or a nice t-shirt are all styles that will work. The trick is to find colors that work with your complexion and with the pants.
I don't know anything about your coloring, but the best colors for tops will also be cool-based, and on the bright side. You could try: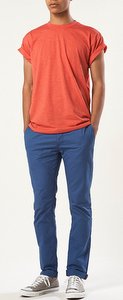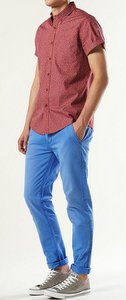 Ideas For Tops To Go With Bright Pants

Images courtesy of Topman



A plain bright white, or black


A bright white, or black, with a pattern that includes a similar blue to the pants


Another type of blue -- go for a tonal look, not exactly the same color, but one that is still clear and not too muted. You might find a navy blue that works, for instance. It could be a top in a pattern that's mostly blue with other colors in it too


Red (the opposite color on the color wheel) -- try a cool, blue-based medium red, for example. Again, you could go for a pattern that's mostly red, maybe with some bright blue in it


There will also be hues of purple, grey, orange, pink, and yellow that will work too!


Try and find a color that works for both you and your pants (if your coloring isn't cool, clear and bright).
Have you tried the tops you already have to see if anything works?
Jackets
For outer wear try a blazer (in grey, or black, depending on what you're wearing as a top), or a black leather jacket.
Shoes
Casual shoes, rather than dress shoes will work best. Try a color similar to the top you wear, dark blue, or a color similar to your hair color.
Where to wear this look
These pants are suitable for casual or smart casual (if you wear a collared shirt and add a blazer) occasions. They would also be suitable for a work environment if you work in a creative field, such as architecture.
Can you make these pants work?
What do you think? Can you can make these pants work? I hope you'll let us know, in a comment below.