Combining current styles with older classic styles
by Tania
(Sydney NSW)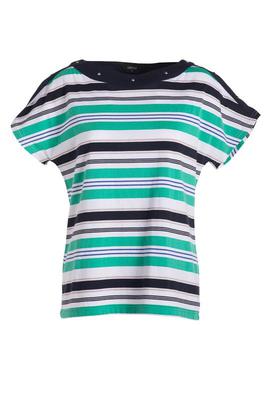 Hi Jane, I found some lovely older clothes – classic styles from late 1980s – until about 2010. Most of these were bought at Katies prior to 1998 and Millers (until about 2010).

I don't wish to get rid of those but would like some tips how to style the current things so that I can enjoy wearing them.

These don't appear to be out of fashion, meaning that they were classic when I bought them and not the exaggerated styles e.g. huge shoulder pads.

For example, a few fitted jackets without any exaggerated styles, plain coloured jumpers, fair-isle jumpers (I love those !), straight knee length skirts, t-shirts similar to what was sold this summer at Givoni.

Thanks in advance.

Jane's answer...Hi Tania. Thanks for your question, though I do wish you'd included photos of the actual items you'd particularly like to get more wear out of! It would have allowed me to give you specific examples of how to style the items. However, I'll try to give you some pointers and will use the photos of the tops you have included.

I'm fascinated to know where you found the clothes! It sounds as if they were things that you bought. Did they get hidden at the back of your wardrobe? Did you put them in a forgotten storage place? Did a wardrobe clearout reveal them?

I find one of the joys of taking a new piece of clothing or a new accessory back into my wardrobe or a client's wardrobe is working out ways to use it with things already there to make older pieces feel fresh again.

It's possible to keep favorite items for years, especially if you combine them in new ways, or with new purchases, to keep them looking contemporary. However, having said that please be aware that even classics date! A classic will typically last 6-10 years before it feels dated.

Things to check
Fabric
Contemporary fabrics are made using different technology than a decade or so ago. Many
current fabrics have a high percentage of stretch
in them, making them comfortable to wear. Because of this older fabrics, in particular those made of synthetic fibers, especially textured fabrics. For example, fake linen-look fabrics from the 80s now look very stiff, cheap and 'old lady-ish' no matter how contemporarily they are styled.
Natural fibers (or a high percentage of natural fiber) and knitted jumpers will be the easiest to use with contemporary clothes. If the t-shirts were bought closer to 2010 than 1980 then they will work too.
Fit
The silhouette and fit of clothing from the 80s, 90s etc was very different to now. That may not matter if you can find a way to style them in a contemporary way, but do be aware of this.
Condition
If your older clothes were packed away in a dry place with no sun light their condition may be as good as new. However, do check carefully for fading, yellowing and mis-coloration especially on collars, under arms and at the hem.
Contemporary styling suggestions
Tania, please bear in mind that I'm giving these suggestions having little or no idea of your body shape, coloring, personal preferences or age! However, I'm hoping you can take some of the ideas here and translate them to suit you!
To make outfits using these tees even more contemporary experiment to see if a
half or partial tuck
works for your shape and personality.
Ideas for styling a polo shirt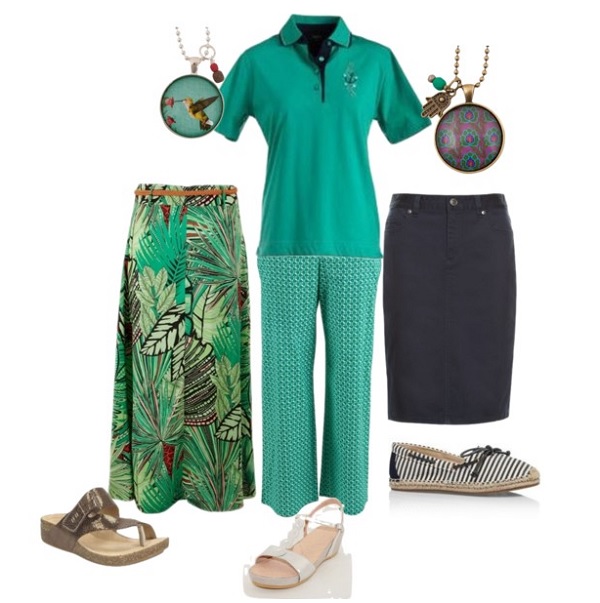 Images courtesy:
Birdsnest: necklaces; long skirt; pantsSportscraft: navy skirtDavid Jones: sandals on left and far rightLeisures: sandals in middle
A polo shirt can look very maculine and boring. I've tried to change this by:
Using patterned bottoms that contain a color similar to the main color of the polo shirt


Using a necklace that ties in the color or feel of the bottoms, in the case of the patterned bottoms. For the navy jean-style skirt I've added a blue based color (the pinky, purple) to add interest


Adding a feminine detail into each outfit, for example: silver sandals; skirt; necklace
Ideas for styling a striped tee-shirt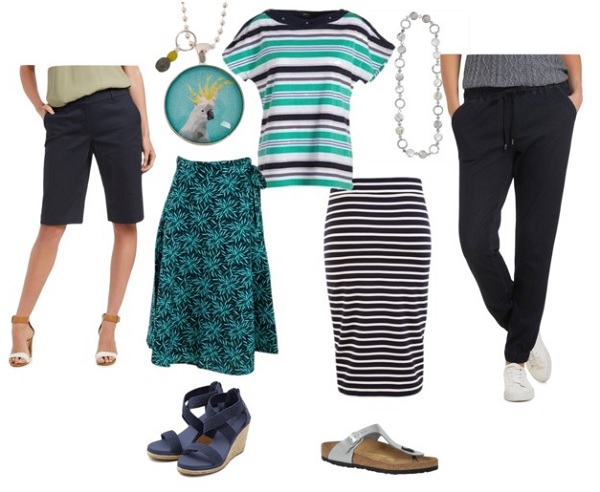 Images courtesy:
Sussan: shorts; pants Blue Illusion: necklace on right Birdsnest: bird necklace; skirts; shoes
Stripes are very much in vogue at the moment. Some ways to ensure an older striped shirt look contemporary are:
Comining the stripes with a patterned bottom (the floral or striped skirt). Notice both bottoms include colors used in the top


Make sure your shoes are contemporary and complete the outfit (that is there's something about the shoes or sandals that relates them to you or the outfit). For example, choose a color from your bottoms, or your hair color, or a color close to your skin


Choose relaxed, casual pants or shorts and style the top with a half tuck


A long-ish line necklace or scarf will make a high neckline line work better for most body shapes
Ideas for styling a pink tee-shirt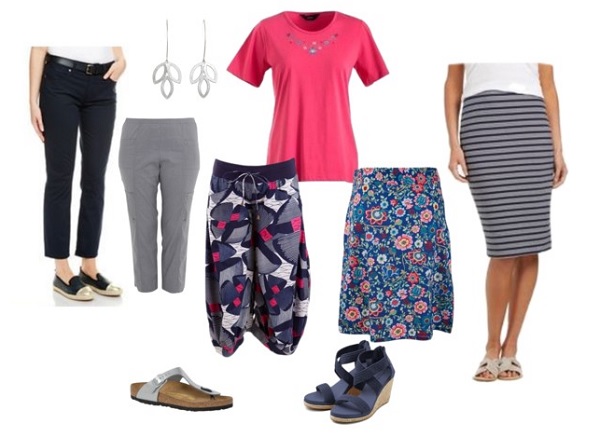 Images courtesy:
Sportscraft: navy pants Blue Illusion: grey pantsBirdsnest: earrings; multi-colored pants; floral skirt; shoesSussan: striped skirt
The main styling ideas used here are:
Using a color from the neckline detail in the bottoms


Combine with patterened bottoms that contain a similar shade of pink


With the neckline details no necklace is needed, but you could add some statement earrings


Ensure your shoes or sandals are very contemporary. This is especially needed with the floral skirt which could look a bit frumpy otherwise -- styling the tee with a partial tuck will also for this outfit
You may also like...
> How to dress well and look great and any age