Do dresses go out of style?
I am cleaning out my closet. I have mid-calf dresses and skirts that are still in great condition. Are they still in style?

Jane's answer... Great question! The short answers are: yes, dresses and skirts go out of style. And no, mid-calf dresses and skirts aren't currently a main style trend.

If you send me a photo of 1 or 2 of the items you are talking about I will be able to give specific suggestions for how you might be able to make them work (to send me photos add a new style question, refer to this answer and upload up to 4 photos. I will then update this answer with your photos).


Current dress and skirt lengths
The mid-calf length has not been a major trend since I started my website in 2007. That's not to say that the length won't come back in. And there have been (and are) micro sub-trends of the midi length and the maxi length since then. However, currently the main length for dresses and skirts is around knee length, or shorter (if you're younger and have good legs).
Your age and your height will also affect my answer
, here's why:
The challenge of wearing the midi length when you're a bit older (40+), and when that length hasn't been a major trend for quite a while, is that it can look frumpy and make you look older


If you are shorter than 5' 4" (163 cm) you will look even shorter when wearing a midi-length. It's amazing the difference showing a bit of calf can make to your perceived height!
To flatter your leg shape
: unless your calves are very skinny, the best place to end the hem will be above, or below the fullest part of your calf.
How to check your dresses and skirts are in a contemporary style
The 2 easiest ways to check whether your clothing (and accessories) are still contemporary are to look at:
Some of your favorite clothing stores (either online or in the high street)


1 or 2 fashion magazines (again, either online or offline)
Of course you can also check my twice yearly
fashion trend updates here.
In particular look at lengths of tops and bottoms, the silhouettes created by outfits, the use of colors and textures.
How to wear the midi length
To look current
see if you can update your dress or skirt by wearing it in a contemporary way. For example:
In winter wear it with knee length boots. Or with opaque tights and ankle boots in similar color tones to each other (to look taller and slimmer keep the color of your ankle boots and tights similar to the hemline)


Wear it with medium or high heeled sandals, shoes or boots to maximize your leg length


Wear a skirt with a very contemporary top


Wear a trendy, statement necklace. Make sure there's something that links the necklace to your outfit – such as color, texture, or theme


Style the skirt or dress using modern layering. For example: wear a funky or tailored waistcoat over a dress; wear a t-shirt or fine-knit top under a sleeveless dress


Wear it with trendy shoes
These are just some ideas. Get creative and come up with more of your own (share them in a comment below).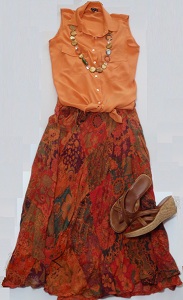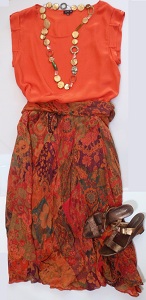 Above are examples, from my wardrobe. This is the only midi length skirt I have in my wardrobe currently. It actually started life as a maxi dress. I had it altered to turn it into a skirt (sometimes I think I should have kept it as a maxi skirt, oh well! It
is
more useful at this length). I fell in love with the colors and the patchwork pattern (it really is made up of patch work squares).
Can it be altered?
If you can't find a way to wear your skirts and dresses in a way that makes them feel contemporary can you alter them? For example, can you: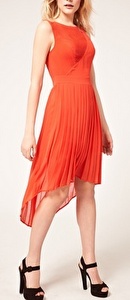 Image courtesy Asos
Take up the hem? This will depend on the style of the garment. Can you shorten it without ruining the line, or removing an important design feature such as a border?

To create a thoroughly modern hemline see if the garment works with a dipped hem that's high at the front and low at the back, as shown in the orange dress to the left.


Alter the garment to make it more on trend? Again this will depend on the style of the garment and whether it's worth spending the time or money on re-modelling