Dressing modern for apple shape
with large bust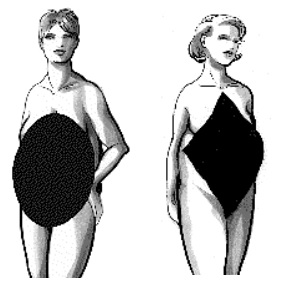 The Apple Horizontal Body Shapes: Oval & Diamond
I am 62 years old and stuck in jeans and boxy blouses, which makes me look as if I have no legs and a fullback shape on top.

I don't know where to start.

Jane's answer... Firstly, are you sure you have one of the apple horizontal body types (that is, an oval or a diamond shape)? Many women who think that's their shape are actually not.

Your description of yourself as having 'a fullback shape on top' could also describe the inverted triangle or rectangle body shapes. It also makes it sound as if you might have broad and square shoulders. Or that look might be because of your full bust. Each scenario has a slightly different style solution, which is why it's important to identify your proportions correctly.

The vertical body shape (where the fullest part of your bottom is in relation to your head and your feet) is also important for finding your best styles. In particular for the lengths of garments (both tops and bottoms).

The visual effect of 'no legs' could be because you do have short legs in proportion to your body and the top styles you're choosing emphasize, rather then minimize, that. Or, it could simply be that you are wearing your tops too long.

Step 1: Confirm your shape

Start by being sure of your proportions:


Assumptions for examples

For the purposes of the examples below I'll use these proportions:

Have an oval-apple horizontal shape


Have a balanced vertical proportion


Have a large bust


Are average height


Have broad, slightly tapered shoulders


Probably prefer to cover your upper arms


Step 2: Understand all the shapes that flatter your proportions

See this article for the main style aims for the apple shape. However, the My Private Stylist online style program gives recommendations that take all of your proportions into account. Find out more about that program here.

Choose tops, and dresses, that skim over your torso, to hide any tummy rolls. Pay particular attention to the lengths of tops. The wrong length (usually too long) will make your legs look too short in relation to your torso.

Boxy tops will work, but make sure they're in a soft flowing fabric. And do make sure they fit properly, especially around the shoulder, bust and arms. Also make sure that the bottom of the top doesn't flare out around, or under, your stomach, since this will make you look larger than you are. Tops in styles or fabrics that fall in a slight taper will be more slimming.



One of your most flattering top lengths is just covering any lower tummy roll


Don't rule out sleeveless tops without considering if you can wear them with a layer underneath or over the top, to cover your arms that way. Avoid short-sleeved tops that have a straight hem level with your bust-line, unless you're going to wear a jacket or cardigan over the top


Choose fabrics that aren't too thin, but don't add bulk by choosing fabrics that are too thick


For full length pants make sure you wear them long enough, to maximize the apparent length of your legs. It's a common mistake for 50 plus ladies to wear long pants that are too short. Have the length as long as possible, without the hem dragging on the ground, or more than one 'kink' in the front.


For cropped pants a length just under the fullest part of your calf is better than just above the ankle. And make sure the leg of the pants is straight or slightly tapered rather than flared


Remember models are often above average in height, so hems may be a lot longer on you. Many online stores now state the height of the model, and/or the length of the garment, so you can get a better idea of how the item will look on you.


Skirts that fall in a subtle A-line to around knee length also work for the oval-apple shape. See the example above, with the same tops that work for the pants.

You may be surprised to know that even the above top style can work for the apple shape, when the fabric is soft and flowing enough. Remove the belt though. This is a very modern top style that can be worn during the day for smart casual, and in the evening.

Above are some examples of dress shapes that work for the oval-apple shape.

See below for Step 3...
Dressing as modern apple shape, step 3
by Jane of Style Makeover HQ
(Sydney, Australia)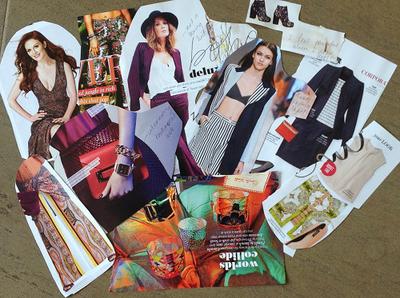 Periodically Review Current Fashion Shapes
Step 3: Keeping your look modern
Maintain at least a passing understanding of what currently looks modern. That doesn't mean you have to know every passing trend. However, even what's perceived as classic style evolves. Here are some tips for keeping up with what's current:
Check the main silhouettes for each season


Look at the width and line of pant/trouser legs. Are they mainly skinny, straight, tapered, flared and so on? Then choose a silhouette that closest, but that still flatters your proportions. Choose straight and moderately narrow, for instance, instead of skinny


Are skirts shapes mainly tapered, straight, subtle A-line, or full A-line?


What about top styles? And dress styles?
Then
look at how outfits are being styled
. For Fall/Winter are ankle boots still being styled with opaque tights, for instance? What colors are being used to pair tops and bottoms? How are layers being created?
Where do you look to find this information?
You can check printed or
online fashion magazines
such as
style.com
, In Style, and Vogue for the country most relevant to you. Especially around the change of seasons. Don't look at the faces and figures of the models, look at the clothing styles, accessories and styling!
Look at the
websites of your favorite clothing brands and department stores
. They usually have fashion forecasts at the beginning of each season, twice or sometimes four times a year. They also often have lookbooks of their clothing for the season.
Go to your local shopping center and look at the
window displays
. Pay attention to how the displayed outfits are put together.
Check
my trend watch page
for your part of the world and season.
You can even look for
fashion blogs
you like -- these can be good for styling ideas.
Get help from an Image Consultant!
If you're still stuck seek
professional help
. Most women haven't had any specific training in what suits them and how to put outfits together. It really does help to have a trained image consultant put you on the right track and explain why things work, or don't! And it's far better value buying clothes you wear than buying things that sit in your wardrobe, because they never feel quite right, but you're not sure why.
Related answers
More answers to readers' questions about apple-shape dressing: