You are here: Style Articles > What to Wear >
Trend Watch
> Fall Winter Fashion Trends
Fall Winter Fashion Trends 2015/16
Do you have a good idea of what your personal style is? That is the style elements that suit your personality, and your appearance (your shape and your coloring)? If you do have that self-knowledge updating your wardrobe for this fall winter fashion season will be easy for you, since the dominant trend continues to be the great range of variety in styles and colors.
Fall Winter Fashion Trends: Main Style Themes
Images courtesy: Style.com
The online fashion magazine Style.com comments on the big range of choices. However it does manage to categorize runway styles into 6 personality styles (I call these themes). To paraphrase these are: creative; minimilist; 70s bohemian; girlie-feminine; Goth/Victoriana/rock-n-roll; and 60s Mod. You can learn more about these themes here.
What I'm seeing as the dominant themes across a selection of online stores is: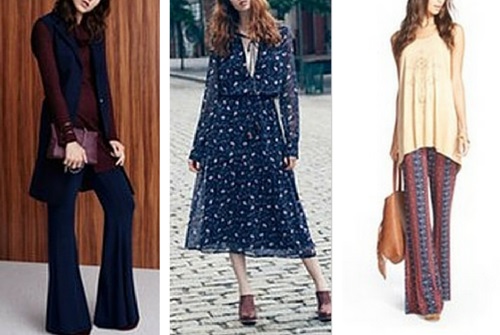 Images courtesy: Nordstrom
A continuation of 70s-inspired bohemian style elements and outfits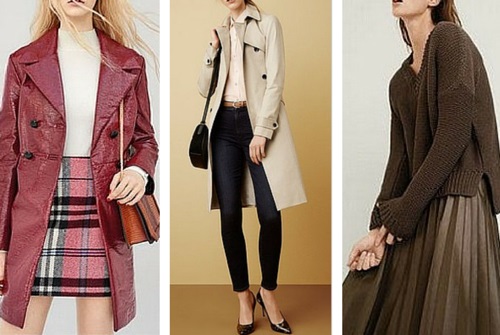 Images courtesy:
Topshop, Ann Taylor, Marks and Spencer
3 main 'modern' themes:

60s Mod -- minimal in the sense of strong, clean design lines, rather than minimal in color. Elements include turtle neck knits; A-line skirts; knee length boots; warm colors such as orange, lime and browns
Elegant minimalism -- think refined classics with great fit, quality fabrics, restrained styling elements and calm colors
Modern minimalism -- more fashion forward than the elegant minimalist. The silhouettes are larger; styling details are often more reminiscent of arhitectural shapes. Monotone colors and textural interest
How to Keep Your Look Contemporary
So, how do you update your look and keep yourself contemporary with such a range of choices? You might be saying to yourself: "Surely if anything goes I can keep on wearing clothes from the previous decades anyway I choose?"
Styling Trends for Layering, Tucking, Monotone plus TextureImages courtesy:
Topshop, Ann Taylor, Marks and Spencer
However, inspite of the choices I believe there are outfit styling trends (such as tucked, untucked or partially tucked) and ways of combining colors (such as tone-on-tone) and textures that make outfits feel contemporary, or dated and frumpy.
Also, contemporary fabrics use modern technologies to create today's fabrics and knits, making a 70s-inspired style today quite different to a vintage item from the actual 70s. And of course there's no need to style your whole outfit from one theme, which can feel too costumey, as if you were indeed channelling a previous decade.
The trick is to pay attention to these styling trends and adopt the ones that work for you.
Like This Page?