Dress To Flatter Your Hourglass Figure

Lucky you! Your figure is referred to as the ideal body shape.
You have a shapely, balanced figure. Your hips and shoulders are about the same width and you have a well defined waist.
You have plenty of options dressing for your body shape.

Your main style aims are...
...to emphasize your curves, especially your waist, without adding bulk.
Do wear...
Fitted and semi-fitted clothes

Soft, clingy, flowing fabrics

Low to medium-low necklines

Dresses with defined waistlines

Straight and gently flared pants

Straight and gently flared shirts
Don't wear...
Combine these guidelines with...
...the guidelines for your vertical body shape.
Need Help With Your Style Makeover?
Dressing for your shape is an essential part of a style makeover.
For professional help, either in-person or online, use my image consulting services.
Please note...
These guidelines only take into account your horizontal and vertical body shapes. The recommendations may change based on other features such as your age, your weight, your face shape, your neck length and any figure flaws you may have.
The online women's estyles program gives you personalized style recommendations that take all your proportions into account.

Clothing Styles for Your Hourglass Figure
The most common problem I see for women with an hourglass figure is that they limit their choice of clothing too much (especially if their preferred clothing style is classic).
There are a large range of styles that suit an hourglass body shape, below are examples of just some of the styles that will work (as long as you don't have a figure challenge that removes them from your recommendations):
Hourglass Shape Dresses
Your best dress silhouettes will be those that echo your hourglass shape. Styles with a definite waist, or with shaping at the waist will be your best dress shapes

If you do go for a looser, or straighter style make sure it is in a soft, flowing fabric that shows, rather than hides, your shape. Also consider wearing it with a belt
Hourglass Shape Separates
Remember your aim is to echo your hourglass horizontal shape, so look for top and bottom combinations that maintain this balance.
Look for shirts or blouses in soft fabric, that drapes to your body shape, or that has shaping in its construction (such as darts, or seams from the bust to the hemline)
Figure Variations
Of course having an hourglass body type doesn't mean that you don't have figure challenges you'd like to disguise! You may still be carrying more weight than you'd like. Or you may have broad, square shoulders that mean you'll want to avoid styles that overly emphasize this, such as spaghetti straps.
There are also 2 main variations in the silhouette of this shape:
Your hips may be widest near your thighs (this is probably the shape that comes to mind most readily when you think of an hourglass figure), or

You may have a fairly straight line from just under your waist to the top of your thighs. This may create create a shelf-like look around your midriff.

For this shape dresses and skirts that are straight, or subtle A-line (an A-line shape that falls straight) from the hip through the thigh area, rather than an obvious A-line shape, will work best. However, a defined, or shaped waist in the clothing is still recommended. Avoid styles that are very gathered, or pleated, at the waist.

Flat-fronted pants will work better than pleats, which are likely to pull open and add bulk at the waist
Outfit Ideas
To me this figure invokes images of the 1950s style of dressing, as shown so well in the recent "Mad Men" TV series. The UK series "The Hour" and the Australian series "Paper Tigers" were also set in the 50s and show great, classical examples of dressing the hourglass figure. Of course, just because you have this shape, it doesn't necessarily follow that your style personality is classic. However, if you do, these shows should give you some great ideas for outfits.
Celebrities with an Hourglass Body Shape
Marilyn Monroe is one of the most famous women with this shape. Others include: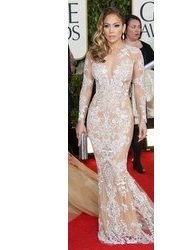 Jennifer Lopez
(with her equally famous large bottom figure variation)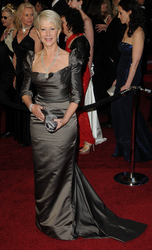 Helen Mirren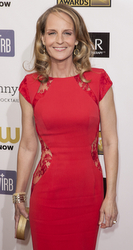 Helen Hunt
Halle Berry, Scarlett Johanssen, and Sofia Vergara
Related Articles
Please note...
Dressing to flatter your shape is one of the fundamental steps to looking your best. However, it is just 1 of 6 steps. Be sure to check out all of the 6 steps to savvy style to ensure you know all the fundamentals as well as how to build your own inspirational wardrobe.
Like This Page?