I'm 17 how do I dress my hourglass body shape?
by Emma
(Australia)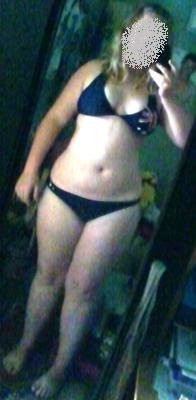 I'm 17 and I don't know how to dress my body shape like my other friends. I really need some help. My body shape is: big breasts, muffin top, big thighs, big bottom and I'm short.

Everyone says I'm hourglass but I don't think I am. I want to know what clothes would suit my body as right now I just hide it as at the moment I don't like it as I wish I had the same as my friends.

Jane's answer... Hi Emma. Sorry I've taken so long to answer your question. And thank you for sending in your photo -- questions are so much easier to answer when I get an idea of how you look.

Body Shape Assessment
It's a little difficult to tell you for sure from your photo, but it does look as though you have an hourglass figure. The other possibility is that you have a triangle horizontal body shape. However, I think the hourglass assessment is most likely right: it looks as though the width of your shoulders is roughly the same as your hips; and you have a well defined waist.
Again, it's hard to be 100% sure from this photo, but I think you most likely have a balanced vertical body shape.
You don't say what your height is. If you are 162cm (5'4") or shorter you are classed as petite for clothing.
I suspect many of your friends still have a more boyish, rectangular body type, so I'm not surprised that you're finding it challenging dressing to flatter your lovely feminine shape, if you're looking to them for inspiration. However, many of them may envy your curves!
Believe it or not, yours are almost the ideal body shape proportions! Even though you might prefer to have smaller thighs, bottom, tummy, and be a bit taller -- you may not have stopped growing yet, and if you have good eating habits and exercise you could well develop the thighs and so on you'd prefer.
In the meantime, I suggest you learn how to dress to flatter the body you have. As my friend, and fellow image consultant, Jane Allen puts it: learn to "love the skin you're in!"
Since you have a grown-up body shape a challenge for you may be making sure you dress your age. You may find it easier dressing in styles associated with girls a decade or so older.
Recommendations for dressing your hourglass figure...
Your main aim is for your clothing to follow the contours of your body. That doesn't mean you have to wear skin tight clothing, semi-fitted styles will work just as well. However, please don't hide your shape in loose fitting clothes as this will only make you look big all over.
Your best skirt and dress lengths are going to be around knee length -- this length will make you look taller and slimmer. If you go for longer lengths wear at least mid-heeled shoes, or platforms, to increase your height


Don't add too much bulk at your hips or your bust


Don't wear big baggy tops or dresses that hide your waist, this will make you look big all over


A muffin top is created by wearing underwear and pants or skirts that are too tight. So, if you find this happening in your clothes, go for a size larger – always fit your largest proportion first, then alter the clothing, if necessary, to fit elsewhere


For jeans look for styles designed for a curvy female body shape. Many brands now cater for the different female body shapes, including Levi's Curve Id, available at Just Jeans, and Jeans West "Curve Embracer" range. Dark jeans will make you look taller and make your thighs look slimmer


Straight pants, or bootleg styles will work better for you than very skinny pants, or overly wide palazzo-style pants


Your best necklines will be those that aren't too high, so as not to over-emphasize your bust. A V-neck style, or an oval scoop will work well for you. If you do wear a high neck visually create an "opening" or "v" with a jacket, a cardigan, a scarf, or a necklace.


Look for dresses with an hourglass silhouette, that is: balanced at the shoulders and hip, with a defined waist


Belts will work well for you, to create a cinched waist in clothing that doesn't have its own shape
The hourglass silhouette is the one we often attribute to the 1950s. TV shows set in that era, such as "Mad Men", and "The Hour" have some great examples of clothes ideal for the hourglass figure.
I hope I have given you some ideas for dressing your shape. Do experiment and have fun working out the styles that suit your personality as well as your shape. And don't overly limit your selection of styles at this stage of your life.
Related articles