I hate 'my' colours.... what to do?
by Mary
(London)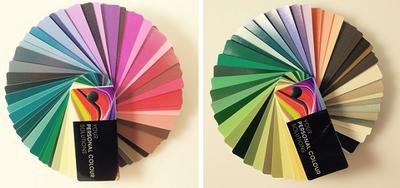 Muted and Soft Colours (Cool on left, Warm on right)
I got my colours read at a face to face session and I hate them. They are exactly the opposite of what I would normally wear. I like bold and bright and have been told to wear muted and soft. The make up is depressing too. Very dull.

I went because I wanted to get some confidence back and now I just feel awful. I don't think the consultant was wrong at all, I just really dislike the colours.... and no black!

Would all consultations be the same or can there be room for style preferences?

Jane's answer...Hi Mary. I'm so sorry you don't like the colour range that has been recommended for you! Even if they're right for your colouring it seems they don't work for your personality!...Yes, personality and personal preferences do come into play with the colours that suit us best. However, it can also take a while to get used to the colours that suit us best, especially if we've been drawn to colours that are not the most flattering on us.

However, I do know of at least one person (a friend and fellow Image Consultant) who was told her colouring was one of the Cool and Muted Summer categories. I can understand why, however her personallity suits the Cool, Clear and Bright colours better -- they're what she's drawn to and mainly what she wears. Her current hair colouring also helps make her preferred colour range work for her (as well as her personality).

Additional questions for you
I'm assuming you were given a swatch of the muted and soft colours? (You don't say whether the range is cool or warm, so I've shown photos of both swatches above). Have you used it in your wardrobe to assess how many clothes you have are in the muted and soft range? Were there many (any) of those colours in your wardrobe?


If so, it may simply be a case of gradually getting used to using the colours within your swatch to create looks you like. If you have none of the colours currently in your wardrobe you may want to consider other options (see below).



Did you express your disappointment with 'your' colours at the time of the consultation? I'm just wondering if you and the colour consultant explored the possibility that your personality meant a different range of colours would suit you better? If not, consider going back to the consultant and telling her your feelings.
Some more possible solutions
Here are a few other options you have for what to do:
Ignore the results of your colour analysis and continue to wear the colours you love. Try taking photos of yourself in the colours you wear and see if you still like your look in those colours. Sometimes we can be more objective when we look at ourselves in photos. Notice whether the bright colours flatter your appearance, or whether they appear to dominate and make you disappear. You could also try asking a friend you trust to give you an honest opinion whether she likes the bold, bright colours on you.


Try wearing some of your new colours to see if you get to like them. Identify 1 or 2 of the brighter colours in your swatch and find some clothing items or accessories in those colours. Choose items where the colour is near your face, since that's the most important place to put flattering colours. If you need to buy new items accessories such as necklaces and scarves will be the cheapest way to do this.


Get a second opinion -- find another Image Consultant to give you another colour analysis (I provide an online colour analysis service if you'd like my help with this)
How to wear black when it isn't one of your best colours
Black is a colour (or strictly speaking a total absence of colour) that can be hard to wear even when it does suit you. However, there are a few ways to 'bend the rules of colour' and wear black (and other colours that aren't the best ones for you).
Here are some of the ways to wear black in a flattering way:
Minimise the amount of black near your face -- for instance, choose a strapless dress, or a dress with straps and/or with a V-neck or scooped-rounded-neck


Wear one of 'your' colours over the black item -- for example, a scarf, or a necklace, or a jacket, cardigan, shrug, or wrap


Wear makeup to create the right contrast level -- If you feel as if you 'disappear' when wearing black ramp up your makeup a notch. For instance: wear a lipstick in one of your brighter shades; add blush to your cheeks; or colour to your eye lids
I do hope this gives you some ideas. We'd love to hear what you do (you can add a comment below).