I'm a plus sized girl with an hour glass shape will this dress work for me?
by Kobi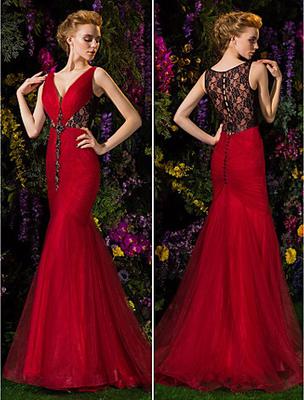 Will this dress suit a plus sized hourglass figure?
I'm 18 and I'm buying a dress for my senior prom.

In the past I have always gone for A-line dresses and they have worked well, but I really want to be different this year. In all honesty I want to look sexy.

I have found this mermaid style dress and I completely fell in love but I'm scared it will look awful on me. I am 5'7 and my measurements are bust - 43in, waist - 36in, hips - 45in.

This is obviously not me in the photo and I'm really just scared only stick thin people can pull off this dress.

Jane's answer... Well Kobi, this is certainly a very sophisticated and sexy dress!

The sexy style elements are:

The red color


The figure hugging shape


The lace back and side panels which look as if they're see-through (even if that's just an illusion)
I can't tell for sure from your measurments alone whether your figure is an hourglass. It will depend on what you look like from the front. If your waist is very well defined and your hips and your shoulders are about the same width, then yes, you have an hourglass shape.
The silhouette of this dress is definitely designed to suit an hourglass figure. You don't need to be thin to wear this dress, but -- given how figure hugging it appears to be -- your curves should be firm and smooth. In particular:
You should be happy with your upper arms -- if not find a black, red or metallic evening shrug to cover them


Your outer thighs should not be too much wider than your hips -- if they are not as smooth or firm as you'd like wear waist to knee shapewear


Your bottom should not be too large -- the change of color between the lace and the red fabric over the bottom area will emphasize a larger bottom (although this will be slightly modified by the black button continuing as a vertical over the bottom area)


The vertical lace panel that runs vertically from the 'v' point of the neckline down over the stomach area and the lace side inserts will act to slim the torso area
Consider all of the above design elements and how they might work on your proportions. If you think they will work, and particularly if you have red, black, or dark brown hair, or if you're a blonde with strong coloring (that it not too low contrast between your skin and hair colors) in theory this dress could look stunning on you.
The only way to know for sure whether the dress will work for you is to try it on. If you can do that in a local store, then great. If it will be an online purchase check the returns policy and make sure you can easily get a full refund if you need to.
If you do go ahead and wear this to your prom I'd love to see a photo of you in the dress!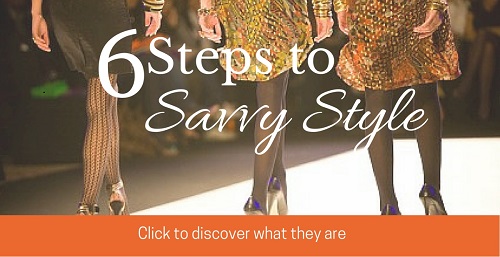 If you'd like my help contact me.