Nearing 60 what can I wear instead of jeans

(Geelong, Australia)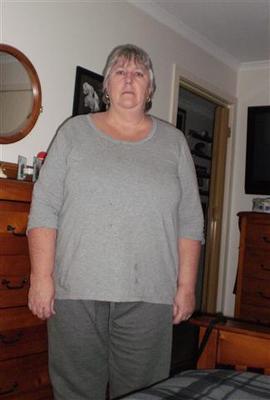 This is what I wear every day
I am a plus size 22-24 women 5'8'' in my late 50s my hair is white -- I am allergic to hair dye so can't change the colour -- I stay at home a lot and would like some advice on colours and styles of clothing to wear.

I do wear leggings and knee length skirts sometimes with tunic tops and a lot of sweat pants and also have made some really bad fashion choices. What is suitable for a mature aged women?

I want to be able to dress comfortably but not to be frumpy. Thanks I am desperate.

Jane's answer...Thank you for your photo and great question. It's so much easier for me to answer you when you give this type of detail and supply a photo.

Your details
From your photo it looks as if:


Your colouring is predominantly cool -- although I can't tell (without a better photo and doing a proper analysis) whether your best colour range is one of the Winter colour categories or one of the Summer ones. You could well be a Winter flowing towards Summer or vice versa


Your horizontal body type is probably rectangle


Your vertical body type is probably balanced body


Your shoulders are broad and square


Your neck is medium-short and broad


Your face shape may be oblong (difficult to tell from the angle of this photo and with your fringe covering your forehead


Your height is medium


Foundations
Start by reviewing your underwear:


Make sure you wear a bra that is not too old -- to make sure it still gives support. How long a bra lasts will depend on how many bras you have, the more you have the longer they
will last


When was the last time you had a bra fitting? If you haven't been measured and fitted for a bra since the last time your shape changed, then this is a great place to start. Wearing the correct size bra that is properly fitted can instantly make you look
slimmer


Make sure your under pants are also in good condition and give support. Shapewear is a great for giving a firm, smooth foundation. A tip, for greater comfort, is to buy a size larger than the manufacturer recommends. It will still create a great foundation, but will be more comfortable


Guidelines for dressing for your body shape


Your best clothing silhouettes are going to be semi-fitted or boxy and soft -- avoid over fittted garments and fabrics that are too stiff (these will hide your shape and make you look larger). Clothes that skim your figure will be most flattering. Your t-shirt in the photo looks as if it has seen better days, it looks as if it has lost its shape


Your best dress shapes will include straight and slightly shaped styles in soft, flowing materials


Your best skirt styles include straight, subtle and full A-line shapes


Your best pant styles include straight and wide styles, including boot leg


Your best lengths. For tops: anywhere between high hip and 2nd finger joint. For skirts and dresses: from top of knee to 1" below bottom of knee, above full calf, below full calf, or full length. This also applies for tunic lengths and capri or cargo lengths. Avoid ankle length


Your best necklines will include V, rounded, split, or cross over styles that elongate your neck and split up your shoulder line


Your best sleeves include long styles (not too wide), 3/4 tapered, cap and sleeveless. Avoid half length styles that end near your waist and make you look wider (as in your photo)


Creating vertical or diagonal lines with your outfits will work really well for your proportions. You can create vertical lines by layering a top, such as a jacket, coat, or an open long line cardigan, or vest. If the outer layer and your bottoms are in a similar colour value and your top is a lighter colour value you'll create a slimming effect. Or look for vertical styling details within the top or dress. Or add a fine scarf over a top or dress to create the vertical lines. Cross-over top or dress styles will create slimming diagonal lines, as will ruched styling details and diagonal patterns


> A personlized eStyles program will give you all the recommendations for your body type
Hairstyle
Leaving your hair its natural colour is fine. You have greyed to an attract colour (some are not so fortunate and look as though their hair is nicoteen stained, even when it's not!).
However, you could benefit by having more shape in your hairstyle. I think you'll find a style that keeping most of your hair off your face will give your whole look a lift. I give
guidelines for hairstyles to suit an oblong face shape here
. Look at magazines, online and at people around you for inspiration for a shape, taking into account your hair type. Online I recommend
this virtual hair styler program
.
Dressing age appropriate
See my article on "
How to dress and look great at any age
" for more tips on age appropriate dressing.
Outfit ideas
Even though you say you spend a lot of time at home it's still good to wear clothes you love that suit your shape, your colouring and your personality. This can improve your self-esteem and make you feel good about yourself. In the outfit ideas below I've picked mainly smart casual garments.
What I can't tell enough about from your question or your photo is your personality. I've made some educated guesses in the example outfits below, but I may have got it wrong! Also, since I can't tell your exact colouring I've picked cool based colours in medium shades.

I suggest you add some colour to your outfits, rather than going all grey. Some grey is fine, because it links to your hair, but too much gray will be boring on you, because you'll look too grey (as in your photo).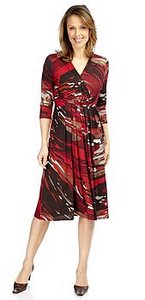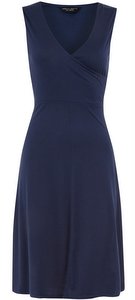 Images courtesy Debenhams (2 dresses on left) & Dorothy Perkins
(blue dress)
The blue dress above may be a little too fitted for you. However, I've included it because this type of silhouette is a good one for you to look for. You can wear this style of dress with a light grey or medium pink 3/4 or long sleeve t-shirt underneath.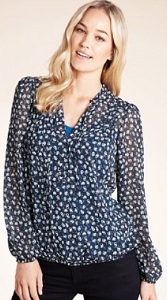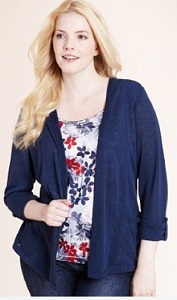 Images courtesy Marks and Spencer
The middle image above is actually one mock-layer top!
Please wear your trousers longer than in the picture below -- this length is stereotypical of an old lady length on this width of trouser!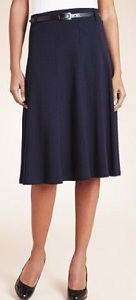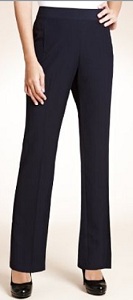 Images courtesy Marks and Spencer
I hope this gives you some ideas. I'd love to hear your feedback.
If you'd like more specific, personalised help I suggest
a personal style discovery session
via Skype or phone -- we could make the style translation part of the session online shopping recommendations if you like.