Patterned jumpers for inverted triangle body shape
by Amy
(Canberra, Australia)
Hi Jane. I'm looking forward to jumpers as winter draws in. However as much as I love Fair Isle / Icelandic style jumpers or yoked jumpers, I fear I can't wear them being an inverted triangle.

Do you have any tips for how to wear patterned jumpers as an inverted triangle (and other shapes if you think others would be interested!)?

Thanks so much
Amy

Janes's answer...Amy, lovely to hear from you. Thank you for your question. I'll keep my answer focused on patterned sweaters for an inverted triangle body shape, and leave it to other readers to ask their specific questions.

Background info
Amy

I have had the pleasure of meeting Amy -- she and her mother visited me for a combined color analysis. Amy's coloring is Cool, Muted and Soft. Later, we also did an online body shape assessment, so I can confirm that she does indeed have an inverted triangle body proportion.
Fair Isle sweaters


Fair Isle is a traditional knitting technique used to create patterns with multiple colors. It's named after one of the Scottish Shetland Islands. Fair Isle patterns have recently had a revival in popularity (in the UK in particular) thanks to the Danish TV series, The Killing. The main character in the series, Sarah Lund, wore a number of different Fair Isle sweaters throughout the series.
Traditional Icelandic knits


The pattern of these knits is quite similar to the Fair Isle pattern. The pattern seems to typically be a curved horizontal pattern across the upper body. Some designs also have a band of pattern across the hips.
Best sweater patterns for inverted triangle body shape
You are quite right in identifying that those examples of yoked and Fair Isle/Icelandic sweater patterns are not your most flattering look. This is because a horizontal line across your shoulders emphasizes your wide shoulders and makes you look even broader.
Your best sweater patterns (and patterns for tops in general) will be
subtle patterns
with medium-low to low contrast levels in the pattern coloring.
Look for patterns such as:

Images: Sportscraft subtle curved floral; Sportscraft red with dots; The Iconic cable knit from Oxford; SuperDry diamond pattern; The Iconic subtle floral
Dots and stars


Vertical lines


Diagonal lines


Florals


Pair patterned tops with bottoms in one of the colors from the pattern. Using one of the lighter pattern colors will work best.
Please note:
High necklines work for Amy. However, if you have a larger bust you'd like to minimize, or a short or wide neck, a lower scooped neckline, or a v-neck knit will work better for you.
Ideas for making horizontal patterned knits work for an inverted triangle shape
However, if you love these Fair Isle and Icelandic patterned jumpers it's worth playing with outfit proportions to see if you can wear them in a flattering way.
To create a flattering look your main aim is to balance your broad shoulders to your narrower hips by using color and/or the shape of garments to minimize the perceived width of your shoulders and increase the perceived width of your hips.
You can achieve this by wearing:
A lighter or brighter color on your bottom half -- to give your outfit a pulled-together look, pick one of the lighter or brighter colors from the sweater pattern. The color doesn't have to be very light or bright, just a little lighter or brighter than the overall look of the sweater. This will also ensure you don't look shorter


A straight or slightly A-line shape on your bottom half--look for pant legs with some width, either straight, flared, or slightly tapered, rather than skinny styles. Look for straight or slightly flared, A-line skirts


Add a strong vertical element to your top half to minimize the horizontal lines. This could be a medium-length pendant necklace, or a scarf tied to give one or more vertical line, or an open jacket
Also, if the upper body pattern is balanced with a horizontal band across the bottom of the sweater it will help to create balance and be better for you.
These ideas are shown in the pictures below for both pants and skirts.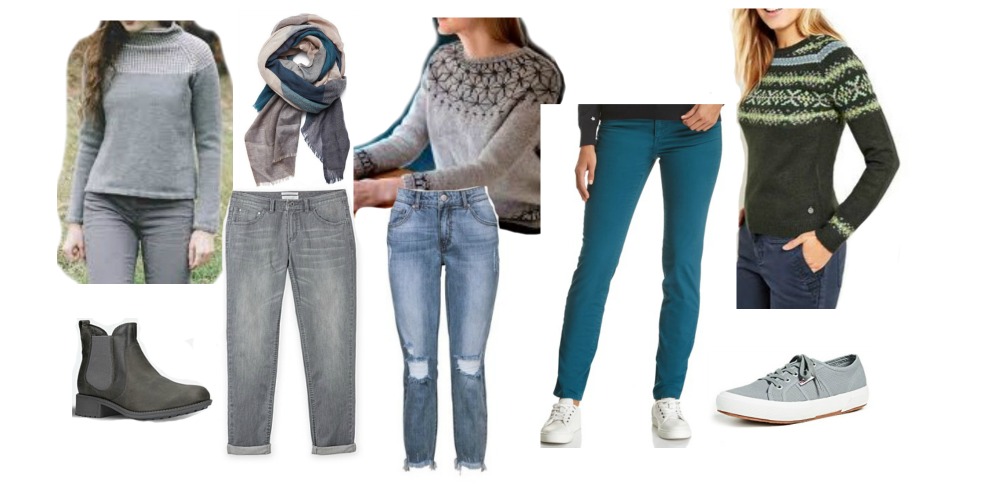 Images: Sportscraft scarf; ShopStyle boots from Selfridges; Trenery grey jeans; Decjuba ripped jeans ; Sportscraft jade jeans ; ShopStyle sneakers from SuperGa