Dress To Flatter Your Rectangle Body Shape
Para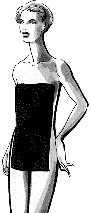 As a female with a rectangle body shape you have a straight, boyish body type. Your bust and hips are about the same size and you have an undefined waist. You probably also have a small or medium bust. And proportionally slim legs and arms.
If you are slim you resemble a ruler.
Your main style aims are...
...to add curves by:
Defining your shoulders
Or, if you are slender, by defining your waist
Do wear...
Shoulder pads to emphasize your shoulders. This may sound very 80s advice, but they really do work. However, they should not be too large and definitely shouldn't be visible

Semi-fitted clothes

If you have firm upper arms, short-sleeves and sleeve-less tops and dresses

Medium to high necklines

Dresses that wrap or flow through the waistline

Straight to gently flared flat-fronted pants

A-line shirts
Don't wear...
Clingy fabrics

Fitted clothes

Low necklines

Baggy tops

Baggy pants

Narrow skirts
Combine these guidelines with...
...the guidelines for your vertical body shape.
Need Help With Your
Style Makeover?
Dressing for your shape is an essential part of a style makeover.
For professional help, either in-person or online, use my image consulting services.
Please note these guidelines only take into account your horizontal and vertical body shapes. The recommendations may change based on other features such as your age, your weight, your face shape, your neck length and any figure flaws you may have.
The online women's estyles program gives you personalized style recommendations that take all your proportions into account.
Like This Page?