You are here: Style Articles > What to Wear >
Trend Watch
> Spring/Summer Fashion Trends Australia 2015/16
Spring Summer Fashion Trends 2015/16 Australia & NZ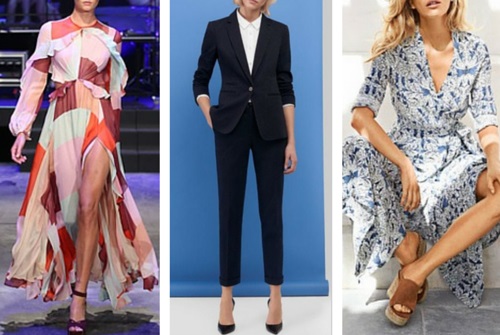 Images courtesy:
David Jones, Jigsaw, Seed Heritage
It's official! In the September issue of Harpers Bazaar Australia the editor said the consensus was that the international runway collections showed no dominant trend this season. She concluded the A/W collections empower you to interpret styles in your own way and dressing individually.
Here in Australia we're still seeing a heavy influence from last season's 70s-inspired styles. However, as I've been reporting for a few years now, there really is a wide choice of styles, patterns and colours available.
This is great news if you have a good idea of what you like, what suits you and what's appropriate for the various areas of your life. However, if you don't have much of an idea of what works for you this choice can be overwhelming and cause you to waste time looking at unsuitable clothing. Or to get stuck in a style rut and keep buying pretty much the same styles over and over again, because you know they work. It can also cause you to waste money if you end up buying items you rarely, or never wear.
How to Discover Your Style?
There's help at hand if you're overwhelmed by the choice of clothing styles available. Start by assessing yourself on my 6 steps to savvy style. And do contact me if you'd like personalised help.
Structured, tailored, firm fabrics in matching jackets, tops, and bottoms creates a strong suiting trend this spring summer. The trend to wear matching tops and bottoms creating the look of a dress or pant suit also continues. And there's still quite a choice in pant suits and play suits
Blue and white are big colour trends this season. Blues range from Navy, through bright blues (such as Prussian blue), to powder hints of blue.
Spring Summer Fashion Main Style Themes
Even though there's no one overarching style it's still possible to pick out themes of styling details. Identify the styling details you like best and try incorporating 1 or 2 in your wardrobe to update your look. Some of the most obvious themes are: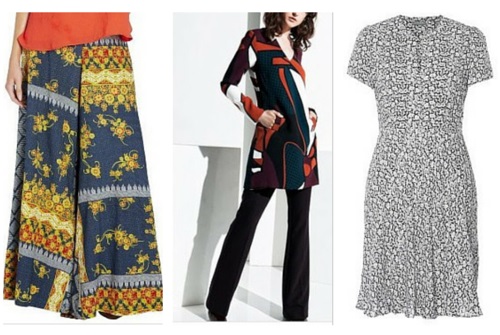 Images courtesy:
David Jones, Cue, Jigsaw
70s bohemian -- this trend continues from last season. It's present in styling details such as: fringes; ethnic prints; flowing fabrics; maxi lengths; flares; denim; suede; colours such as burnt orange and acid pops of colour. This season I'm seeing peasant style blouses as part of the 70s-inspired influence.
Modern. Some of the modern styles are reminiscent of 60s Mod, but updated with contemporary high tech fabrics. However, another version of modern is in the creation of elegant, clean lined, elongated silhouettes This theme is present in: A-line minis; strong, clean style lines; patent boots; turtle neck tops and blouses (yes even in short sleeved and sleeveless tops!)
Lady-like feminine -- present in lace (a big spring summer fashion trend), and broderie; longer length dresses; delicate florals; a wider choice of dresses and skirts; light colours such as shades of white, soft pinks and peaches; sheer fabrics; classic stilletto court shoes (pumps)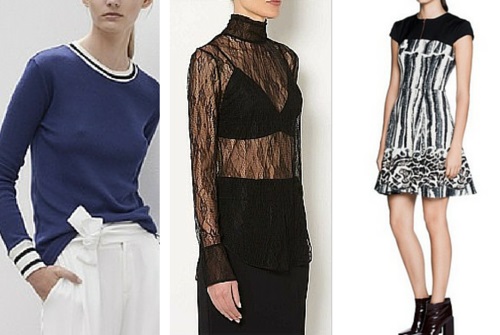 Images courtesy:
David Jones, Witchery, Cue
Luxe sports and lounge wear. A relaxed, comfortable theme, that can end up looking too casual to wear out of the house or exercise environment! Elements include: ribbed knits; duster-style coats; jogger style pants; tennis-style dresses and skirts
Victorian -- high-necked blouses; delicate black lace; rich brocade fabrics; lace-up sandals with stack heels; cropped corseted jackets and tops; fitted button-up dresses; maxi and long midi lengths
Goth/rock'n'roll/punk. Style features include: all black outfits; deep red (reminiscent of blood); leather; black and white animal prints; mesh fabrics; chain accessories; buckles; studs; biker jackets and chunky ankle boots. Add interest with contrasting textures and fabric surfaces
Main Style Elements in Spring Summer Fashion
Dresses
The dominant trend in lengths for dresses and skirts is still midi-lengths: either just below the knee, or just below mid-calf. There are some minis and maxis available too.
The main dress silhouettes are: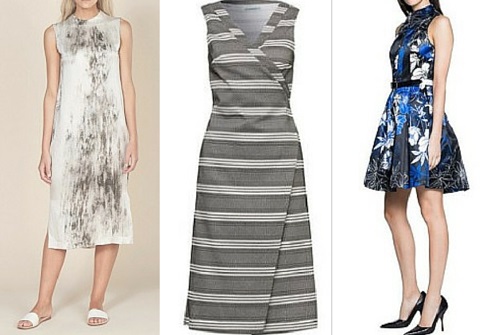 Images courtesy:
Morrison, Kookai, Cue
Straight -- also suitable for most figures. Styles include: shifts; tunics; shirt dresses
Shaped -- these have some waist definition and are suitable for many figures. Such as sheath styles
Hourglass -- these have well-defined waists. They are best on hourglass figures. Styles: include fit-and-flare; waisted styles
Skirts
The trend for a wider variety of skirt styles slowly continues to grow: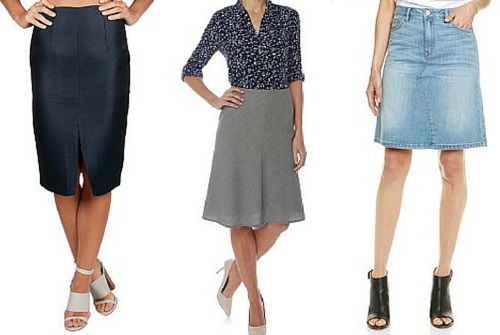 Images courtesy:
Kookai, Jigsaw, Jag
Pencil skirts are still the easiest to find. Look for styles that fall to just below the knee to update your look
A-line skirts are also becoming easier to find. Look for midi and maxi lengths. Skirts that fall in a subtle A-line will suit most body shapes. Obvious A-lines are best if you have an inverted triangle horizontal body shape.
Denim skirts are widely available, as part of the 70s trend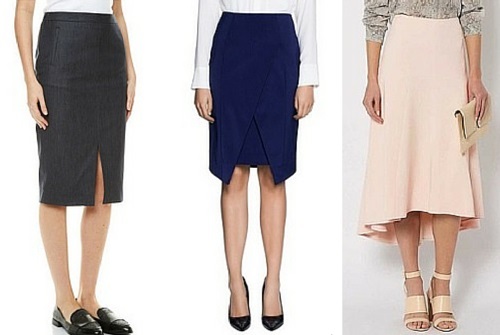 Skirt Hemline ExamplesImages courtesy:
Sportscraft, Cue, Witchery
There's quite a bit of variety in hemlines. These include: front splits; inverted-v cut outs; angled hems; high-low hems; and handkerchief hemlines
Pants, Trousers and Shorts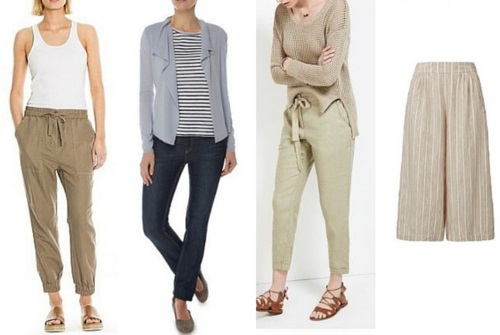 Selection of Pant Styles Images courtesy:
Country Road, Jigsaw, Sussan, Seed
Pants and trouser silhouettes include pretty much everything from skinny to palazzo and everything inbetween. Though, to me, the skinny style is beginning to feel a bit old (unless it's worn as a legging under a dress, skirt or tunic). However, that's possibly just because I've never found this style particularly attractive or comfortable!
In keeping with the continuing 70s theme and the trend of variety in silhouettes there's still a wide selection of jean styles available. These include: skinny legs; slim legs; tapered boyfriend styles; flares; and cropped
Cropped lengths are everywhere. Including: ankle length; and just below mid-calf (this is the more flattering length on most women). Cropped styles include: skinny; slim; tapered; flared; and fuller culottes. Do take care with cropped lengths. Yes, they're a great choice for women who prefer not to have much of their leg on display. However, it's also easy to make your legs look shorter than they really are and to create a look that's frumpy. Work out the best length and style for you and wear with at least a small heel to lengthen your legs. The cropped flare and fuller culottes (if they're not tapered) will be the most challenging styles to get right
Outer Layers
Images courtesy:
Sportscraft, Morrison, Seed, Witchery
There's still a wide choice in jackets. These are available in both suiting fabrics and more casual fabrics suitable for business casual and smart casual. For example, a shorter blue and white (or off-white/stone) striped blazer has a fresh, spring, contemporary feel to it.
There's also a selection of lighter weight vests -- both long-line, duster styles, and shorter
Longline cardigans are also a good (usually more casual) choice for cooler spring days
Trench coats are still widely available in a variety of lengths and styles (classic and contemporary)
Tops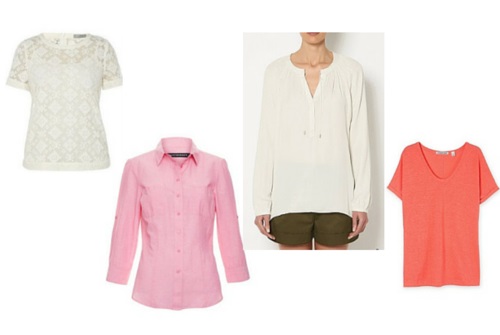 Images courtesy:
Jigsaw, Sportscraft, Witchery, Country Road
Dressy sleeveless shells and short-sleeved tops in a wide variety of styles and fabrics. Look for sheer lace overlays and lace accents and other textures to add interest to lighter colours
There's still a good choice of shirts and blouses for both work and play. Sleeve styles include: long sleeved; tab-sleeved (can be rolled); short-sleeved and sleeveless. 70s-inspired peasant styles are a rising trend in casual blouses this season
Linen tees in semi-fitted and looser styles are still available and often look dressier than a fitted cotton tee
Accessories
Shoes and Sandals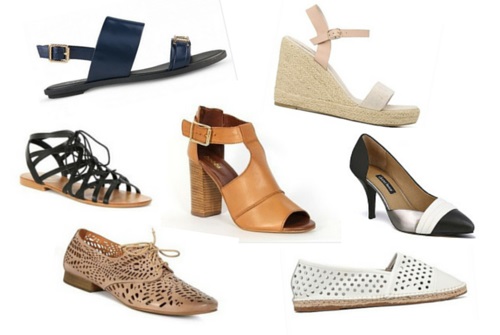 Images courtesy (clockwise from top left):
Wittner, Witchery, Diana Ferrari, Witchery, Hobbs Shoes (next 3 pairs, including centre)
Seeing shoes and sandals in navy should give you some idea of how strong the navy trend is now!
There really is a large range of shoe and sandal styles, heel styles and heel heights available. Possibly the hardest heel height to find is between 1-2" (favoured by me and many of my clients), but it is possible if you keep looking. Or choose your own heel height on shoes of your design at Shoes of Prey
Necklaces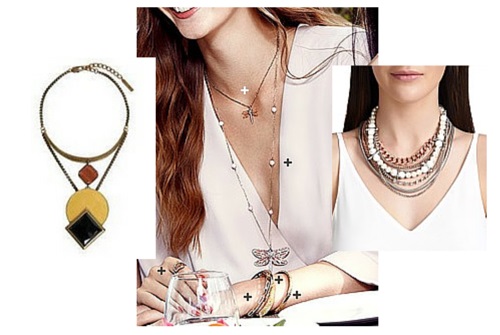 Images courtesy:
Myer, Swarovski, Mimco
While there are still statement necklaces around the biggest trend I'm noticing is for finer, pendant necklaces, often worn layered together (see the Swarovski image above). There are also necklaces that look as if they're created by piling on many together, but have already been constructed as one necklace for you, such as the Mimco one above
Spring Fashion Trends & Summer Fashions:
Main Fabric Trends
Fabric Types, Prints and Textures
There's still a wide variety of fabric textures and finishes available. Including: fuzzy; mesh; fringing; laser cut; shiny; metallic.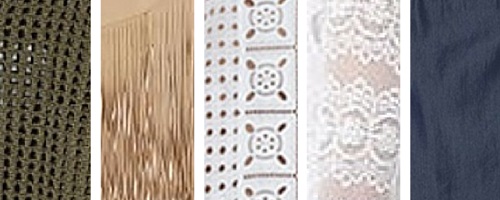 Fabrics include: Lace; denim; linen; and cotton
Patterns include: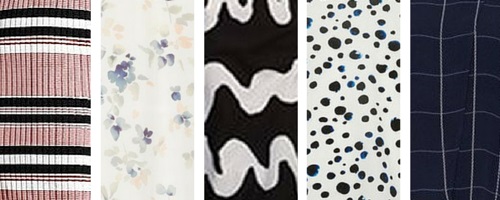 Stripes are still widely available. We usually see stripes in spring, but what's unusual is that they've been available all through autumn and winter this year as well. You'll find high contrast navy and white nautical-feeling horizontal stripes in a variety of stripe-widths, as well as lower contrast colour-ways, making stripes more widely acceptable
Florals include: bold colourful florals; abstract; subtle; and delicate florals;
Abstract swirls and graphics
Small dots and larger circles
Checks
Fabric Color Trends
If you're creating a monotone look add contemporary interest by combining textures and fabric surfaces. Such as a laser cut top over a satiny cami. Using different shades of a single colour also creates a contemporary look (shades of the same colour temperature, such as cool greys, usually work best).

White and off-white. A monochrome outfit of white-on-white is very on-trend this season. Other strong spring and summer fashion combinations include navy and white and black and white
Blues -- as mentioned earlier there's a wide range of blue hues available. These include navy (a great alternative to black as a core neutral); bright blues; pale blues; and light to dark denim blues
Light and pastel colours. Including: cream; blush; apricot; light pink
Black -- as always!
Olive and khaki
Greys -- in cool, neutral and warm tones
Pops of colour -- add interest to neutrals with a pop of red, orange, acid green, or emerald green
Like This Page?