Ruth's Style Transformation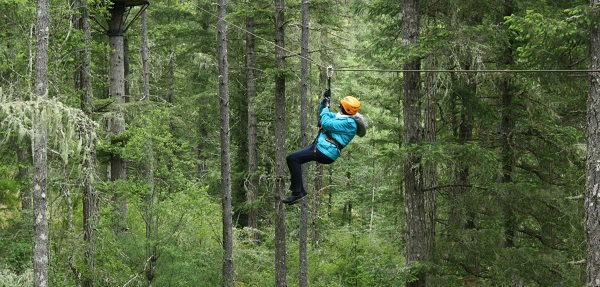 Ruth's zip-line adventure on a recent trip to Canada
Okay, so I'm not claiming that a style makeover will give you the confidence to become this adventurous! (Although, I know some women find a style transformation almost as challenging!)
When Ruth first came to me she was confused about what to wear. She was feeling re-vitalised after losing a lot of weight (22 kg/50 lbs) for health reasons. And she'd just turned 80. (Both very good reasons for wanting to take a new look at her style and clothing choices).
Ruth felt lost with what to wear -- what to look for and where to look. As a result, she felt her style had become boring. She said she'd also wasted a lot of money buying things she then didn't wear. This is not surprising really, with such a major shape change!
The style brief
Ruth's wish was to have a wardrobe requiring only a few pieces to be added each season.
"I'd like some good quality basic pieces to make capsules for casual home wear and smart casual and to be able to pull together some things for special occasions.
"I'd like to look more up-to-date and be able to find suitable accessories."
The style transformation
We started by identifying:
Ruth's body shape: triangle horizontal shape; long legs short body vertical proportion
Colouring: Cool and Muted, also known as Cool Summer, and
Style words: Contemporary Classic Interesting Co-ordinated
Then we worked out a shopping list to create a capsule wardrobe. We did this firstly, for Spring and Summer, and again, 6 months later, for Autumn and Winter.
Ruth was almost starting from scratch for both warm and cool weather clothing so both these initial shopping trips were quite large. Now Ruth only needs to add a couple of items each season to keep her wardrobe in good shape.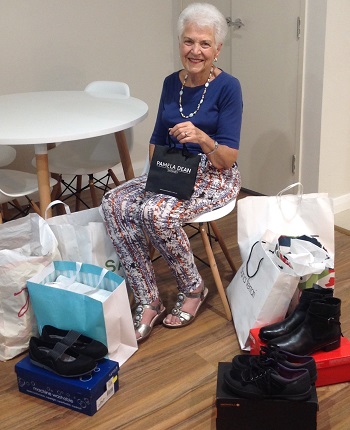 Ready for a nice cup of tea! Ruth after a very successful Autumn/Winter shopping trip
These pants are proving a favourite. They're comfortable, colourful and practical (easy to wash and wear). Ruth originally bought them as pyjamas, but I suggested she wear them as every day casual and she embraced the idea!
Notice how much nicer these cool-coloured metallic sandals are than the warm-toned brown/taupe ones (in some of the photos below)? This is because Ruth's colouring is cool, so they tone in nicer with her outfits, skin and hair. She's also now found some comfortable white sandals, which work nicely with her hair colour.
Ruth's new style
In the photos below, Ruth demonstrates you're never too old to be stylish! All you need is a little knowledge:
About yourself: your best colours; shapes that flatter your body shape; what you like; your current lifestyle
About fashion and style: what's contemporary; where to buy clothes and accessories that work for you
Where to look for clothes and accessories?
One of the things Ruth wanted me to help her with was where to look for clothes and accessories. Many older women have the same question -- they find it hard finding suitable clothing for their age and shape in the shops.
My response to this is to understand what you're looking for. By understanding your style criteria (that is: colours and shapes that flatter you; your personal preferences and lifestyle needs) together with even a small understanding of what's current you can look in your local shops and online with new eyes. Yes, there are some stores that predominantly cater for young women, so the styles are skimpier and the fabrics and construction may be of lesser quality, but even in those places you may find the occasional gem when you know what works for you.
As you can see below, we found a good range of great items for Ruth in the usual mid-range (and a couple of low-range) priced Australian chain stores.
Spring and Summer Outfits
Here are examples of some of the lovely smart casual and casual outfits we were able to create after our first shopping trip:
Examples of spring and summer outfits
Autumn and Winter Outfits
And here are some examples of outfits we created after our shopping trip for cool weather items: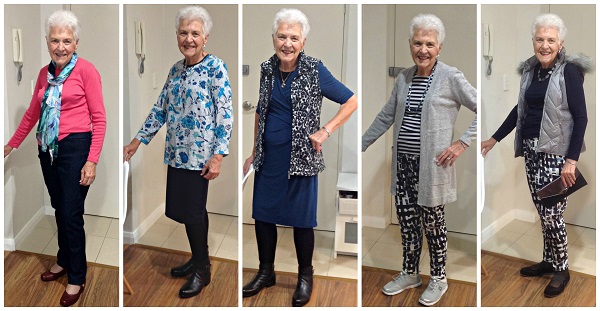 Examples of autumn and winter outfits
Below, are photos of Ruth's travel wardrobe for her spring adventure holiday to Canada and Alaska. She told me that this travel wardrobe worked out perfectly, which is good to hear.
Just-right travel wardrobe capsule
Would you like to feel confidently stylish every day?
If you're ready for your own style transformation, but don't know where to start contact me to find out more.
I offer image consulting and personal styling services both in-person (if you live in Sydney, Australia), and remotely (using a mix of email, photos, and Skype, FaceTime, or phone).
Like This Page?