You are here: Style Articles > What to Wear >
Trend Watch
> Spring Summer Fashion Trends 2014
Spring Summer Fashion Trends 2014
The designer Spring & Summer fashion runways for this season continue the trend of a lot of variety in silhouettes, styles, colors, and patterns. Great for putting together looks that work for you and your lifestyle.
The main trends are still in the direction larger silhouettes and longer lengths. Although crop tops, including boxy shapes and sports-bra styles, are in more of the collections. Many garments have relaxed fits inspired by sportswear.
I've summarized my main observations below...
Spring & Summer Fashion Trends: Main Style Themes
Tribal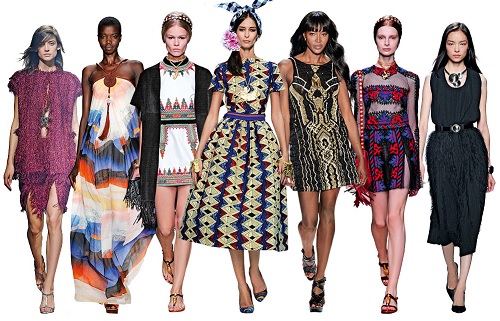 Image courtesy: Matches Fashion
Tribal, folk and bohemian looks inspired by cultures around the world. I'm particularly noticing American Indian (for example, embroidery patterns and fringing) and African tribe influences (for example, the Diane von Furstenberg floaty chiffon dress, second from the left above).
Larger silhouettes
Image courtesy: Matches Fashion
Larger silhouettes include boxy 60s Mod style, Japanese-inspired shapes, and more fluid overblown shapes.
Tops are getting shorter again -- if you want to try this style and your waist and mid-riff are in reasonable condition, but you're not young enough to want to expose skin in that area, choose high waisted bottoms and/or layer a cropped, boxy top with a camisole underneath in a similar colour tone.
Feminine
Images courtesy:
1st 4 images StyleBop
Oscar de la Renta floral dress -- FarFetch
Burbury Prorsum pink lace skirt and shirt -- Matches Fashion
To create feminine outfits look for:
Garments made of fluid, or floaty fabrics

Lace, crochet, and fine 50s-inspired knits

Knife pleated skirts

Pastel colors shades of pink and coral and particularly dominant this year. You'll even find pastel-colored suits

Look for patterns with soft swirls and circles, such as dots and pretty florals

Shapes include: A-line, and subtle A-line shapes in skirts, including flippy trumpet styles; fit and flare hourglass shape dresses; soft blouses (with and without collars
Minimal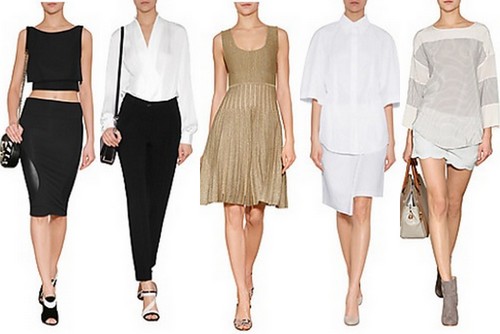 Images courtesy: Stylebop
Create minimal looks with:
Monochrome colors -- shades of black and white; black and white patterns and prints; tone on tone colors, typically pale or pastel (although if you like this look but prefer stronger colors use those instead)

Garments with clean lines and minimal details

Simple styling and minimal, under-stated accessories
Sports-luxe
Images courtesy: FarFetch
Sports-luxe garments in shapes and fabrics usually associated with sports or active wear, translated to everyday and even evening wear (in more luxurious fabrics). Dressing up harem-style track pants with heels and a dressy top, for instance.
Spring & Summer Fashion Trends: Main Style Elements
Skirts
Images courtesy:
Ann Taylor - Ann Taylor - Ann Taylor - Banana Republic - Nordstrom
Jigsaw - Nordstrom - Jigsaw - Nordstrom - Mango
The greater variety in skirts styles is continuing. Both in choice of shapes and lengths. There are more midi lengths around (anywhere from just under the knee to below mid calf) and a few long length skirts too.
Pants & Trousers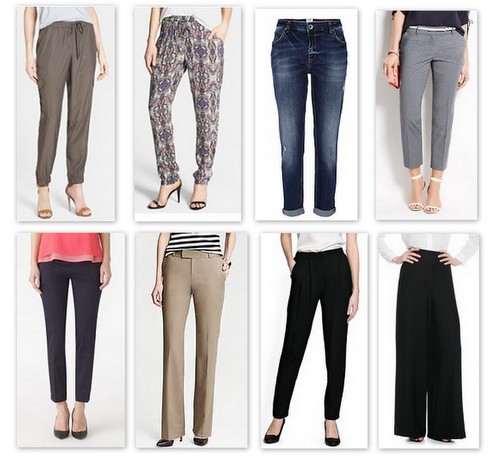 Images courtesy:
Nordstrom - Nordstrom - River Island - Ann Taylor
Jigsaw - Banana Republic - Mango - Mango
Pant legs are slowly getting wider and the fit more relaxed, although there are still a lot of skinny and very slim styles around.
There are also many cropped styles around, including Audrey Hepburn style cropped, slim straight styles and relaxed fit, tapered, rolled hem boyfriend jean styles. (I'm trying to ignore the wide-legged cropped styles and you should too unless you're very tall and slim!). However, cropped pants can be a great alternative to shorts if you no longer want to expose your legs to public viewing!
Tops
Trends in tops includes:
Shirts and blouses --crisp cotton shirts and feminine blouses in sheer and/or floaty fabrics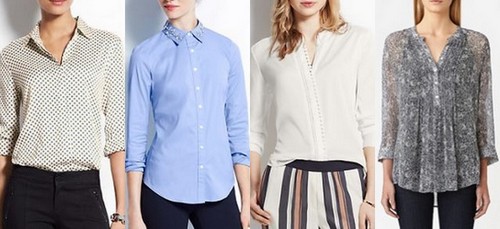 Images courtesy:
Ann Taylor - Ann Taylor - Ann Taylor - Jigsaw
Boxy tops -- in either stiff or soft fabrics. Lengths from waist to high hip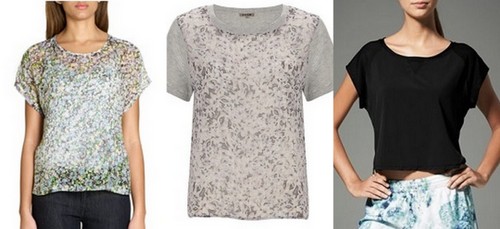 Images courtesy:
Jigsaw - Jigsaw - Next
Jackets
Images courtesy:
River Island - Jigsaw - Mango
Jackets include biker and bomber styles in leather, faux leather, fabric, knit, or a mix of leather and knit. Watch for bomber styles in printed fabrics. Denim jackets are also very on trend.
Colours
Pink -- from palest blush, to strong, cool fuschia and warm corals

Medium greys and navy -- great alternatives to black for core colors

Black and white -- in single color separates, or combined black and white in prints and patterns

A wide choice of blues -- denim, cobalt, and even some warmer turquoise, teals and aquas
Sheen and shine in metallics used for pants, skirts, dresses, shirts, shoes, bags and jewellery.
Patterns and Prints
The trend of wearing clashing prints together continues and is now also appearing within a print -- a colorful floral print appearing as accents on a black and white print, for instance.
Dominant pattern and print trends include:
Painter inspired -- both artist and decorator-splash styles!

Stripes --Horizontal, vertical and diagonal. Mainly in high contrasting colors such as navy and white, but some lower contrast stripes too such as camel and navy

Checks -- including: gingham (especially blue and white, and red and white); houndstooth (black and white); Prince of Wales (black and white). The latter 2, usually associated with cooler weather clothes, are appearing in Spring and Summer garments, including dresses as part of the black and white trend

Florals -- there's a choice of bold, abstract, or pretty feminine prints
Inspiration for Spring & Summer Fashion Looks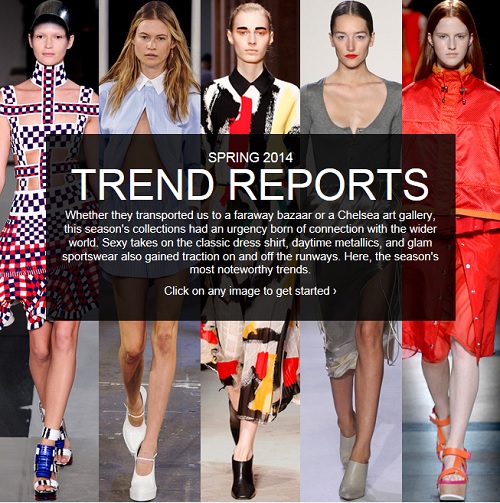 I like to start by looking at Style.com. The site provides it's own trend summary for the season. It also has a good selection of videos of the designer runway shows, both couture and ready-to-wear.

I then look at the Instyle.com for their interpretation.
Next I'll look at some of the major department stores such as Nordstrom, in the US, and John Lewis, in the UK. I look for their trend summary and their look books.
Then I check what's actually available to buy by looking at the 'new in' section of a range of stores online. Which of the runway trends are making in onto the high street? Sometimes a trend is picked up immediately, other times it takes a while to filter in, and some trends never are taken up.
I like to use the trend forecasts to identify new silhouettes and lengths to try, and especially for ideas for styling outfits. The aim is take the ideas that appeal to you and blend them into your look, never lose sight of what suits you, but do have some fun with your clothes!
Need Help Creating Your Look?
If you need help identifying your personal style, or would like help putting outfits together contact me for a style consultation.
Like This Page?