You are here: Style Articles > What to Wear >
Trend Watch
> Spring Summer Fashion Trends 2016-17 Australia
Spring Summer Fashion Trends 2016-17 Australia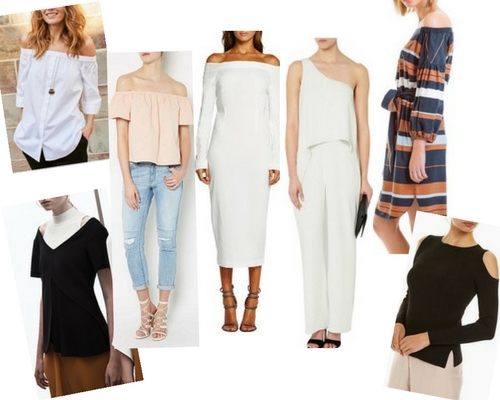 Images courtesy (clockwise from top left):
Sussan, Witchery, David Jones, Witchery, Country Road, Sportscraft, Veronika Maine
One of the biggest spring/summer fashion trends is off the shoulder. You'll find this style in tops (including shirts), dresses, jumpsuits and playsuits. Variations include cold shoulder (great for hiding under arms), one shoulder and across the shoulder (strapless).
A styling trend that makes this fashion easier for many to wear (especially for women who prefer to cover more of their decolletage) is to layer a top underneath (for example, see the image from Veronika Maine above).
Fashion Trends: Main Style Elements
Pants, Trousers and Shorts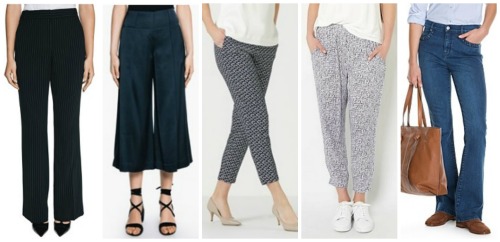 Images courtesy (left to right):
Cue, Veronika Maine, David Lawrence, Witchery, Country Road
There is a large variety of lengths, rises, styles, colours, patterns and widths, available for pants again this season. The main things to notice are:
The move away from skinny pant styles continues, although there are still skinny styles in stores
The cropped trend in all widths continues, including a few culotte options, such as the ones from Veronika Maine above
Tapered styles, including the casual jogger-inspired style (gathered at the ankle and usually with an elastic or draw string waist) are widely available in plain colours and patterns (see the Witchery image agove)
Pant suits and play suits are still available in many stores
Denim colours range from dark blue, to light blue, to white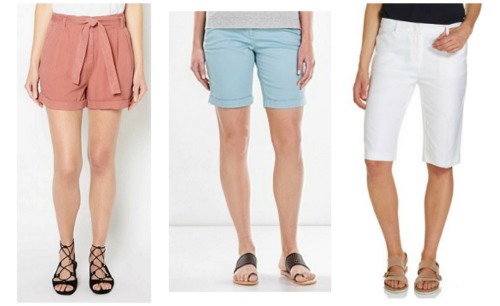 Images courtesy (left to right):
Witchery, Trenery, Sportscraft
Short styles include lengths to the knee as well very short lengths. Cuffs are prevalent, though many can be let down if this makes the length or style more flattering for you. As well as straight styles there are styles with more volume, such as the Witchery version above.
Dresses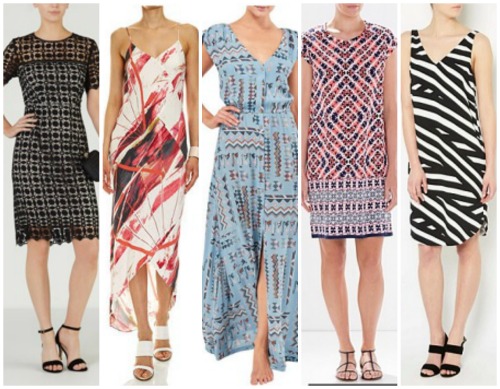 Images courtesy (left to right):
David Lawrence, Saba, Tigerlily, Trenery Witchery
There is still a wide variety of dresses to choose from.
Styles range from fitted to straight and loose, lengths from short to maxi.
Particularly on-trend this spring summer fashion season are: slip dresses; off-the-shoulder styles; stripes; and lace.
If you're over 45 and fancy trying a slip dress (or want to wear another style of thin-strapped dress) you might find it works better with a layer underneath. You could try a tank, a short sleeved tee, a longer sleeved tee or a blouse or shirt.
Skirts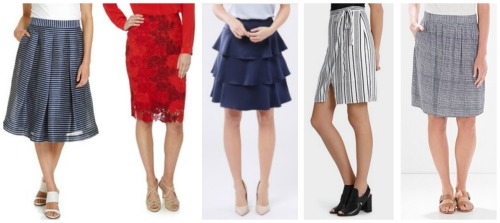 Images courtesy (left to right):
Sportscraft, David Lawrence, Review, Myer, Trenery
The selection of skirt styles is slowly increasing. As well as straight and pencil styles there are:
Full pleated styles (like the Sportscraft version above)
A few ruffled styles (see the Review image above)
A few wrap and pseudo wrap styles (see the Myer image above)
The occasional relaxed casual style (see the Trenery version above
To create a new look in a straight or pencil style look for lace or jacard fabrics.
Outer Layers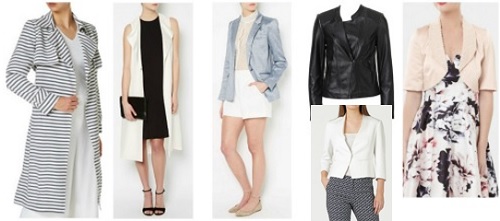 Images courtesy (clockwise from left):
Sportscraft, Witchery, Witchery, Diana Ferrari, Review, David Lawrence
Outer layers include:
A variety of trench coat styles. The one shown above (from Sportscraft) is in a contemporary striped fabric
There a still a few long line vests, including sleeveless trench styles (see the Witchery image above), and some fitted waistcoat style vests as well
Jacket lengths are mainly at the hip, waist and cropped bolero styles. Blazers are particularly easy to find in a variety of colours and fabrics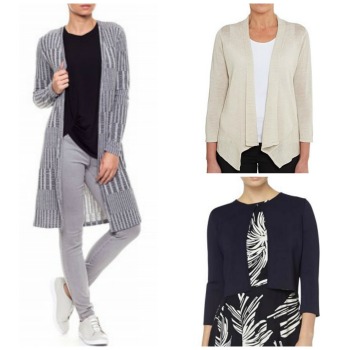 Images courtesy (clockwise from left):
Metalicus, Blue Illusion, David Lawrence
Cardigan styles include: longline; hip length; cropped; waterfall; and straight-edged styles.
Tops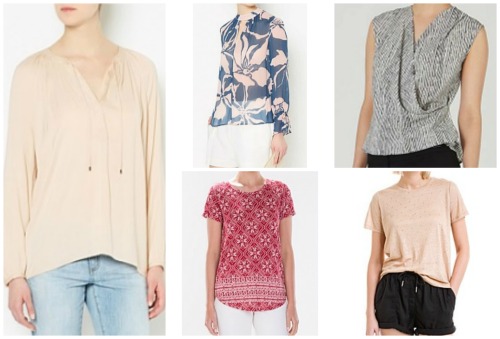 Images courtesy (clockwise from left):
Witchery, Witchery, David Lawrence, Country Road, Trenery
Apart from many variations of off-the-shoulder styles (see the images at the very top of this page). There is quite a variety of tops, including:
Blouses such as the peasant style and the wide cuff styles from Witchery (see images above). The wide sleeved style (for all tops) is also an emerging trend
Wrap styles (shown in the sleeveless David Lawrence image above)
A wide variety of sleeveless styles
Tee shirts (high round necks, scooped round necks and V-neck styles) in plain colours, but also in interesting fabrics (see the gold dot Country Road image above) and patterns (as in the Trenery version above)
Accessories
Shoes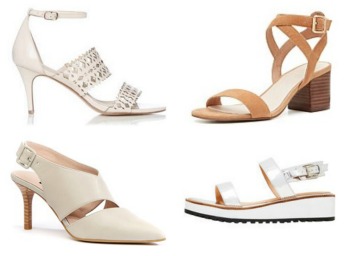 Images courtesy (clockwise from left):
David Lawrence, Witchery, Seed, Diana Ferrari
The main trends in shoes include:
Block heels (also called stacked heels)
Strappy styles, especially ankle straps
There aren't so many ballet flat options available. However, there is still a lot of choice in flat shoes and sandals, including loafer and slipper styles and sporty styles suitable for really walking!
Other accessory spring/summer fashion trends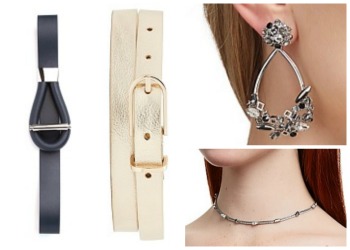 Images courtesy (clockwise from left):
Trenery, Witchery, Mimco, Mimco
Belts are now widely available. There are many skinny styles and some wider styles as well
Statement earrings. Over sized earrings are having a moment. Choose a style inline with your scale and personality
Chokers. Part of the Victoriana trend
Fashion Trends: Main Style Themes
A few of the main style themes include:
Romantic, ultra-feminine soft floaty styles. Including hippy, peasant and boho inspired styles as well as slip dresses and sheer fabrics. Look for ruffles, delicate florals, soft whites, pastel pinks and peaches, pastel blues.

Victoriana: buttoned up, modest styles. This influence is seen in: lace-up sandals and shoes; chokers; velvet; high necklines; midi and maxi lengths; long, full sleeves; and black

Metallic finishes. You'll find both warm and cool metallics including gold (warm) and silver (cool). Look for: sequins; sparkly details such as dots; sheen and shiny fabrics. In clothes, shoes, bags and accessories.
Spring Fashion Trends & Summer Fashions:
Main Fabric Trends
Fabric Types
Floaty chiffon. Lace, especially thicker, crochet, lace versions. Crepe. Cotton. Linen. Viscose.
Fabric Prints and Textures
Stripes. There remains a large variety of horizontal, vertical and diagonal stripes. Wide, deck chair/awning-inspired stripes is a new take on the stripe trend.
Large, abstract florals and botanical-style prints
Abstract, ethnic inspired prints including: diamond print shapes; zig-zag prints; paisley
A few checks
Fabric Color Trends
Light neutrals (illustrated in many of the pictures above) including: soft whites; creams; warm and cool beiges; light greys; and shades of khaki
All shades of blue. Mostly cool shades. Navy is a great neutral for everyone (so much kinder than black for most women)!
Pops of peach and soft pinks
The occasionalyellow or red item
Like This Page?