Tapered vs Skinny Pants
by Anne
What is the difference between skinny jeans and tapered jeans? My eStyle results said I should not wear skinny pants or jeans. I have 3 pairs and I believe they look good on me. I am 5 4" at 147-150 lbs. but all my fat is primarily in my stomach not my legs. Pls advise.

thanks
Anne

Jane's answer Hi Anne, thanks for your question. First let's look at the meaning of the different leg styles in pants...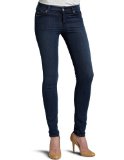 Skinny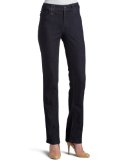 Straight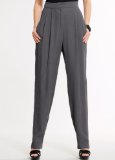 Tapered
Skinny pants are those whose legs are straight and narrow


Straight pants fall straight from the thigh to the hemline. The width of the leg can vary, but when they are figure-hugging they become skinny and when they are wider than the thigh they are classified as wide


Tapered pants fit comfortably at the thigh and taper to a narrower ankle (the tapered pants illustrated above also have a high waist and pleats, but it's the leg style only we're looking at here)
Skinny pants
look best on people with a
balanced body vertical body shape
, with a bottom that is neither flat nor large and a slim figure, such as a slim rectangle or hourglass. I wrote more about this
here.
If you have slim legs, but carry weight on your stomach wearing skinny pants will emphasize your large middle. You will look better in a straight leg pant where the width of the pants is not as narrow as the figure hugging skinny leg.
Perhaps your skinny leg pants are more towards the straight style and that's why they work for you?
A
tapered-leg style
will also work well for you, but don't go too narrow at the ankles. There are a few tapered leg styles around, but not many and I haven't seen any in jeans at the moment.
Straight leg pants
or jeans are flattering on most people.
I hope this answers your question?