Wardrobe organization and coordination
by Caroline
(Paraguay)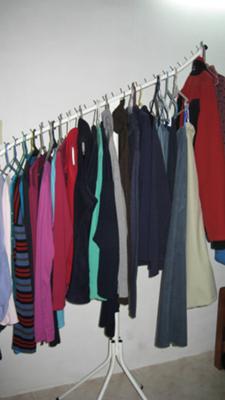 Garment Rack
Here are two helps I've found for my new coordinated look...


The first is, I live in a tiny flat and have no wardrobe. Instead I have one of these
metal structures for clothes hangers
- the poor man's wardrobe. It cost no more than £10 at a stall beside the road here. Google images is full of them and I imagine not v. costly.
It's made a huge difference to me - I' m not a 'joined up thinker' in the colour department and need all the practical help I can get.
It's brilliant. At one glance I can see what the options are and what goes with what. It's v. helpful at this stage of experimentation.
The other is
for scarf wearers
. Via a web page about books I found this 22 page pdf showing how to tie scarves successfully. It will work for any scarf, you don't necessarily have to have a Hermes! The link is below:
Playtime Hermes scarf.
Hope they help others to get ahead quickly with their clothing schemes.
Go well, God bless, Caroline