What clothes should i wear to make myself look good?
by aimee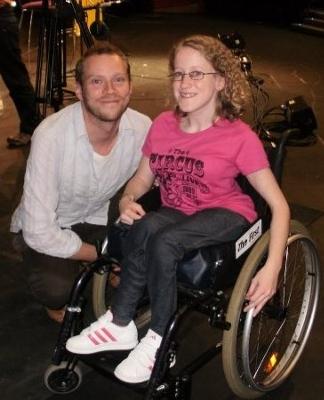 i am in a wheelchair and have been all of my life, i am perfectly able except i cannot walk. i am a petite woman with an inverted triangle body, i have looked on tons of wheelchair fashion sites but they are all designed for older people, or for more disabled people than myself. i buy high street clothes, as i am perfectly able to dress myself and everything as a normal person, but i have found i am bored of my style for day to day, and want to know exactly what would suit me, so that i can go from there, and where i can get these styles on a budget, as i am a university student. i am 20 years old.

this is a photograph of me to give you an idea of what i look like, if that helps.

really hope you can help me :)

thank you

Jane's answer...Hi Aimee. The usual style rules apply, even if you are in a wheelchair. Although, styles for your upper body are obviously more important than for your lower body.

You've identified your horizontal body shape as inverted triangle. Your vertical body shape is still relevant for you too. It looks to me as if your vertical body type may be long legs and short torso.

I can't see your face straight-on, but I think your face shape is oblong and your neck length medium long.

Your main style aims will be to visually elongate your torso, without further further emphasizing your bust and shoulders. Try lower necklines (though not too plunging!), this will de-emphasize your top half. Also try dresses that flow through the waist.

See further recommendations for your horizontal body shape here.

You don't say where you live in, so I'm not sure which shops to recommend (if you add a comment to let me know which country you're in I'll see if I can add some recommendations for where to shop).



>> Find out exactly which styles suit your body shape taking all your proportions into account
>> Understanding your best colors is the other half of the fundamentals of style