What hair style would suit me and what exactly is the shape of my face?

by kavi
(india)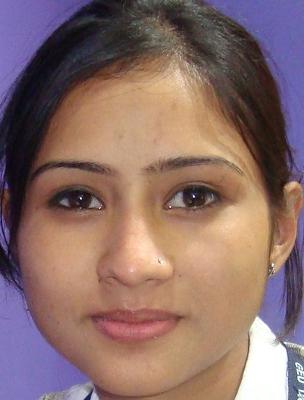 I wanted to know my face shape, and the hair style which would suit me, sometimes I find it pear shaped somtimes triangular. I am totally confused, plz suggest, and my head is also uneven it is slightly raised, my hairs are light and slightly wavy type and are of medium length. Hope u can know the description from the photo.

Jane's answer...Hi Kavi. Firstly, let me clear up one thing...the names triangle and pear shape are pretty much just different names for the same shape.

There is a small difference and that is that the triangular face shape has a shallower jaw line, while the pear face shape has a more rounded jaw line. However, in both face shapes the jaw line is wide. The recommendations for hairstyles and accessories are the same for both face shapes.

Your face shape is between a square and a triangle. In this photo you are not quite straight on to the camera, so it is difficult for me to know exactly which one. From what I can see your jaw line is not quite wide enough for a triangle and so I would say your face shape is square. If what you see in real life is that your jaw line is at least as wide as your cheek bones, then your face shape is triangle.

See general recommendations for hairstyles to suit a square face shape here or for a triangle face shape here.

For examples of actual hairstyles and to try them on check out one of the virtual hairstyler programs (see my reviews of the programs here). The programs also take the texture of your hair into account.