What is my face shape and what is the best haircut for it?
by Cathy
(Toronto, Ontario, Canada)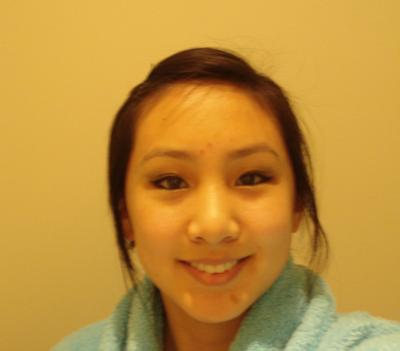 my face
umm well the width of my forhead is 6 inches
my across my cheeks is 6 inches
and my jaw line width is 5 inches
and the length of my face is 8.5 inches

i was wondering which face shape I am? could you help me by giving your opinion?
from all the reading i've done i think its an oval or diamond

and do you know which would be a good haircut for it?

thanks muchh!

Jane's answer...Hi Cathy. Firstly, thank you for submitting such a great photo -- it's perfect for determining your face shape!

Your face is definately longer than it is wide, you have a deep jaw-line and a rounded forehead. So, your face shape is oblong.

However, your face does also have characteristics of an oval shape. That is, an "inverted egg shape" with wide cheek-bones, a rounded hair-line, a pointed chin, with the jaw-line narrower than your cheekbones, and evenly spaced facial features.

However, your face is long relative to its width, making it an oblong.

Your main hairstyle aim is to make your face look shorter.

>> Find general recommendations for hairstyles your oblong face shape here

>> Try a virtual hairstyle on your own face before doing any sort of major change. I've reviewed a couple of the virtual hairstyler programs here.


Return to Face Shape Question.
Like This Page?