What is my face shape?
by Erin
(Canada)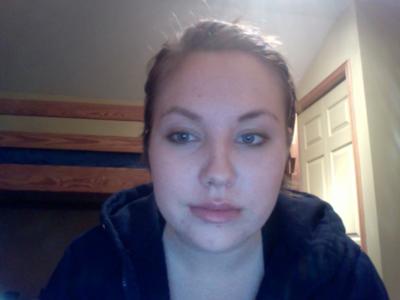 Impromptu webcam shot!
Please tell me my face shape! Like many people, I just don't know what shape it is. From different angles it looks to be a completely different shape. From a 3/4 view it looks very diamond shaped... but when I smile it looks round. With a neutral expression it looks oval or possibly heart shaped. I'm at a loss!

I was also wondering what hairstyles you could recommend. I have experimented with tons of different hair cuts, from a short pixie cut to well past my shoulders, and I find ear-length to shoulder-length hair to be the most flattering, but I can't settle on one kind of hairstyle. Side bangs seem to look good because they hide my huge forehead... but I'd like an expert opinion on what kind of hairstyles would suit me. Thanks so much!

Jane's answer...Hi Erin. Face shape categories are determined by looking at your face straight on with a relaxed expression.

Your face is definately longer than it is wide. And although your cheekbones are slightly wider than your jaw-line and forehead, the sides of your face are pretty much straight. This all means you have an oblong face shape.

Your general style aims for hair styles are to make your face look shorter and more like an oval. That is, add a little height at the crown and width at the forehead.

As you say, you also have a deep forehead which is why, as you've realised, side bangs look good. And you've already discovered the best lengths for your are between your ears and your shoulders.

There's no reason to settle on just one kind of hair cut! It's good to update are look at least every couple of years. And it's fun to experiment!

>> See more recommendations for the attributes of a good cut for your face shape here

>> Have fun and try some virtual hairstyles using one of the virtual hairstyler programs
Return to Face Shape Question.
Like This Page?