What to wear for valedictory dinner?
by Bizhi
(Melbourne, Australia)
Hey your website is very interesting and it has been helpful. I am 17 and have a valedictory dinner coming up soon. It's a semi formal dinner. I have more weight around my hips, breasts and thighs, but it isn't quite noticeable as I'am tall. My legs are longer than my torso. What kind of dress would you reccommend I wear to flatter my body shape? I would love to hear from you soon. My dinner is on Thursday 21 October!

Thanks Bizhi

Jane's answer... Hi Bizhi. Thanks for your kind words about my website.

I had to look up 'valedictory' as this is a new term for me! It seems it means farewell dinner. So, I guess it's a graduation dinner in your case.

I do hope that you already have something you can wear to this event, since it's now Tuesday and I'd hate for you to buy something in a panic!

Without seeing a picture of you I'm not able to give you precise advice for what will suit all your body proportions. So, I'll give you some general tips based on what you've told me.

Dressing to suit your body shape
Since you describe your legs as longer than your torso you may have a vertical body shape of
long legs and short body
. I can't tell what your horizontal body shape is from your description. See if you can work it out from my
horizontal body shape descriptions
.
My general recommendations are to create an hourglass-like, balanced body shape by...
Choose a dress that elongates your torso. This will create a more balanced body look between your legs and torso. So, avoid a belt, sash or horizontal design detail in the stomach area in a different color to the main dress -- all create a horizontal line that will make your torso look shorter


A dress that falls anywhere from your mid-thigh to your knee will most likely look best on you. There are a lot of semi-formal maxi dresses around at the moment, this length may also work for you if you are not excessively tall


A design detail, such as a border or colour change, at the hem should work well since you are tall (as long as you are not significantly over weight)


If you are a triangle shape or have thighs wider than your hips look for fabrics that fall gently over your hips and thighs to disguise your thighs. There are a lot of dresses with layered ruffle skirts around just now. If you have an obvious triangle shape this style will most likely make your triangle shape more exaggerated (dependent on where the ruffles start and how thick the material is), so probably best to avoid it


Place bulk formed by design details, such as ruffles, on a part of your body you want to increase in size. For instance, if you're a triangle shape and don't have a large bust ruffles around the neckline and bust could work for you -- if your personality is one that likes ruffles, of course.


Remember that light colors and shine also increase the apparent size of the area they are on, so take care where they fall!
For more specific recommendations for your body shape and proportions, and for help with assessing your shape, you need an
estyle portfolio
.
Semi-formal dress tips
A cocktail-style dress is good for a semi-formal event. An elegant dress that is between knee length and mid-thigh.
Choosing a dress in an evening fabric, that is, a fabric that is dressy or embellished. A dressy fabric often has some sheen, or shine (though take care with shine, because it doesn't suit everyone) such as silk or satin styles. Details such as sequins and beads can also add an evening sparkle, or these can be added in accessories. Lace over a fabric embellishes it.
And don't forget to finish your look with co-ordinating accessories with a similar 'feel' to your dress.
Read my accessorizing tips here.
Here are some examples of dresses that might work for you...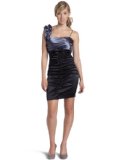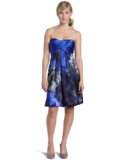 Of course your personality will also come into play as you decide what style will work for you. Think about whether you prefer to convey a classic, natural, feminine, alluring, dramatic or creative look and keep this in mind as you look at dresses.
For more help on what to wear for any occassion I recommend Diana Pemberton-Sikes'
Occassion Wear Magic ebook
.