You are here: Style Articles > What to Wear >
Trend Watch
> Fall & Winter Fashion Trends 2013/2014
Fall & Winter Fashion Trends 2013/2014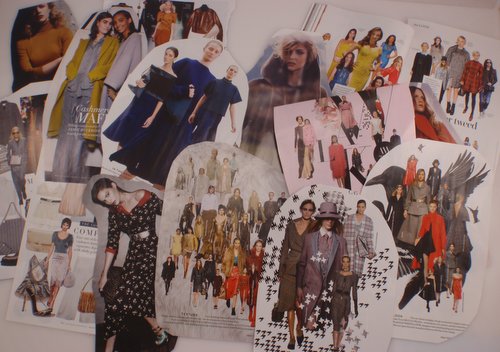 Fashion Trends FW 2013/2014
(inspired by Harpers Bazaar, Style.com and InStyle magazine)
The trend for this fall and winter continues to be oodles of choice! Choice in silhouettes (over-sized and boxy; slouchy and relaxed; and classical, slimmer fits), choice in textures (big and fuzzy or fluffy; sequinned or be-jewelled; tweedy) and choice in colors (scarlet reds and orange-reds; pinks from blush to bright; greys and brown-taupes).
Do you know your personal style?
It really does help to have a good idea of the styles that suit your coloring, body proportions and personality. However, do be careful not to narrow your choices too much, or you may miss seeing ways to incorporate newer trends into your style!
You'll find lots of information to help with discovering your style throughout my website -- check the navigation menu to the left of every page.
If you'd like my personalized help with a style makeover take a look at my services and contact me -- sometimes it takes an independent professional eye to see yourself anew!
Fall & Winter Fashion Main Trends
Skirts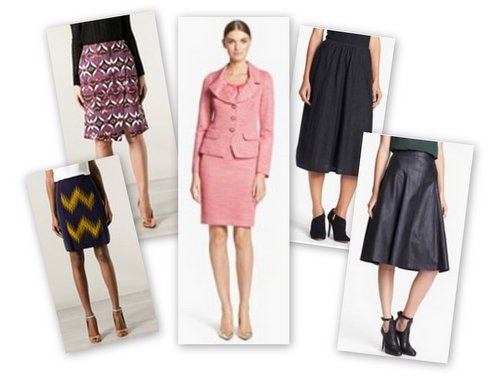 Images courtesy (clockwise from left):
Farfetch - Rika
Nordstrom - St John
Nordstrom - Eileen Fisher
Nordstrom - Astr
Farfetch - Missoni
Is the skirt finally making a come-back? If the high street follows designer runway collections, then we should be seeing more variety in skirt styles, at last!
The new length is midi -- mainly between the knee and the fullest part of the calf (and this is certainly the most flattering version of this length for most women). There are still knee length options and minis available as well. The universally best length for most women is around knee length.
Skirt silhouettes include straight, tapered (pencil skirts), and flared. Along with the added variety in skirts we're seeing variation in hemlines, including asymmetrical and splits as well as the usual straight hemline.
Fabrics include leather, jersey, tartan, wool suiting fabrics, and tweeds.
Pants and Trousers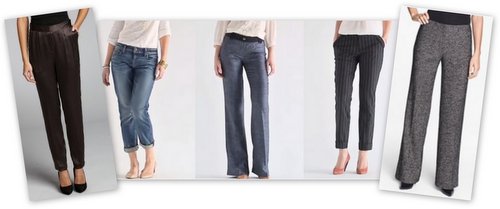 Images courtesy (left to right):
Bluefly - Rebecca Taylor
Anthropologie - 3 example pant styles
Nordstrom -- Classiques Entier
The main, new, Fall & Winter
fashion trend in pants is slouchy
-- moving away from the skinny styles that have dominated recent years, which should come as a relief to many of you!
There's also a lot more choice in pant styles than there has been in recent years. Look for relaxed fit, man-style cuts; tapered styles; slim-straight styles; wider-straight legs; and boot-cut.
The crop styles are still around too. Do make sure you wear these in a way that doesn't make your legs look disproportionally short, wear with boots in a similar color, for instance, and at least a bit of a heel. They can also work with a nude heel, when the hem of the pants is slim, or tapered.
It's still fine to keep wearing any skinny styles you already own. However, for longevity,perhaps best not to buy new skinny leg styles?
Grey, navy and chocolate brown make great alternatives to black as core, neutrals that go with everything.
Tops
Knits such as:

Chunky sweaters
Big, boxy styles
Textured (with feathers and fur)
Fine knits
Turtle necks
Dresses
If you like dresses, there are still plenty of choices in styles here too.
Coats & Jackets
A dominant style for coats and jackets this fashion seaon is over-sized. However, even though the style is supposed to be larger, go for a size that is in keeping with your body scale.
Accessories
Shoes and boots -- pointed toes and ankle straps are dominant styles. The trick to wearing an ankle strap, if your ankles and calves are not the ideal shape, or if your legs are short, is to choose straps in skin color
Fall & Winter Fashion Trends: Main Style Themes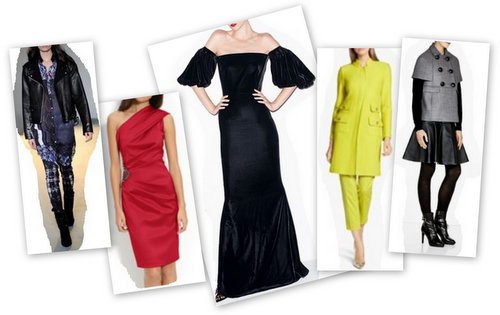 Images courtesy (left to right):
John Lewis - Edun
Nordstrom - Eliza J
Nordstrom - Alexander McQueen
Nordstrom - St John
My Wardrobe - Red Valentino
I don't suggest that you adopt a whole theme for your outfits. Rather, look out for style elements that appeal to you and use them to express your personality. For example, you may like to add some punk style elements (see below) to add some strength to an otherwise feminine outfit, or if you have a high color contrast between your hair and your skin (such as dark hair and light skin) you might want to emphasize that contrast by choosing a red statement dress or top (from the heroine theme).
Here are just some of the main style themes this season:
Punk -- is a strong theme this season. Look for metalllic hardware detailing such as studs, spikes, zips and chains.

Colors

associated with the rebel, punk look are black, white, and red.

Materials

include leather, meshing (as semi-opaque panels, or patterned fish-net tights), feathers and fur. Tops with

rebel-style slogans

.

Patterns

include checks (tartans, houndstooth) and graphics.


50s film star heroine -- Fit and flare silhouettes; defined waists; matching, knee length, skirt suits; defined shoulders; off-the shoulder tops and dresses; a little bit dramatic; a little bit erotic.


Romantic -- demure boudoir-inspired styles or full-length styles that bring to mind characters inspired by Jane Eyre novels. For boudoir think: longer silk or satin slips; lace; panels or arms of sheer or tulle fabrics; and bustiers. For Jane Eyre characters think: long skirts and dresses; off-the shoulder styles; rich fabrics, such as velvet, and rich colours.


Elegant feminine -- refined, minimalistic, styling; quality fabrics; understated chic; semi-fitted silhouettes. Slim-fit crop or tapered pants and fine cashmere sweaters. Usually subdued or dark colors.


Futuristic -- dramatic, over-sized shapes on both top and bottom (although often with some shaping in the middle); or a mix of boxy and slim
Like This Page?