You are here: Style Articles > What to Wear >
Trend Watch
> Autumn Winter Fashion Trends Australia 2016
Autumn Winter Fashion Trends 2016 Australia & NZ
Images courtesy:
Veronica Maine, Sussan, Cue
3 of the biggest runway trends this autumn/winter are:
Creative layering. Think Iris Apfel for inspiration! Try combining different textures, fabrics and/or colours within an outfit. If that sounds too challenging start with something simpler such as layering a turtle or polar neck jumper under a dress, pinafore style (even if the dress isn't a pinafore dress)

Increased volume in silhouettes. Although there are still plenty of options in the shops allowing sleeker silhouettes as well, the Spring/Summer and Fall/Winter 2016 runway shows feature many outfits with over-sized proportions. This includes: longer lengths (midis and maxis) in skirts and dresses; cropped pants, but wide legs and pleats; bulky outlayers; and layered or dramatic sized accessories

Stripes -- wide, thin, vertical, horizontal, diagonal and a mix of colours, widths and orientations. Wide vertical stripes and multiple, uneven width stripes in 3 or more colours (think deck chair or canvas awning stripes!) are the most recent additions to this continuing print trend
Using what I'm seeing on the runways and reported in fashion magazines, below are my observations of what's available in our shops to help you work out how you'll wear items already in your autumn winter wardrobe and what you'll add. Or contact me for help updating your wardrobe this season.
Autumn Winter Fashion Trends: Main Style Elements
Dresses
Images courtesy:
Seed Heritage, Trenery, Witchery
There's still a good range of dresses around this autumn winter season. Dress and skirt lengths are mainly around knee length and the high midi-length (between the knee and fullest part of the calf). The midi length is the emerging trend. There are also maxis and mid-thigh minis available.
Styles include (as illustrated above): sweater dresses (widely available); many wrap dress variations and other draped styles; 70s-inspired peasant styles. As well as slimmer silhouette sheath, shift and mid-thigh tunic styles.
Pants and Trousers
There's still a wide range of pant styles available. The overall trend is for greater width in pants. Styles include: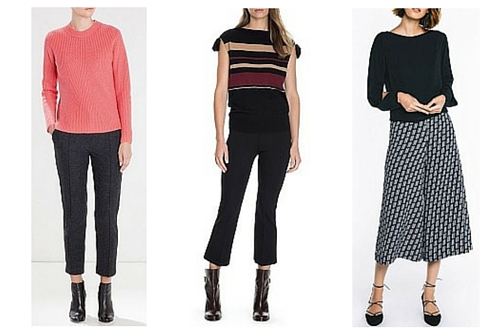 Images courtesy:
Trenery, Country Road, Veronika Maine
Cropped -- this style first became noticeable in the shops in the Spring/Summer of 2014/15. This season the trend continues with a large variety of styles, including tapered, flared, and fuller culotte styles. The style can be tricky to pull off successfully without looking short, short-legged and dumpy! However, as you can see in the above images it is possible! (Perhaps you'd like an article on how to style crop pants?)
Images courtesy:
images 1 & 2 Cue; images 3 & 4 Country Road; image 5 Trenery
Wide legs -- shown above in Prince-of-Wales check (a pattern trend)
Boot-cut flares
Wide and slightly flared -- a naval-inspired style
Straight -- in a variety of colours, such as this season's burgundy, navy, grey and black
Jeans -- there's still a wide choice in jean styles in all shades of blue as well a few in other colours, such as the muted grey ones shown
However, there are also still leggings and jegging available (pair these with long tops and tunics, or under longer length dresses and skirts) as well as slim (rather than skinny) styles.
Skirts
Images courtesy:
image 1 Veronika Maine; images 2 & 3 David Jones; image 4 Country Road
The variety of skirt styles available is slowly increasing. There are still knee length pencil skirts available. However, other styles include:
Alines -- in both subtle and obvious A-line shapes. Lengths are mid-thigh (60s mod-inspired), but mostly in fuller-volume midi lengths
Straight -- both midi and knee lengths
Lace -- a Victorian-era-inspired straight, midi style
Split -- this feature is appearing in a variety of skirt lengths and silhouettes
Tops
Images courtesy:
Saba, Birdsnest, David Jones
Options in tops include a range of knits such as:
Cowl, turtle & roll necks
Fine knits -- options include swing hems, high-low hems and more preppy fitted styles
Long sleeved tees -- in fine wools such as Merino, cotton and viscose, in a range of plain colours and stripes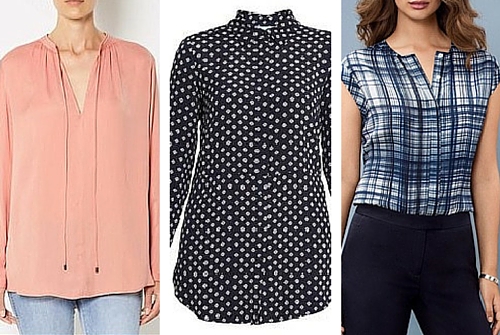 Images courtesy:
Witchery, Blue Illusion, David Lawrence
There's also a good range of blouses around. Including more structured cotton or viscose styles and floaty peasant styles. There are also still some short-sleeved options available.
The variety of skirt styles available is slowly increasing. There are still knee length pencil skirts available. However, other styles include:
Outer Layers
Coats & Jackets
Images courtesy:
Country Road, Trenery, Witchery
There is a large range of coats and jackets again this autumn winter season. The images above show a longline 'car coat' in a statement colour, a military-inspired reefer jacket (full length coats are also available in this style), and a suede biker jacket.
Other styles include: capes, anoraks, denim jackets (examples below). And there's still a selection of trench coats to choose from.
Images courtesy:
Witchery, Sportscraft, David Jones
Cardigans & Vests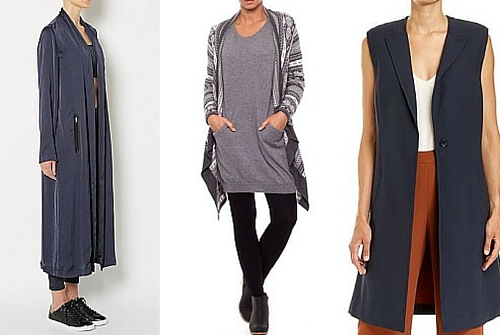 Images courtesy:
Witchery, Metalicus, Saba
Other outer layers include:
Dusters & coatigans -- a long line cross between a coat and a cardigan. Dusters are an emerging trend.
Cardigans -- there's still a good choice of styles from shorter lengths to long; cozy knits and finer jersey; waterfall and more fitted styles
Vests -- there's also a good range of vests including warm puffer styles, structured sleeveless coats, and more floaty
Accessories
Shoes & Boots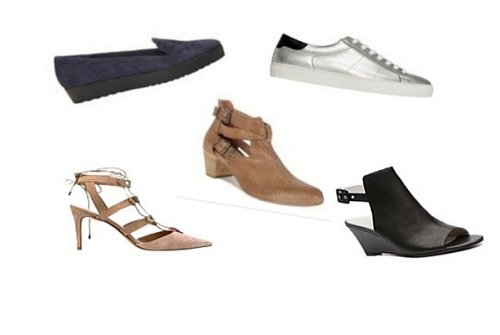 Images courtesy (clockwise from top left):
Myer, Seed Heritage, Myer Myer Hobbs
There's a large selection of ankle boot styles, including low heels and higher heels. And a smaller selection of knee length styles.
If you're like me and the majority of my clients who need comfortable footwear the great news is that there's still a large choice of fashionable flat and low heeled styles. These include loafers, brogues, and sneakers.
If you're looking for height without a heel look out for the new 'flatform' style (shown in the loafer style above). Other heel types include stacked and stiletto and there still a few options in wedges.
The trend in toes is still pointed, and there are now also some rounded toes and some peep-toe styles.
Straps are still a strong trend. This includes: ankle straps, laced styles (both lace-ups and the Victorian-inspired lace ups shown in the heeled pump above)
On trend materials to look for include: suede, shiny silver, and glitter.
Jewellery & Scarves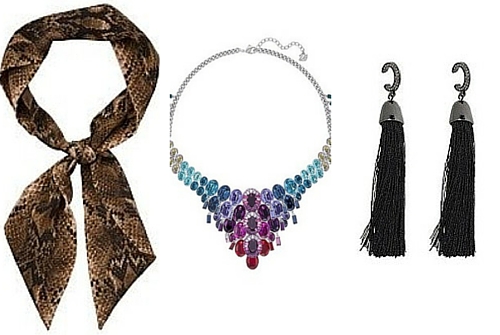 Images courtesy:
Witchery, Swarovski, Witchery
Scarves -- look for the new shapes of a thin neck-tie style that can be knotted and worn in a 70s-choker style, or with vertically with a lower knot or bow. Another new shape is a square that can be knotted and worn to the side in a sailor-style, or as a choker style. There are also many long rectangle in bulkier fabrics
Statement necklaces -- just as I thought these were in decline they are now available again. Either choose a large scale necklace, or make your own statement by combining necklaces with some common theme (such as pearls or gold pendants)
Statement earrings
Main Style Influences in the Autumn Winter Fashion Trends
In previous years I've called these 'themes'. However, it's perhaps more accurate to call them influences. And this reflects the idea of adding a hint of a theme into an outfit, rather than adopting the look as a costume.
The main influences this season appear to be from:
A range of eras -- For example the 70s: Boho and peasant styles; embroidery; flares; muted, warm autumn colours; texture; tie-die. The 90s (midi lengths, greater volume in silhouettes); the 60s mod styles (A-line mini-skirts and tunics)

Victorian styles -- high necklines, including turtle necks; black; sheer fabrics; many small buttons; velvet and lace

Military -- naval style pants; brass-looking buttons in rows; epaulettes; camouflage prints

Mens styles

-- wide pants; crisp shirts; androgynous styling

Sportswear designed as leisure wear -- track pants; sweat shirts; sneakers. It can be very easy to go overboard with these items and forget that there are other, smarter, comfortable options for every day wear!
Autumn Winter Fashion Trends:
Main Fabric Trends
Fabric Types
Look out for velvet; leather; suede; lace; and panels of sheer fabric. As well as the usual cooler weather wool and jersey fabrics.
Fabric Prints and Textures
Stripes remain a big trend. There are also some checks (especially Prince of Wales and houndstooth).
Fabric Color Trends
Navy and grey make great choices for neutrals as well as the usual black
Black and white combined in one garment or outfit, is a continuing trend
I'm a reasonable amount of red around for the first time in a while. As well as a few soft pinks and soft blues
Rust and burgundy
And some pops of warm yellows such as mustard and Chartreuse
Seasonal wardrobe update a chore?
Do you find you buy clothes randomly then find you don't know how to wear them? Or do you always buy the same types of items resulting in a lack of variety? Do you hate shopping because nothing seems to be appropriate for your age or your body?
See if you can work out what's blocking your style by assessing yourself on my 6 steps to savvy style. Or ask for my help I'd love to help you find your style and update your wardrobe.
Like This Page?