Styles to Flatter Your
Inverted Triangle or Heart Face Shape


Your face is wide at the forehead, with high cheek-bones, tapering to a narrow chin and slightly longer than wide.
The only difference between the heart and inverted triangle face shape is that a heart shape face has a widow's peak.
Your main style aims are...
...To make your forehead appear narrower and add width at your jaw-line and chin.
Hairstyles for Your Face Shape
Go for...
Hairstyles that are close to your face above your ears, with soft lines partially covering your ears

Center parting

A soft style with light bangs (fringe) covering your forehead

Soft waves and curly styles

Styles that add volume at the jaw-line
Avoid...
Pulling your hair back off your forehead

Styles that are full at the temples

Straight bangs (fringe)

Too much height on top of your head

A low side parting
Eyeglasses for Your Face Shape
The best glasses for your face shape are...
Frames that add width below your eyeline

Round or oval frames with soft curves or an upward sweep

Low arms

Light to medium colored frames and rimless styles
Hats
Makeup
Apply a slightly darker shade of foundation at the temples to make your forehead appear narrower

Apply a light shade of foundation on either side of the jaw-line to make your jaw-line appear wider

Apply blush to the apple (ball) of your cheek and blend towards the center of your ear
Earrings
Add length to your face and width to your jaw-line by choosing the following shapes...
Drops
Teardrops
Rectangles
Ovals
The Finishing Touch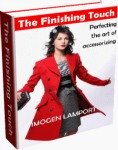 I know many of you need help with accessorizing...
Where to start?
What to choose?
How much is too much?
This is the ebook I now recommend to all my clients to answer these questions and more. See my review of The Finishing Touch ebook to find out why.
Examples of an Inverted Triangle or Heart Face Shape
Celebrities with an Inverted Triangle or Heart Shaped Face
These famous people have your shape face...
More Examples of This Face Shape
I'll put links here to readers with this face shape
Related Articles
Like This Page?