How do I dress my age without looking frumpy?
by Jo
(NSW)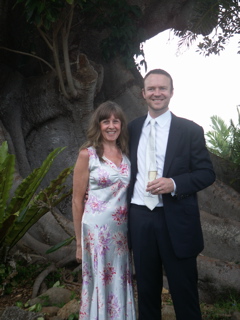 Mother of the groom
I am about to turn 62 and until now have got away with looking and dressing much younger. However, my clothes and hair suddenly look too 'girly'. I am 5ft 7 ins (?168 cms) tall and weigh 59 kilos. I am short-waisted (not much waist, bit of a tummy), but with very long, thin arms and legs which make me look slimmer than I actually am. My hair is long, to my armpits, but if it is cut short my head looks small in proportion with my long limbs. I think my season is 'cool summer' and I am happy with my dark blonde hair colour.

Jane's answer... Hi Jo. Great question!
I'm assuming that's you in the photo? And that it was taken fairly recently? You certainly look decades younger than 60 in the photo!

Your hair
Your hair colour looks good and your hair looks in good condition. However, I suspect you've been wearing it in a similar style for quite a few years. It looks girly because of its length and cut. I suggest you update your hairstyle. You don't have to go too short, but shoulder length in a contemporary style will make you look less girly. You have an oblong face shape. Check the
general recommendations for your face shape here
. I suggest something like a contemporary layered bob with a fringe.
Look for hair style ideas here
.
Your clothes
I suggest you give yourself a
wardrobe audit
. Assess each item and work out if it's still appropriate for your current shape and lifestyle. If it's too 'girly' try and identify what it is that's making it feel that way. Is it...
The style?


The pattern?


Too short?


Too revealing?
If you can't work it out
ask another style question here
with pictures of some of the outfits and I'll see if I can identify what's wrong.
Occasionally look at fashion magazines and websites (especially around March and September when the upcoming season's trends are shown) to get an idea of which styles are current and collect pictures of the styles you like. Even though many of the models are young that doesn't mean the style is only suitable for young people. Cover the head of the model if it helps to try and visualize the style on you! Try and work out whether the
style is right for your body shape
or how you could achieve a similar look with a slightly modified style that does suit you.
Also look at women in the media and see whose styles you admire to get ideas.
How to avoid looking frumpy
These are things to avoid to stop you looking frumpy...
Wearing big, baggy clothing


Wearing skirts and dresses at unfashionable lengths. Currently the best lengths for you will be either around knee length or just above your knee, or below ankle length (if your vertical body shape is long legs and short body then ankle length will work for you as well)


Wearing unfashionable shoes -- shoes are one of the things many people notice and they can make or break an outfit. Even if you can't wear high heels make sure your low heels are in contemporary styles and have the right 'feel' for the outfit you're wearing


Wearing clothes that are more than a decade old -- even if the style has come back into fashion there are usually subtle differences to the current style. Check old clothing very carefully to make sure it's not dating you. It may be possible to alter it to make it work, but otherwise get rid of it and get something new


Wearing clothes that are associated with old age. The danger list includes...




Cardigans -- unless in contemporary styles


Pleated skirts


Peter Pan collars


Blouses buttoned right up


Lace collars


Small floral prints -- unless in contemporary styles


Long skirts


Elastic waists





You may also be interested in...
Check out my new article on
how to dress well at any age
. And also take a look at my answer to another reader's question on
what to wear in your 60s
.