How to find comfortable, extra wide, high heel shoes?
by Suvi
(Lincoln, New Zealand)
Hi Jane, I have a question about shoes. I'm a neat hourglass, with long body and short legs and I'm 164 cm tall. I absolutely love high heels but most attempts to buy and wear high heels end in disasters because my feet hurt so much. My feet are short (size 38 european) but very wide and it's really hard to find a nice high heel that looks good and is comfortable to wear. Any suggestions?

Jane's answer... [This was from a conversation that started in some emails, published with permission] Hi Suvi. Thanks for your question.

With a vertical proportion of short legs, long body it is a good idea for you to wear heels. My recommendation is to try a pair of custom shoes. It may be more expensive in the short term, but to end up with a pair of shoes you can wear comfortably means you'll wear them regularly, so cost per wear (the price of the shoes divided by the number of times you wear them) will become low.

I highly recommend Shoes of Prey (I've just ordered my 3rd pair of shoes through them). See my review of my experience here and tips for designing custom made shoes here. Do let me know if you do use them, with a picture of the shoes you design and whether they are comfortable (they offer a no quibble refund if you don't like them).

Suvi's reply... Hi Jane, Thank you for your speedy reply. Shoes of Prey look absolutely fantastic - this is going to be so hard to pick just one pair!

I'm a clear spring - do you know if their tan leather is the right shade for me? Are they familiar with the different colour seasons at Shoes of Prey? I would absolutely love to make up statement shoes in orange snakeskin, but like you with your first pair of shoes, should probably look at more everyday ones such as the brown/dark tan or tan leather or the darker cream snake skin. Hard to make decisions!

Jane I'm with you there: picking just one pair is the challenge! What I did for my first pair was to work out what I'd wear most often (thinking about cost per wear for best return on investment).

No, SoP are not trained in colour seasons specifically. Though they do know enough to have a range that means everyone is catered for.

The orange snake skin would be perfect for your colouring. Or have you considered the black, orange & gold snake skin? Because of the orange and gold the black looks more brown than black, and the black and gold bring down the impact of the orange slightly.

If you wear a lot of orange, or if your hair is orange then anything with orange will tie in nicely.

The brown/dark tan is warm and rich and will also work for your colouring (it looks lovely with the dark leopard print and I'll be ordering a peep-toe court in that combo next spring), but I'd choose darker colours for winter.

The darker cream snake is also perfect for your colouring, great for evening shoes, or for shoes for warmer months.

The shiny patent leather warmer colours will also be great for you.

If you do order from them I suggest you ask about how to order your width fitting (it'll probably be "a lot wider"). And I hope you'll order through my Shoes of Prey link, since I do get a small commission for recommending clients to them.

If you'd like more help, design some shoes, send me the pictures and tell me why you're considering those options (what time of day will you wear the shoes, what will you wear them with) and preferably a picture of you in one of the outfits you'd wear them with and ask your question here, so others can benefit from the discussion.

Suvi... Here is a selection of clothes I wear (see below), just posed quickly before my daughter got sick of taking photos! I added a couple jackets I have, but didn't have a chance to put on today. I've designed some shoes to go with some of the outfits. I'm not sure whether to get some black evening shoes that I would use a few times a year but for many years to come, or some shoes I could use more often on a daily basis.

I really like the orange, black and gold snake skin, they would be nice as ballet flats but I'm used to using at least 2 inch heels, gives me a bit of height too as I'm quite short (164 cm). I had trouble logging in today through your link but I make sure I will mention your name when I order them.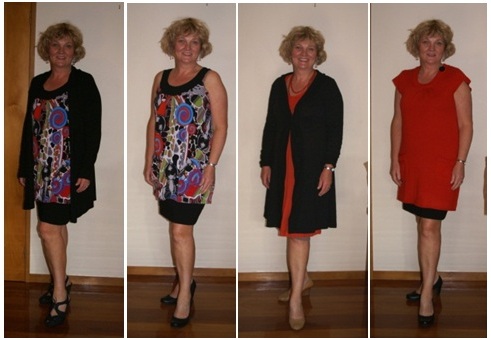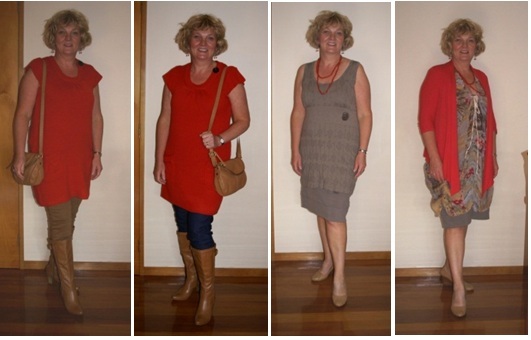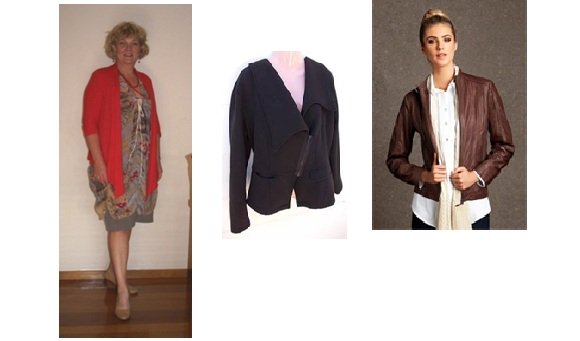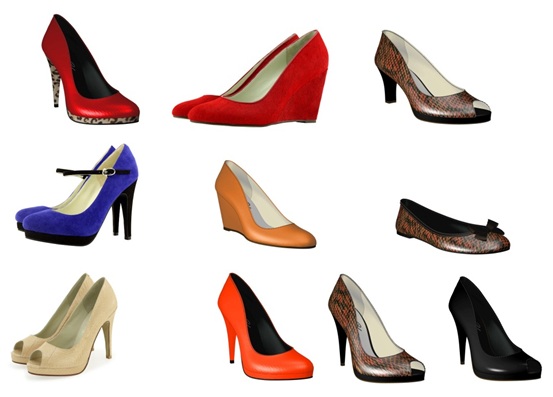 Shoes Designed at Shoes of Prey
Jane...
Suvi, thanks so much for supplying these great photos of you. The outfits show you have a good knowledge of how to dress to flatter your body shape -- you look as if you have a balance vertical body shape (which is the aim for your vertical type!).
Do you see how the tan shoes make your legs look longer and tie in with your hair colour? The tan boots with the tan pants work in a similar way. The black shoes work fine too, but the tan one are particularly good.
Since you are on the shorter side of medium height and with your vertical shape the main guidelines for choosing your shoes are...
Flow colour through from your feet to your hem -- either with a colour that matches your hem and leg colour or hosiery, or by choosing nude coloured shoes (which is the effect of the tan shoes in your photos above)


Low vamps -- to make your legs look longer so, ankle straps aren't recommended unless hidden under trousers, or if in a nude colour


Heels
With these guidelines in mind, and looking for a shoe that you can wear with most of these outfits on a daily basis for the upcoming winter season here are my suggestions...
The patent leather "shiny dark olivey grey" is actually a medium dark warm colour, sort of like a warm charcoal (I have a swatch of the colour and it looks a little darker and warmer than it seems in this picture). As you've probably realised you often need more than 1 pair of shoes to go with different outfits! This grey colour goes particularly well with your oufits with grey in and your jeans. It's not quite so good with your black skirt.
So, my next try (and my recommendation to you) is these shoes in black, orange and gold snake skin with shiny dark olivey grey for the heel and trim, which gives a lighter look than the black heels (and is therefore more in keeping with your colouring). I believe this shoe will go with all these outfits except your multi-coloured blue, black tunic.
I've selected the wedge because this is the most comfortable heel. The picture shows a 2.5 inch heel.
I also
love
your red snake with hair dark leopard heel and platform. These are definitely "look at me" shoes! However, I think they would actually work for you and go with all of these outfits (an example of how rules can be broken ;D). They will work with any outfit where you have a top or high placed accessory in red or orange. And the light background of the leopard print echoes your hair colour.
I hope this helps you come to a decision! I've had great fun looking at this question for you (and spent far too much time on it ;D). And as a result I've found that
Shoes of Prey
now have flat or heeled brogues. Guess what my next shoes are going to be!