Not your usual pear shape
by Dale
(Belleville, Ontario, Canada)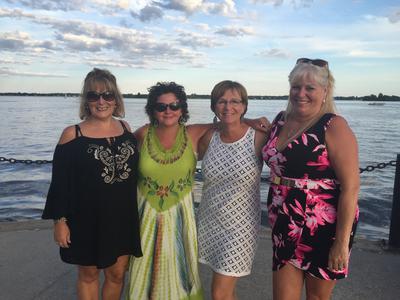 I am the one in the white lace dress.
First of all, I'm 60 years old.

Dressing my body shape has always been a challenge for me, & even more so now, since I'm larger, but not plus size.

I'm a pear shape with large breasts.

My shoulders & back are narrow, & my hips are wider, my waist used to be fairly thin, but has expanded now. My bra size is 34 G (41 in. by measuring tape), waist is 36 in., & I'm high waisted, hips 43 in., I'm 5 ft. 3 in. tall, & I weigh 158 lbs.

Please, please give me some advice on what style of clothing to wear. I need to know it all, from pants/skirts, tops, dresses, everything.

I'd also like to say, I like to be classy stylish looking, not like an old lady. Thank you in advance for your help.

Jane's answer...Dale, your timing for this question is excellent (you'll understand why in just a moment).

Let me assure you, you're not alone (or unusual) in finding it challenging to dress your shape! The thing is most of us didn't receive any schooling in how to dress and unless we had a particularly good role model as we were growing up we tend to muddle along doing the best we can and then every thing changes!

Also, there's never a need to dress old! Take a look in my Style Makeover Gallery at Liz (in her 70s) and Ruth (in her 80s) to see what's possible.


Why is dressing well a challenge?
Dressing well is more challenging for women than for men for 2 main reasons:
There's a greater variation in body shapes for women, making it more challenging to find something ready made that works for us perfectly without some sort of alteration needed. A woman also goes through more body shape changes during her lifetime (known as the '4 stages of Eve', verses 2 for men): around puberty; after child birth; around menopause; and in our 70s. Then add to that changes due to weight fluctuation!


There's also more choice in clothing for women than for men, meaning it's easier to get things wrong
You may not have a pear shape body!
Thank you for including photos. I wonder, both from your measurements, and from your photos whether your horizontal proportion really is pear shaped? It's a little difficult to tell from those photos, because of the angle of your body and what you're wearing.
The white lace dress looks nice on you (though perhaps a tad short for your age).
In the wedding photo your wonderfully colored dress has a pronounced triangle skirt-silhouette. And it's length and width at the hem would certainly make you feel bottom heavy, given it's shape and length combined with your petite vertical proportion.
However, my suspicion is that your horizontal shape might actually be a rectangle shape. And that when your waist was smaller you may have had an hourglass figure (a large bust and narrow back can be characteristics of an hourglass figure).
How to proceed?
I suggest you first have your proportions professionally assessed.
I have an online
Style with Confidence course
about to start (this is the good timing I alluded to earlier) -
see details here
.
Or, if the timing of that doesn't work use my
body shape analysis service
and I'll suggest next steps and/or further articles to use.
And don't forget to
subscribe to Style Snippets
to receive monthly style tips and advice.