Orange in Winter Colour Palette?
by Linda
(Canada)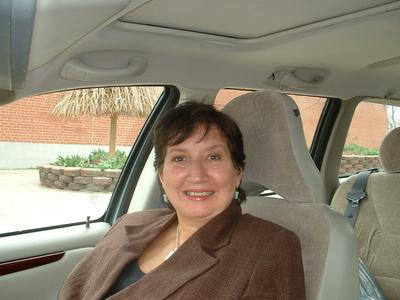 I think I am a Winter Colour Palette - having been colour coded many years ago. My hair is dark brown with grey, looks like I streaked it. My complexion is pale in winter, but I lightly tan (yellow) in summer. When I wear orange I get a lot of complements. How can this be for a Winter? I also have been told I look great in chocolate brown, golden yellow and royal blue, but I look awful in khaki. Am I a Winter or something else?

Jane's answer...Great question Linda! My short answers are:

No, orange is not in the Winter colour palette! Orange is a warm colour best worn by those with Spring or Autumn colouring. Although there are ways to bend the 'rules' that can make orange work for other colour categories as well (more on this below), if someone really wants to wear orange


I can't tell from this photo whether your colouring is Winter or something else. Partly, because I don't know whether you used a flash when this photo was taken. Partly, because the photo is too small. For an online colour analysis I give very specific guidelines for taking photos and I also use a questionnaire to help inform my decision
Since you say you were colour coded many years ago I suspect it was when coding placed each person into one of just 4 colour categories (named after the seasons to help remember them better). After a while of using 4 seasonal colour coding it became obvious that the system was too restrictive and didn't work well for everyone. Now-a-days Image Consultants typically use a 12, 14 or 16 category system. Many of these contemporary systems are still based on the underlying 4 seasonal method, but recognise that a person can be a mix of colour categories.
It used to be thought that once you had been colour coded, that was your colouring for life. We now know that isn't true. As we age our hair, skin and eyes fade. And, even if we colour our hair, we may eventually change colour categories within a season and even change from one season to another. So, if you're finding the clear Winter colours are not working for you, this may be what's going on. However, I don't believe it's possible to go from being a cool based colouring to a warm based one, unless you were incorrectly coded the first time. Or, it could be, with only 4 categories to place you in, that the Winter classification was the most appropriate at the time.
The colour of your jacket in the photo looks to be a warm, medium brown, also not a Winter colour, yet it seems to echo the warm browns in your skin, hair and eyes, so it doesn't look wrong. However, bear in mind that you can have some warmth about your look without being in a warm colour category.

Have a look at the virtual drapes I've used in the pictures above. Bear in mind that each of these 3 photos is identical, except for the colours displayed under them. This is what I see:
Orange (this one is warm and muted) makes your skin look too orange (it also makes your eyes look smaller)


Fuschia pink (cool and clear) makes you look radiant, although that particular colour looks a bit too bright for you (I see the colour before I see you)


Olive green (warm and muted) actually looks quite good on you -- the colour is maybe a touch too warm, but the colour value (how light or dark) and intensity (how vivid or dull) look correct
So in the photo you've provided
I see you as most likely having a cool skin undertone, but with some warmth to your skin overtone and hair colour
, meaning you could be one of the Winter colour seasons or a Soft Summer (cool, muted and soft).
Bending the colour 'rules'
If you really want to wear a colour that isn't your best colour here as some ways to do it:
Wear the colour away from your face -- it is what you wear from your bust up that matters most for colours, since this is what someone looking at you sees when they look at your face and because a colour that isn't your best will detract from your colouring in some way. For instance, it may make your skin look too yellow, too grey, or too pale


Minimise the amount of the wrong colour near your face -- for example if the item has a deeper, wider neckline, no straps, or thin straps we'll see more of your skin and less of the wrong colour reflecting on your face


Layer the wrong colour with items in your best colours -- for example wear a jacket, or cardigan over the wrong colour. Or layer a top under the wrong item. Or wear a necklace that includes a majority of your most flattering colours


Make sure the wrong colour is a medium colour value -- not too light or too dark and not too vivd or too dull. This will lessen the effect of the wrong colour
Colour analysis services
If you would like a full colours analysis make use of my
online colour analysis service, see the details here
. I'd love to help you work this out! For those of you in Sydney come and
have your colours done in person
.
Related pages
For more on colour see the following articles: