Trousers for large thighs and smallish waist?
I am wondering what the right style of trousers would be for my shape. My waist is 35 inches, however the widest part of me is around the tops of my thighs at 49 inches, rather than my hips. I have an absolute nightmare trying on jeans and have very rarely tried on trousers because of the general unpleasantness of the event.

How can I buy trousers that can accommodate my thighs without making it either impossible to bend my legs, or impossibly gape-y at the top.

Jane's answer... Asking about the style of trousers that work for your shape is such a good question to ask (as opposed to where can I find...)!

Of course, I don't know what your horizontal shape is, or your your vertical shape, or how tall you are and so on. However, from what you've described it sounds as if styles that would work for a triangle horizontal body shape would work for you, for your bottom half anyway.

What to look for:

Even without knowing specific brands that work for you, using these guidelines, it is possible to make an educated guess as to whether a style will work.

Look for an obvious curve between the waist and the hips. This is often referred to as a curvy shape. Online, look at the store photos. If a model is wearing the slacks, does she appear to have strong definition between her waist and hips? Are her thighs full?



A rise that sits on the waist, or is at least a mid-rise


A firm-ish fabric to skim over your thighs (or wear shape wear over your thighs)


Width through the thigh -- there are now wider trouser and pant styles available (after years of mainly skinny styles)


Matt fabrics (not sheen or shine)


Minimal detailing, especially between your waist and thigh. For example not a wide yolk (unless it will be covered by your tops), no embellishments, or changes of color, or buttons


No pockets will be best. However, pockets with a horizontal opening, or vertical pockets, or pockets in the side seam (remove the pocket and sew up the opening), or traditional curved pockets on jeans should also work


Dark or medium-dark colors (black will work, but there are other dark colors, such as navy, that are equally as slimming)


Patterns should not be too large and not have an obvious repeat. Complex, subtle or medium-sized patterns are best. Avoid horizontal stripes and take care of vertical stripes and any style elements that are designed to be vertical -- make sure they are vertical on you. Narrow horizontal stripes may work for you, but do make sure they look horizontal when they're on your body. Avoid wide vertical strips, especially if you're short



Straight, boot cut, or slightly tapered legs. You might also be able to wear wide leg styles, but only if you're not too short, and these will probably look best with at least a mid-height heel


When you're trying trousers on look for a good fit at the thighs. It is usually easy to adjust the waist of pants to fit. If you don't want to attempt this yourself I recommend you find a good alterations person and simply factor the price into the cost of the trousers.
Pants for heavy legs and knees
by Anonymous
(USA)
I am looking for slacks for casual, and also dress, that do not cling to my legs and knees. I am 49 1/2 inches in hips. NO skinny ones for me. I also have a sway back and small waist.

What US brands do you suggest? Tooooo many choices and do not know what to buy online, thank you.

Jane's answer...Thank you for giving enough information for me to recommend styles that might work for you.

For guidelines on what to look for, even when you don't know what brands will work, have a look at my answer above.

Also, styles with no waist band will be easier to alter, if needed, for your sway back.

Online US stores to try:

These stores have been recommended to me by fellow Image Consultants and my sister-in-law (who lives in the US and also has a small waist, large thighs and a sway back).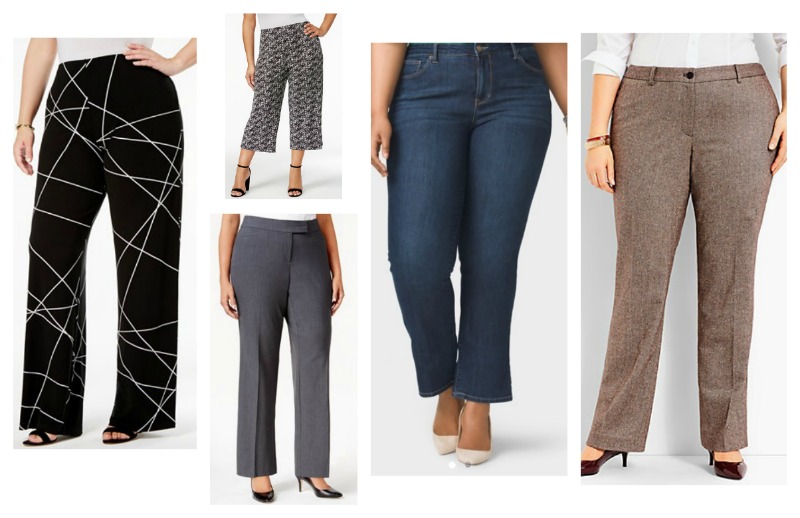 Images from right to left:

3 pants from Macy's,
Dress Barn jeans,
Talbots side-zip style
Styling suggestions

Spanx extended leg shape wear
To prevent your pants clinging, and to create a smooth line from your waist to your knees, you may need to wear shape wear, such as these
Spanx
extended leg shorts. I suggest trying one size larger than recommended, for a fit you can wear comfortably all day.
These outfit styling suggestions will also help you create flattering outfits:
Darker colors on your bottom half, lighter and/or brighter colors on top


Create a column of color using a similar color depth on your bottom and top half. This approach will work best if you wear a similar size on your top and bottom halves


Flow dark or medium-dark color up the outside of your body. For example navy pants and navy cardigan or jacket and lighter and/or brighter top. The top and bottom could also be in a similar depth of color rather than exactly the same. Such as navy pants and charcoal top


If your outer layer or top creates a definite contrast with your pants, make sure they do not end at your hip area, as this will draw attention to your hips
Other considerations for creating your best looks will be:
Your horizontal proportions. From your description you could have an hourglass or a triangle horizontal shape


Your vertical proportions. If your legs are short compared to your torso crop pants will not be your best look, even if you wear a heel


Your height. Are you short, medium height, or tall?


Your coloring. The example photos show mainly cool dark colors


Your style preferences. For example, do you prefer natural and breathable fabrics?


Your personality. Do you like relaxed, casual styles, creative styles, bohemian styles, classic styles and so on
Buying online

Do remember to check shipping costs and return policies for each store you use. Are you expected to pay return postage, for instance? And if you do need to return an item, make sure you do so within the return policy period.

If a site has product reviews it is also worth checking them, they may give you an idea of whether the item will work for you, or whether you should go up or down a size, dependent on the fit of the garment.

I hope you'll let us know how you get on.

Related articles...