Dress To Flatter Your Pear Shape Body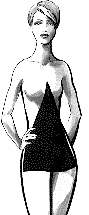 If you have a pear shape body you are bottom heavy. This shape is also called a triangle.
You have proportionally narrow shoulders and large hips, with a well defined waist. You might also have a small to medium bust.

Your main style aims are...
...to balance your top half to your bottom half by creating the appearance of a wider upper body.
Do wear...
Accessories and designs to draw attention to your upper body
Short-sleeved tops
Shoulder pads to broaden your shoulders. This may sound very 80s advice, but they really do work. However, they should not be visible
Medium to high necklines
Garments to emphasize your waist
Skirts and dresses that are straight or slightly flared
Low rise pants to avoid gaping at the waist
Boot leg and straight pants
Don't wear...
Baggy garments
Stiff fabric
Garments that add bulk to your hips
Hems or design lines at hip-line
Open pleats on skirts or pants
Tapered skirts or pants
Combine these guidelines with...
...the guidelines for your vertical body shape.
Need Help With Your
Style Makeover?
Dressing for your shape is an essential part of a style makeover.
For professional help, either in-person or online, use my image consulting services.
Please note these guidelines only take into account your horizontal and vertical body shapes. The recommendations may change based on other features such as your age, your weight, your face shape, your neck length and any figure flaws you may have.
The online women's estyles program gives you personalized style recommendations that take all your proportions into account.
Related Articles
Please note...
Dressing to flatter your shape is one of the fundamental steps to looking your best. However, it is just 1 of 6 steps. Be sure to check out all of the 6 steps to savvy style to ensure you know all the fundamentals as well as how to build your own inspirational wardrobe.
Like This Page?