Ruched Sleeve Top
by Jane
(Style Makeover HQ)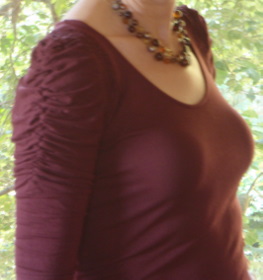 Ruched Sleeve Top
I bought this top, from Warehouse, last September when I was in the UK. I love the "klingon" sleeves (if you're a trekkie you'll understand ;D), they're great for my rectangle body shape. They create the illusion of a more inverted triangle shape (which is good for a rectangle body shape), by adding more shoulder emphasis.

The sleeve detail also elevates this top to a more dressy version of a t-shirt.

This season there are a lot of items with this type of ruching detail. The shoulder emphasis is also great for those with a triangle, oval or diamond body shape.
Join in and write your own page! It's easy to do. How? Simply click here to return to Trend Watch Contributions.
Like This Page?