Shorts for long-legged woman?
by Anne Mette
(Denmark, Europe)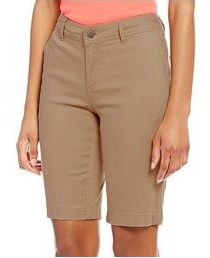 www.simplytall.com
Thanks for a great site. I have a question to ask: I am very tall (almost 6 feet/180 cm), slim, short-waisted and I have very long and - almost - skinny legs. Can I wear shorts???

If yes, what kind and length do you recommend?

With Friendly Regards
Anne Mette

Jane's answer... Hi Anne, thanks for your question (sorry it's taken me so long to get around to answering it!) and your kind words about my website.

Yes, you can definitely wear shorts! If you like them, that is.

To answer your question I'm going to make a couple of assumptions:

Your vertical shape : since you've told me you have long legs, I'll assume that means your legs are long in relation to the rest of your body, rather than just because you're tall. (If your legs and the rest of your body are the same length, then your vertical shape is 'balanced body')


Your horizontal shape : although you've told me you're slim you haven't told me anything about your horizontal body shape. There are specific guide lines for the different horizontal shapes. So, the examples I've shown here may not work for your horizontal proportion


These are your main guidelines:
Your best lengths are: just above the knee; on the knee; just below the knee. Shorter lengths will make your legs look even longer than they are. With long legs and a short body your aim is to create the illusion of a balanced vertical proportion


Your best styles: will be fairly narrow at the hem (that is, not too much wider than your legs). This will ensure your legs don't look thinner than they already are. Styles can include slim straight styles (like those in the outfit examples on this page); or have tapered legs; or be a drop-crotch, slouchy harem style, as long as they come in again at the hem. Cuffs and hemline details should also work well for your proportions (unless you have a triangle horizontal proportion)


Pattern and color value: patterned shorts and light colors should work particularly well for your height and weight


On top: to create the illusion of a balanced vertical proportion choose top lengths of high hip or longer. If you do want to tuck a top choose a color value and hue that are similar to the main color of the shorts - this will make your torso look longer and create the illusion of a balanced vertical proportion


Where to buy shorts for tall women
I suspect your main challenge will be
finding shorts that are long enough
.
Do you have a good choice of clothes for tall women in Denmark? Even online there doesn't seem to be a large choice for tall women. And on the websites I checked only very few of those offered shorts for tall women.
Long Tall Sally
and
Simply Tall
are 2 specialised sites that do have suitable short options (though I don't know if they ship to Denmark).
Get creative!
:
Find some cropped or long pants that you like, that fit well around your waist and hips and aren't too wide around your knee shorten the hems to turn them into shorts! You will probably still need to buy pants designed for tall women, to ensure they fit well.
Take the guess work out of what works for your shape
: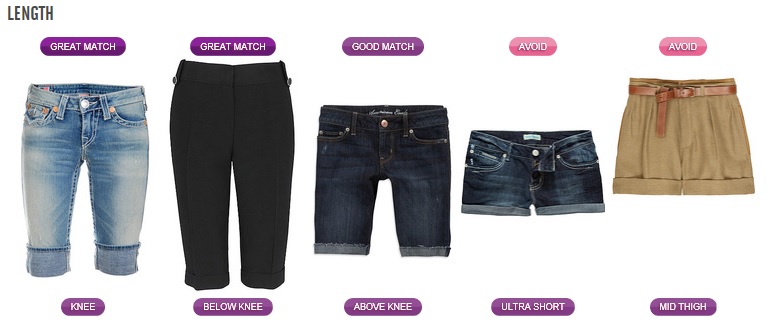 Get personalized style recommendations that take all your proportions into account.
Related article
Also see
suggestions in this article:
Where to find clothes for tall women?