Skinny Jeans
by Jane
(Style Makeover HQ)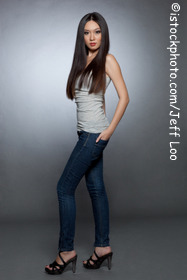 skinny jeans
Skinny jeans and pants are still a major pant style this season. This style is best if you're slim and have a balanced vertical body shape and a rectangle or hourglass horizontal shape.

If this isn't you, go for wider straight-legged styles.
Join in and write your own page! It's easy to do. How? Simply click here to return to Trend Watch Contributions.
Like This Page?