Tying Scarves
How do i drape a scarf around the neck to look unstructured?

Jane's answer... I love wearing scarves. I'll often wear a scarf in place of a necklace. Even on cooler summer days I might wear a lighter weight scarf (maybe in silk, cotton, or viscose).

As well as providing a nice finishing touch to an outfit a scarf is a great way of covering up skin that's no longer as firm as it once was.


An easy and currently popular way to wear a scarf (and my current favorite) is some variation of a simple looped drape, like those above. The simple and effective trick to making the look unstructured is to keep the ends uneven.
A quick search on YouTube reveals a large number of videos on how to tie scarves. So, rather than create yet another version myself take a look at some of those for ideas. One of my favorites is by a fellow Australian Image Consultant, Imogen Lamport. She illustrates the looped drape and some great variations on it.
(Please note that even though she calls this video "13 ways to tie a Pashmina" you can replace the Pashmina with any scarf that can be shaped into a long rectangle. For example, a large square can be folded diagonally, then be rolled or scrunched into a long rectangle for draping.)
I also like the infinity version, which creates a flattering cowl neck -- Imogen demonstrates this in her video as well.
If you have a shorter neck drape the scarf a bit lower on your decolletage, rather than have the scarf rise up your neck and make it look even shorter -- the cowl neck look will work well for you.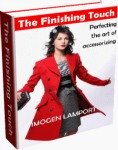 For more on scarves, scarf tying and all types of accessorizing I recommend Imogen's ebook
"The Finishing Touch"
.
You can read my review here
.