what is my face shape & what fringe would suit me?
by Suzie
(Australia)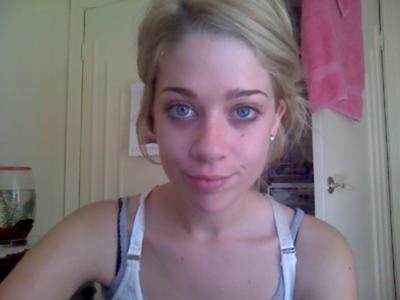 my face

I think I am a heart or square shaped face.

Jane's answer... Hi Suzie. I can see why you might think you have a heart or square face shape -- you do have a squarish/angular look to your jaw-line. And your cheek-bones are the widest part of your face, your forehead is slightly wider than your jaw-line and your chin is pointed. All these characteristics are those of the inverted triangle face shape (you don't have an obvious widow's peak, so your face is not heart shaped).

However, assuming it's not just this photo distorting what I see, your face is definitely longer than it is wide (more than a third longer than wide) and therefore your primary face shape is one of the long face shapes, that is, it is either oblong or rectangular. Since your jaw-line is quite deep I'd say you have an oblong face shape.

You could also combine some of the hair style recommendations for the inverted triangle face shape if you like, as your secondary face shape. However, follow the oblong guidelines if there's a conflict.


Fringe Recommendations
Since your face is long and you have a deep forehead any type of fringe will look good on you. That is, a straight heavy fringe, a straight wispy fringe, or a fringe swept to one side.
I suggest you try one of the
virtual hairstyler programs
to see what each of these would look like on you, before you have the actual cut -- it's easier than growing out a cut you don't like!