What not to wear when top heavy and 65yrs old?
by Gloria
(Derbyshire)
What not to wear when you're top heavy and 65yrs old?

I always seem to look fat with having a large bust no matter what I wear. My problem is I have thin legs and arms so don't look in proportion. I have tried leggings with a long loose top, but to me it makes my top half look bigger. My size is 46 bust 38 waist 46 hips. I'm 5ft 7ins.

Please, please could you advise me as to what I should be wearing ?

Jane's answer... Gloria, thank you for your question. While you've given me some good information, I don't have enough details to give you a really specific answer. However, I can certainly give you some guidelines.


Your Body Proportions & Main Style Aims
From what you've told me you:
Are average height


Are most likely a rectangle horizontal body shape. However, please note the horizontal body proportion can't be determined from measurements alone. It's determined from the relative width, when viewed from the front, of your shoulders, waist, and hips.


Have a large bust -- I'll assume a bra cup size of D or above


Have thin legs and arms
I'm missing information such as:


What vertical proportion are you?. I'll assume you have a Balanced proportion


Are your shoulders tapered or square? I'll assume tapered


What is your coloring? I've assumed you are one of the cool based colorings


What are your style preferences?


Given the above information your
main style aims
are to:
Look slimmer


Minimize your bust


Create a balance between your legs, arms and torso


Recommended Style Guidelines
What to wear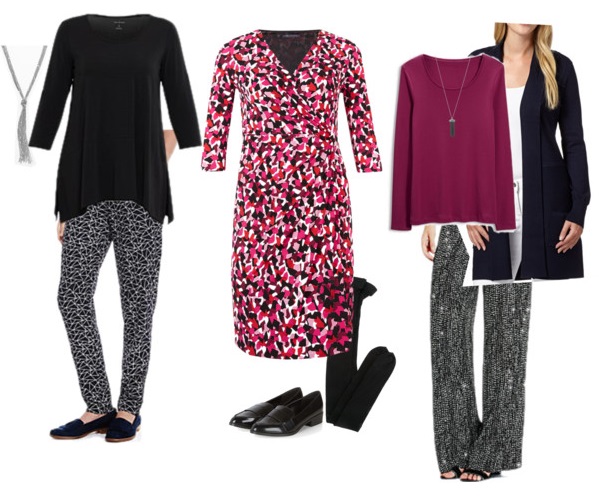 Create an 'opening' between your neck and bust. For example, by wearing 'v', scoop and slit necklines. Or by using strong verticals on higher necklines. For example: an open, darker, cardigan over a lighter top; a long line necklace; a fine scarf worn away from the neck, either just draped over your neck, or loop to create a soft v-shape away from your neck. This approach minimizes your bust


Flow color up the outside of your body. That is, wear a darker color on your bottoms and as a topper (such as a jacket, cardigan, or gilet), with a light color as a top under the topper -- this is illustrated in the outfit on the right. Or create columns of color in your outfits -- tone on tone, or an exact color match create this effect


Choose slightly shaped silhouettes, that skim your body, rather than large, shapeless ones


Flow styles through your waist. Even though, from your measurements, you have some waist definition if your shape is rectangle you'll want to keep attention away from your waist, so avoid waisted styles, focal points at the waist, and horizontal colour changes across your torso


For patterns, choose medium sized patterns where you can't see an obvious repeat to the pattern


Long, 3/4 or 1/2 length sleeves will be best on you. Choose sleeve widths that aren't too wide. This approach will minimize your bust and make your arms look in proportion


Trousers that are straight and moderately wide, or slightly tapered will create a better proportion than skinnies or leggings


Skirts in straight and subtle A-line shapes will keep your legs in proportion to your torso. Keep in mind: the wider your hem the narrower your legs will look in proportion. Avoid drawing attention to how thin your legs are by choosing straight hemlines and ensuring there are no focal points at your hemline


(You'll notice I've focused on what you
can
wear and left what
not
to wear as inferred!)
For More Help...
I hope I've given you some ideas you feel you can use.
For further help I recommend the
My Private Stylist online style portfolio
. Or
contact me
for personalized help.
This page links to more age related articles:
How to Dress Well and Look Great at Any Age