Dresses for pear shape body with love handles
by T
Hey, firstly reaallly liked your website.

I have doubts regarding dresses and other clothes I should be wearing since I have a pear-shaped body type with slight love handles, toned legs. Usually UK size 8-10 fits me well but I look heavier on the waist. How do I create an illusion of a perfectly toned body when I set out for the evening?

Jane's answer... T, thank you for your kind words about my website.

The pear shape body type is another name for the triangle body shape and describes your horizontal shape. The "slight love handles" are also known as a (proportionally) large midriff and, since you don't mention your tummy, may be the reason you look heavier at the waist.

You don't mention your vertical body shape (balanced body, short legs, or long legs). This dimension is not as well known as the horizontal shape, yet it is also important for finding your best clothing styles. I'll assume you have a balanced body type.

Since you don't mention your weight as an issue and you are UK size 8-10, I'll assume you are in the normal weight range for your height. And since you don't mention your height, I'll assume you are medium height (that is, between 5'4" and 5'9").

Your best dress shapes
The
general recommendations for your pear shape body are here
. The "perfect" horizontal body shape is the
hourglass figure
so your aim is to create a more hourglass-like shape by making your upper body appear wider and your waist smaller.
Per Una dress from Marks and Spencer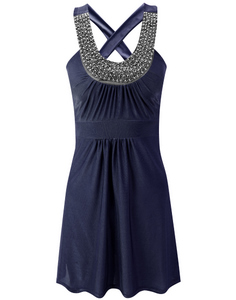 Image courtesy of Dressrail.com
Combine the general recommendations with the recommendations for
your vertical body type
.
To
disguise your slight love handles
and make your waist look smaller look for dress styles that either flow through the waist or have a slightly raised waist. Avoid drawing attention to your waist by avoiding a change of color, or other design details at the waist line. And avoid belts, unless you wear a jacket or cardigan over the top to create slimming vertical lines.
Your best dress silhouettes will be slightly shaped, or straight, in fabrics that flow smoothly over your torso. Inverted triangle styles will also work.
Avoid spaghetti straps and sleeves that end at or below your love handles.
For example, the shape of the cobalt colored Marks and Spencer dress, shown above, should suit you well. This Dressrail dress also has a slightly shaped silhouette and is a younger and more casual style.
Recommendations for everything you wear
For specific recommendations for everything you put on your body, including clothes and accessories I recommend the
online eStyles program
. This innovative program takes into account all your body proportions to create a personalized style portfolio.
(There is now a
mens version of the online eStyles program
available as well).